An electric wheelchair owned by the late astrophysicist Stephen Hawking sold at auction by Christie's on Thursday (Nov. 8) for £296,750 ($393,000). Hawking used the wheelchair between the late 1980s and mid-1990s. The identity of the winning bidder has not yet been publicly revealed.
The chair went for £288,000 more than a 1934 handwritten letter by Albert Einstein (£32,500), £343,000 more than an 1876 letter by Charles Darwin in which he defended the principle of natural selection (£50,000), and £196,750 more than four pages of Sir Isaac Newton's personal notes (£100,000) which date back to 1670.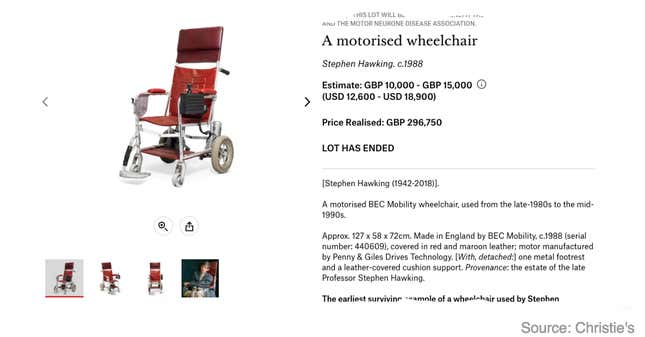 The wheelchair wasn't the most expensive item from the auction catalog, however. That distinction went to an original copy of Hawking's 117-page doctoral thesis, typed by his first wife, Jane, in October 1965, and signed by Hawking along with the declaration, "This dissertation is my original work. S.W. Hawking." The thesis had been estimated to bring in £100,000 to £150,000. The estimates were way off. The winning bid was £584,750.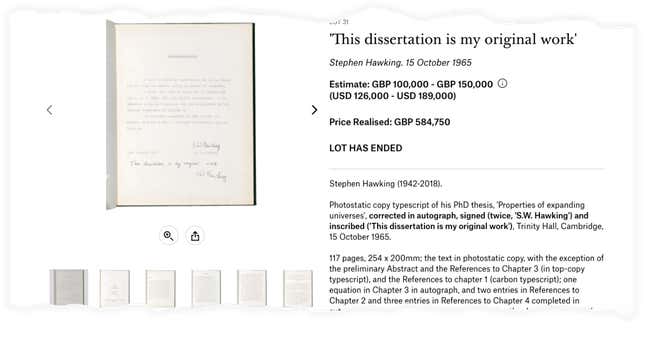 The wheelchair, according to the auction catalog, was manufactured by BEC Mobility, measures approximately 127cm x 58cm x 72cm, and is "covered in red and maroon leather." Penny & Giles Drives Technology made the chair's motor. Christie's made a point of telling potential bidders viewing the auction catalog that the wheelchair, manufactured by BEC Mobility, was being "sold as a collector's item and not as an item for medical use." The winning bidder also received "one metal footrest and a leather-covered cushion support."
A bomber jacket once owned by Hawking sold for 40,000 (estimate: £100 to £150), and Hawking's production script from a 2010 episode of The Simpsons in which he appeared, went for£6,250, nearly doubling Christie's pre-sale estimate of £2,000 to £3,000.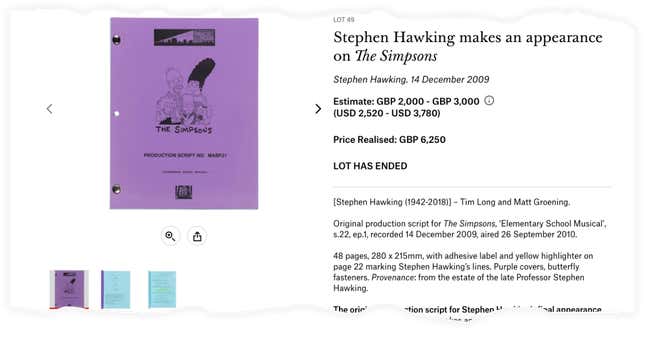 Hawking's daughter Lucy announced that proceeds from the sale of the wheelchair would be donated to the Motor Neurone Disease Association and the Stephen Hawking Foundation.