Australia just experienced its hottest October on record and 2013 is set to be the hottest year ever, according to a new report issued as the country recovers from devastating bush fires scientists have linked to climate change. That's sure to stoke the controversy over reports that new Prime Minister Tony Abbott's will fire nearly a quarter of the scientists that work for Australia's leading government research organization.
The layoffs are part of Abbott's conservative coalition government's pledge to slash the size of the bureaucracy. But coming on top of his refusal to appoint a science minister or send high-level representatives to the United Nations climate talks that begin today in Warsaw, the move to shrink the Commonwealth Scientific and Industrial Research Organization (CSIRO) is raising fears about the dumbing down of Australia.
"Recent examples of CSIRO innovation are as diverse as Australia itself—from new software to more accurately predict the spread of bushfires to a new process enabling three-dimensional printing of customized shoes for racehorses," Sam Popovsk, secretary of the CSIRO Staff Association, told the Canberra Times. "How can CSIRO develop the next generation of Australian innovation if their capacity to conduct research and development continues to be cut?"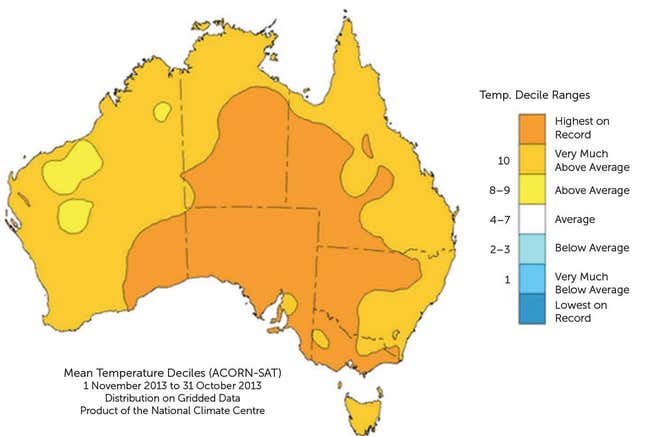 Climate change has emerged as one of the most contentious issues facing the new government. Abbott has promised to scrap Australia's carbon tax with the opposition Labor part and the Greens vowing to fight the move.
In fact, Australians have turned to crowdfunding climate-change research.
The report on Australia's soaring temperatures came from the Climate Council, a formerly government-funded organization—then called the Climate Commission—that Abbott abolished shortly after taking office in September. It was resurrected with private donations to continue its research.
According to the Climate Council's latest report, October was the third month in a row this year to break Australian temperature records. The average October temperature was 1.43 degrees Celsius higher than the average for the past 50 years. "More than 100 heat-related records have been broken over the past year, and 2013 is on track to become Australia's warmest calendar year on record,"  the Climate Council stated.