Shares of Netflix are up more than 40% this year on strong subscriber growth, the metric of choice for Netflix investors. The streaming-video giant expects to close out 2018 with its biggest quarter ever, adding 9.4 million members (pdf) for a total of 146.5 million worldwide. But all that growth—driven by big boosts in international signups and a plethora of originals, from Alfonso Cuarón's hotly anticipated Roma to big-budget pictures like Outlaw King and series like The Haunting of Hill House—comes at a cost. As partners like Disney ready competing streaming platforms for 2019, Netflix is spending more to self-produce and license exclusive hits.

This scary number here is Netflix's free cash flow, which sunk to a negative $1.7 billion during the first nine months of 2018, from minus $1.5 billion during the same period last year. The company expects to end up with around $3 billion in negative free cash flow this year.
---
Check out the rest of our deep dive into the future of television here, including the state of play, and a QZ&A with Hulu CEO Randy Freer.
---
Netflix is self-producing a greater share of its library, including series like Stranger Things and Queer Eye, so it can control the rights. "These are all shows that people really love in enormous numbers around the world," said Ted Sarandos, chief content officer at Netflix, on the company's third-quarter conference call. "And we don't have to go through the gun-to-your-head renegotiation every couple of years for them."
It also costs the company more in cash upfront. Netflix has to pay for these projects while they are in production—and before they're released on Netflix. Some projects, particularly big budget movies like the 2017 film Bright, can take years to make.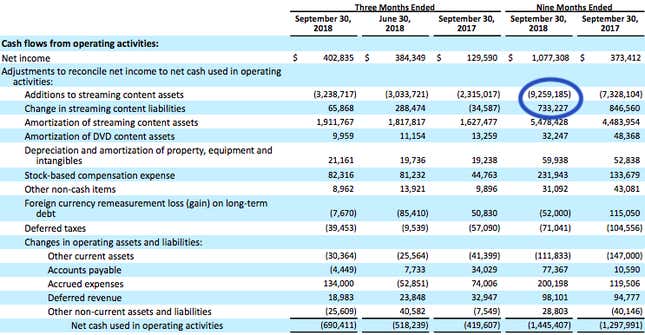 Netflix budgeted about $8 billion for content expenses in 2018. On a cash flow basis, which reflects when money moves in and out of a company, Netflix spent around $8.5 billion on streaming content during the first nine months this year. The figure is calculated by adding the change in content liabilities, such as payments, to the total gross of all content additions during the period on Netflix's cash flow statement. Cash spending for the full year could wind up around $12 billion, up from $9 billion 2017, estimates Neil Macker, senior equity analyst at Morningstar.

Netflix also estimates that it owes $18.6 billion in streaming content obligations, as of Sept. 30. That includes future content that Netflix is committed to licensing, acquiring, or producing down the line. Netflix's streaming deal with Disney is a good example: Since 2016, Netflix has streamed new Disney releases when they become available. (This deal ends in 2019, when new Disney movies will go to the Disney+ platform instead.) But the value of each Disney film (like the upcoming Mary Poppins Returns) is based on film's box-office run, so the total value is subject to change.

Netflix books the total costs of content as assets on its balance sheet. (The self-produced stuff is lumped in with non-current content assets, which totaled $13.4 billion as of Sept. 30.)

And it books the unpaid portions of those costs as liabilities. Netflix has $4.6 billion in content payments due within 12 months, and another $3.6 billion due in more than a year. The remainder hasn't hit Netflix's balance sheet, yet.
The company's rising debt burden, which is also being used to fund content, sits on the balance sheet, as well.
And there are other expenses: Netflix has to promote its growing number of movie and TV shows. It's spending more to market them than in years past, which we can see from its income statement.
In a perfect world, Netflix's algorithms would drive all viewing on the platform, said CEO Reed Hastings, but the company isn't there yet.

"Our sort of Holy Grail dream is that the service was so good at promoting the new content in such relevant ways that we wouldn't have to spend externally," said Hastings on a 2017 conference call. "So think of it as a little bit of a competition… to see who can drive the growth of the titles most effectively."