In the US, the world's largest media market and the hotbed for the cord-cutting revolution, the streaming-TV landscape is starting to look a lot like regular old TV.
---
Welcome to our field guide on the coming streaming wars. Check out other parts of our deep dive into the future of television here, including a QZ&A with Hulu CEO Randy Freer, and a close look at Netflix's earnings.
---
We used to have four big US broadcasters and a few major cable-network groups, like WarnerMedia. Now, we have a few streaming-video giants—Netflix, Amazon, Hulu, and YouTube—and some of the same legacy media vying to join them, not to mention tech companies like Apple and Facebook that would like to get in on the action.
Netflix has the largest market share of the major streaming services on TV sets. Nearly three-quarters of US households that streamed content through internet-connected TVs watched Netflix, according to ComScore research from the month of April. But rivals YouTube, Amazon, and Hulu weren't far behind.
The influx of streaming platforms and packages is giving people more reason to abandon cable. By 2022, 20% of US adults will have "cut the cord," or canceled traditional TV services, eMarketer estimates.
More than half of US households now subscribe to at least one streaming-video service, according to a November 2017 survey by Deloitte, of more than 2,000 people in the US. The percentage is even higher if you count households that share accounts, other research shows.
People aren't just turning to general-audience platforms like Netflix and Amazon, they're replacing their old TV services with streaming-TV bundles like Sling TV, online channels like HBO Now and MLB.TV, and niche packages like the anime service Crunchyroll. The average American pays for three streaming-video subscriptions, Deloitte found.
A 2018 survey by consumer research firm Magid found that the average online user is willing to subscribe to up to six streaming-video services, but only willing to pay an average of $38 for the lot.
---
BY THE DIGITS
700: Originals Netflix estimates it will have in 2018
200+: Streaming-video services available in the US
$107: Average amount US subscribers spend on pay TV each month
55%: Share of US households that subscribed to at least one paid streaming-video service in 2017
3: Streaming-video subscriptions the average person in the US pays for
6: Average streaming-video subscriptions people are willing to pay for
---
It took Netflix—which started streaming video in 2007 and selling a standalone subscription for it in 2011—a decade to reach 100 million streaming subscribers last year, as research firm Bernstein noted last month. Analysts surveyed by FactSet expect Netflix to cross the 150 million mark just two years later, in 2019.
Most of that growth is coming from overseas, where Netflix still has a lot of runway. Netflix has been in most of the world (the biggest exception being China) for about two years now. It is trying to accelerate internationally more quickly than its rivals can catch up. It is investing in local content like the German-language series Dark, Brazilian thriller 3%, and Indian original production Sacred Games, which each traveled well throughout their respective regions.
Netflix is also building up its libraries abroad. Its US catalog is larger than in most other countries, with about 5,800 movies and series as of October, compared to 5,100 and 3,900 in markets like India and Brazil, respectively.
Right now, Netflix has the most popular digital originals globally, releasing seven of the 10 most in-demand series worldwide in the last 90 days, according to research firm Parrot Analytics, which measures demand for TV content. It tracks video streams, social-media activity, blogging, file-sharing, and peer-to-peer consumption across 100 countries, to estimate demand for particular titles.
The 10 most in-demand digital original series, worldwide
Source: Parrot Analytics data from 7/26/18-10/23/18
But while media giants like Disney spend billions to build streaming platforms, it's worth noting their TV networks are earning a ton of money from traditional carrier deals. Cable, satellite, and other TV providers pay fees each month to distribute TV channels. As Disney and others move online, they risk cannibalizing the revenues from traditional TV.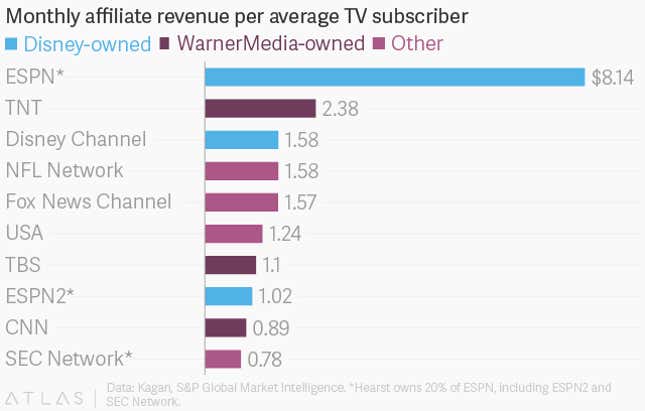 Some of the premium cable networks that have taken their channels online, like HBO and Showtime did in 2015, are only pulling in a small share of subscribers from streaming video. About 15% of HBO's US audience comes from online.
Platforms like CBS and Disney are spending more on series and movies that will be exclusive to their streaming platforms, like Star Trek: Discovery on CBS All Access and the upcoming Star Wars series The Mandalorian on Disney+, in part, to make the online offerings more enticing.
Netflix has the biggest streaming content bill. It expects to spend $8 billion on programming this year, with 85% going toward original titles. The company planned to sell about $2 billion in junk bonds last month to help fund the new programming, which would push its debt load above $10 billion for the first time. As of Sept. 30, Netflix also owed $18.6 billion in content obligations.
The streaming giant's debt-to-EBITDA ratio, a measure of a company's ability to pay back debt, is pretty average compared to its legacy media rivals, as well as the deeply indebted AT&T (paywall). (Netflix's market cap, mind you, also rose in the last year to around $120 billion as of Nov. 20, on subscriber growth.)
The issue is, those companies are generating free cash flow, where Netflix is not. Netflix's negative free cash flow has been growing for the last five years, courtesy of its content push. The company expects to keep burning cash for the foreseeable future. It may have to return to the debt markets next time it needs to increase its content budget if it can't cover the costs.
But now is not the time to slow down, for any of these streaming services. As Hastings at Netflix said, "if we get lazy or slow, we'll be run over, just like anybody else." And there are about 10 bulldozers ready to run Netflix over.