SpaceX will re-use a Falcon 9 rocket to launch a Qatari communications satellite from Cape Canaveral today, then fly the booster back to an autonomous drone ship off the US's Atlantic coast.
The mission to orbit and the recovery of the booster can be watched live starting fifteen minutes before the launch window opens at 3:46 pm ET; if the launch misses the 5:29 pm ET deadline, SpaceX has another opportunity to launch on Nov. 16.
The satellite is Es'hail-2, which will be operated by Es'hailSat and provide a variety of telecommunication services to the middle east and north Africa. This is the first time Elon Musk's rocket-maker has flown a satellite for Qatar, but international clients are a staple of SpaceX's business, with 17 countries outside the United States representing 43% of their Falcon 9 launches: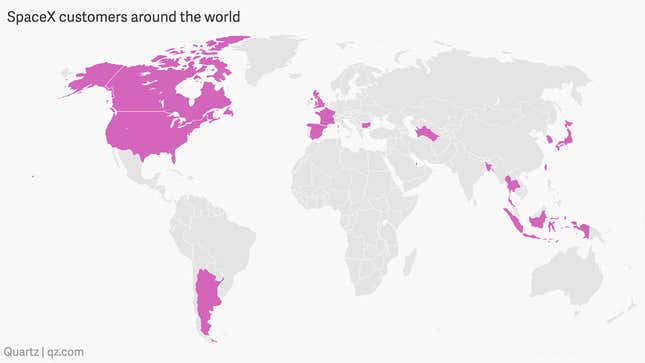 This is SpaceX's eighteenth launch of the year, tying the record they set in 2017 with six weeks left in the year. The company is aiming at 22 missions in total this year, including a supply mission to the International Space Station and a rocket packed with a record-breaking 64 small spacecraft.
SpaceX is the only major rocket-maker with a reusable booster, which allows it to undercharge its competitors on the order of tens of millions of dollars. Today's flight will be one of the "block 5" boosters the company debuted earlier this year, designed to launch as many as ten times. This specific booster last flew on July 22, carrying a Canadian communications satellite into orbit.
While the Falcon 9 does most of the routine work of launching satellites, SpaceX's engineering corps are focused on getting astronauts up to the International Space Station. An uncrewed test flight of their human-rated spacecraft is expected in January 2019.
Besides the launch, today marks another milestone for the company: The Federal Communications Commission has approved the company's latest plan to build an enormous constellation of 7,000 satellites that will provide internet service to users on earth.
SpaceX launched two experimental satellites earlier this year that have proven successful, but now the company faces the daunting task of manufacturing and operating thousands of satellites in just a few years.