Argentina is bleeding money.
The country's international reserves, which it uses to trade with other central banks and shore up debt, have dropped beneath $33 billion. The current $32.7 billion reading (link in Spanish) is the lowest in almost six years. It's less than the international reserves of Romania, Nigeria, Angola, or Lebanon.
At the beginning of 2011, the country's dollar reserves were well above $50 billion: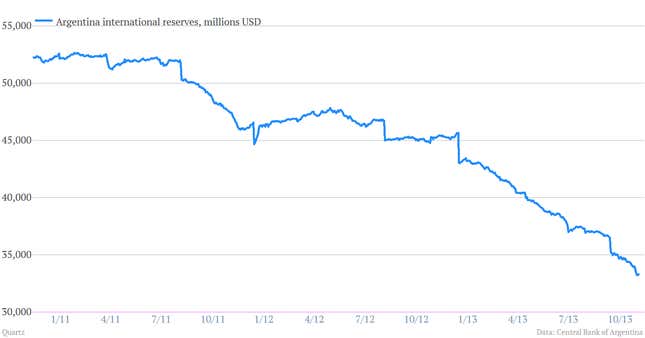 There are a couple reasons Argentina hasn't been able to keep its central bank account in check.
For one, an artificially strong currency has made foreign goods more attractive, and led the country to become more reliant on imports. While Argentina still enjoys a trade surplus, it has been shrinking because of growing energy imports. Argentina has had trouble borrowing money from abroad since defaulting on its debt in 2001, so it has to finance the bulk of its growing imports with its reserves.
Then there's Argentina's high inflation, which has coerced Argentines into holding on to US dollars rather than spending them, and using any pesos they have on hand to buy more US dollars. Those dollars, however, aren't making their way to the central bank. Argentines are using their foreign cash to buy goods abroad or keeping it as collateral in case the country's monetary system collapses again.
Argentina plans to spend another $8 billion of its reserves to pay off debts through the end of this year, which will leave very little wiggle room for its central bank to finance the country's fiscal affairs. Soon the country could find itself incapable of paying its creditors and financing its imports—a recipe for another economic crisis.