Today (Dec. 3), SpaceX is expected to launch the most satellites ever carried by an American rocket: 64 small satellites, operated by 34 customers from 17 countries.
For perspective, 335 small satellites were launched in all of 2017, according to Bryce Space Technologies.
The promise of Elon Musk's space company, like most venture-backed startups, is the promise of exponential growth. Billions of venture dollars are flowing to space startups on the belief that the relatively small amount of revenue earned in orbit now will expand dramatically in the future.
But last year, the space industry brought in only $354 billion globally—far less than the $515 billion in 2017 sales from the world's two largest car companies, Toyota and Volkswagen.
Making space a bigger sector means more activity in orbit, and this mission contains that promise, launching satellites for more than two dozen companies. Many are based or funded in Silicon Valley, just hours north of the launch site at California's Vandenberg Air Force Base.
"I've been in this business for 30 years and I don't recall coming even close to the number of satellite deployments that we have here," says SpaceX VP of launch and mission Lee Rosen, who began his career launching satellites for the US Air Force.
Its primary payload are five satellites being launched by Planet, the leading commercial satellite start-up, but it also includes a tiny experimental spacecraft from Swarm, which launched the first unauthorized satellite this year, an art project sponsored by the Los Angeles County Museum of Art, and the cremated remains of one or more people.
The window for today's launch opens at 10:32am US Pacific time. You watch SpaceX's live stream here, starting about 15 minutes before liftoff:
Ups and downs
This mission marks the first attempt by SpaceX to launch one of its reusable boosters for a third time. This rocket is designed to fly to orbit ten times, reaching a velocity of 17,500 mph and plunging from humid seaside into the freezing vacuum of space on every trip.
"This year we'll launch more flight-proven vehicles than we will launch new vehicles," Rosen says, telling Quartz that SpaceX's customers and insurers don't distinguish between new or previously-flown boosters.
Reusable boosters were invented to save money, but SpaceX founder Elon Musk is aiming for something grander than low-cost satellite delivery; he wants spaceflight to be so cheap that a new range of profitable businesses will be possible outside the atmosphere.
Satellite operators involved with the launch raised more than $308 million this year. Others are likely to fundraise following the deployment of their spacecraft—resulting in more satellites for SpaceX and its rivals to launch in the future.
"Frankly, the moment the satellite gets launched and we check all the systems, then, you know, the valuation of this company is completely different," Payam Banazadeh, whose space radar company Capella raised $20 million based the launch, told Quartz in September.
Capella is one of two new space radar companies flying on the rocket. There are several space data relay providers, a global radio surveillance platform, a variety of earth imaging satellites, prototype space propulsions systems and other test satellites from universities around the world, the US military and established corporations like Honeywell and ViaSat.
Three years to flight
This mission would not have happened without a new kind of business: Spaceflight, the satellite broker-integrator. Prior to the last decade, anyone launching a satellite was a government space agency, or hired the same big contractors the government does. Now, start-ups are making satellites at such a clip that middle-men are needed to get them on rockets and into space.
Spaceflight was founded in 2010 to streamline the complex bureaucracy around purchasing rocket launches. Since then, it's helped launch more than 140 satellites. This Falcon 9, purchased in 2015, is the biggest the company has used for a ride-share. "It's definitely the largest undertaking of this kind, maybe not in terms of the absolute number of payloads and spacecraft, [but] the mass of all the payloads combined," CEO Curt Blake told Quartz.
The mission originally began in 2015 with the Google-owned space imaging company Terra Bella, which wanted to launch two SkySats, weighing around 220 lbs (100 kg). They were too small to be the main payload on a large rocket, but a bit too big to be a secondary payload. Spaceflight agreed to solve the problem by selling the rest of the space on the rocket to other satellite operators. In 2017, Planet bought Terra Bella, and kept the launch contract.
Mike Safyan, Planet's VP of launch, says the company was happy to do so—Spaceflight brokered the launch of the first Planet satellite, from an Antares rocket. Now, as the small satellite industry matures, Safyan launches satellites around the world on a variety of different rockets, but notes that rideshares brokered by Spaceflight provide important advantages.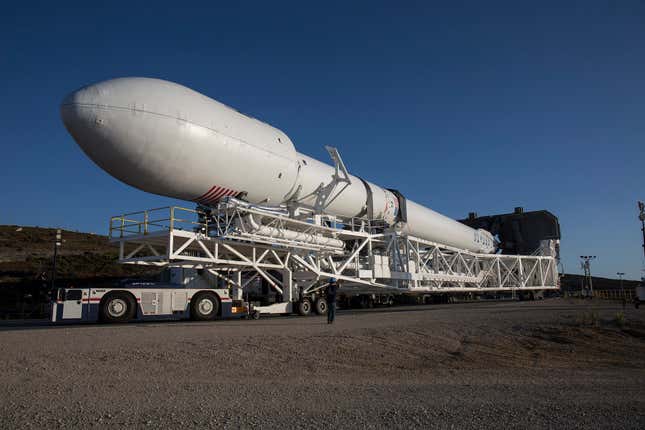 "You're paying cheaper rates per kilogram, which is really important for us because launch continues to be one of the biggest expenses for us," Safyan says, praising Spaceflight. "It requires a level of business maturity and technical sophistication to go out and procure a full launch vehicle, a Falcon 9 at that, and coordinate all the different payloads you want to get on there."
The broker eventually found enough cargo to make the mission work. "I'd be lying if I didn't say it was a bit of a challenge to get that many different companies from that many regions of the world to coalesce and be ready at a certain point for integration and launch," Blake told Quartz, but the work was worth it. "It's definitely profitable, and the margins we're happy with."
Meet Frankenstack
This mission also required a new satellite dispenser, capable of ejecting both large and small spacecraft from the rocket once in orbit.
Most rockets launch one or two satellites, occasionally a handful. The world record was set last year by India with the country's PSLV rocket, which launched 104 satellites. Most of those were cubesats weighing 9 lbs.
To get its varied cargo on their way, Spaceflight built a machine affectionately known as "Frankenstack" because of its cobbled-together appearance. It fits underneath the nosecone of the Falcon rocket, and releases the satellites in space.
Deploying so many satellites at once is tricky. Some need to be able to deploy solar panels immediately to receive power or they will be dead in orbit. Other satellites operate in groups, and must be deployed near each other. Cubesats are easiest: They rest in spring-loaded canisters that pop them into space when its door opens.
Above all, they must not hit each other or their launch vehicle. Collisions between spacecraft generate new debris that can create a scary chain reaction in orbit, putting vital space assets at risk.
For Spaceflight, that means ensuring that its deployment sequence is "absolutely coordinated, tested, choreographed, analyzed to the Nth degree," according to Adam Hadaller, the company's mission director. His team runs more than a thousand computer simulations of the deployment to choose the one with the lowest probability of an accident; they also design the Frankenstack so that it burns up safely in the atmosphere once its work is done.
Risk business
Despite these efforts, some spacecraft trackers fear that not enough has been done. T.S. Kelso, the head of satellite database CelesTrak, has predicted that one third of the satellites launched in this mission will effectively become debris as soon as they are released from the rocket.
Kelso did not respond to inquiries from Quartz, but both the US Air Force, which is responsible for tracking satellites, and Spaceflight say they are following proper procedures.
As space activity increases, the risk of collision is rising and government regulators are pushing for tighter rules. In 2017, the FCC denied a Swarm approval to launch, fearing its tiny satellites could not be tracked.
After they were launched illegally, radar sites were in fact able to spot them. That revelation contributed to the approval of the company's payload on this mission. Spaceflight, which brokered Swarm's first launch, says it has tightened its paperwork procedures to ensure such mix-ups won't happen again.
"You just don't want to risk two satellites colliding because we weren't paying attention to this issue, and having debris all over the place," Blake, Spaceflight's CEO, says. "It's bad for the world, it's bad for future applications going into space, it's bad for our business."
New satellite operators have already won government approval to launch thousands of new spacecraft in the years ahead, so industry and government will need to get ahead of the problem. "Sometimes regulation helps business, not just hurts it," Blake says.
Update: This story has been revised to include SpaceX's new launch date after a one-day delay.