There's a peculiar thing happening in the world of marijuana users.
The percentage of US workers testing positive for marijuana has fallen below 2%, according to an analysis released by American medical testing company Quest Diagnostics. The study, based on a scan of millions of patients tested as part of the company's drug monitoring service, shows a marked decline in positive testing over the past 10 years—back in 2002, just under 3% of US workers tested positive for marijuana.
But that runs counter to the direction of actual marijuana usage. A significantly greater percentage of Americans aged 12 years and older now report having used weed (7.3%) in the past month than did back in 2002.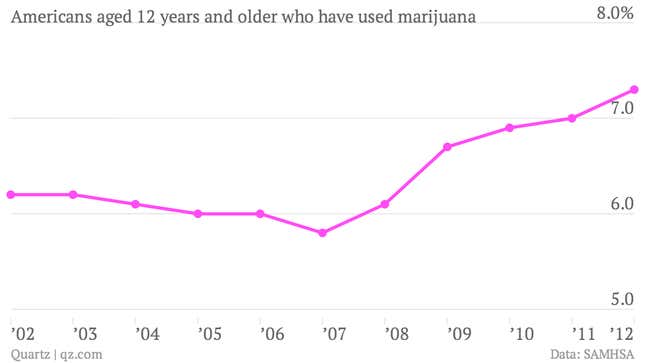 So why the discrepancy? There could be several reasons.
For one, the vast majority—some 75%, according to Quest Diagnostics—of workplace testing happens as part of pre-employment screening. That affords those being tested a warning to curb their usage before the test. Basic urine testing—which is still the most comment form of drug screening—often fails to detect traces of THC, the active ingredient in marijuana, after only a few weeks (pdf). There's an entire section on Reddit dedicated to the discussion of drug tests, in which a handful of purportedly chronic marijuana users claim to have passed urine tests after only two weeks.
Then there's the spread of products that intentionally or unintentionally help drug users pass such tests on short notice. One such example is an "herbal cleanser" sold over-the-counter at nutrition outlet GNC. Although not explicitly advertised as such, the cleanser has been frequently mentioned in drug test-related forums, and includes several references to its use in subverting drug tests in its product reviews section.
Another possibility is that the testing pool is growing as more companies screen for drug use. Revenues at diagnostic testing companies are expected to grow to $2 billion this year, more than doubling since 1990. If the broader pool of test-takers includes more non-users of marijuana, the percentage of those who test positive for the drug should fall.