Let's make a deal.
On a day when pretty much all the major stock market indexes are flirting with historic highs, can we all just agree that the Hindenburg Omen, a technical indicator believed to portend a stock market crash, has no bearing on market performance?
The Omen, heavily watched by some traders and derided by others, measures when a large number of stocks on the New York Stock Exchange are hitting new highs and lows, signaling that traders are facing too much uncertainty to properly value equities. (The indicator is named after a famous German airship in 1937 that crashed in New Jersey).
It was just a few months ago—during the week of May 31—when the internet was aflutter with the fact that the indicator had been tripped yet again, auguring a doomsday scenario for US equities. The S&P is up about 10% since then.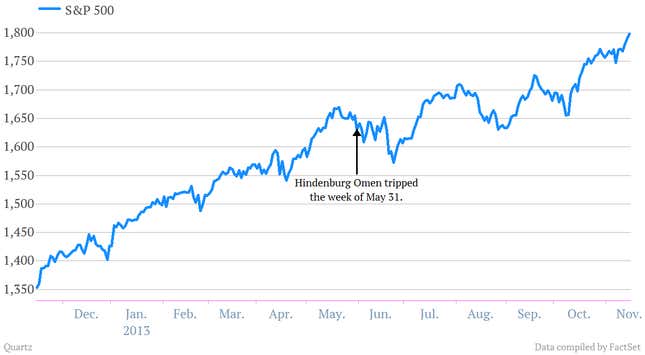 Since the Hindenburg Omen first floated into the market consciousness back in August 2010, the S&P is about 67% higher.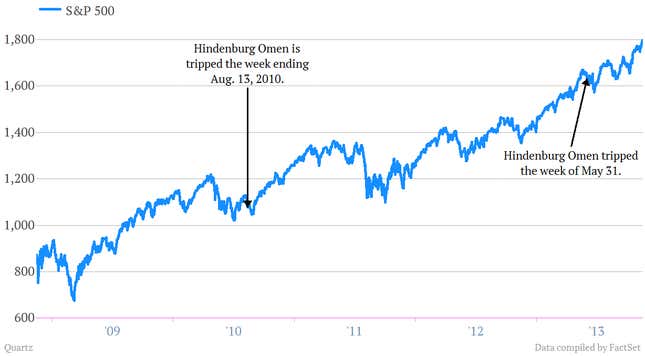 If you're interested in finding out exactly what the Hindenburg Omen consists of, I'd suggest looking at this Wall Street Journal story that was published back in 2010. The most telling detail is that the creator of the indicator, a newsletter writer named Jim Miekka, is actually a blind target shooter—an apt description for a stock-market prognosticator.