With their iPhones and designer streetwear, China's youngest generations seem to have it all.
But it's these same young people who apparently identify with being "dirt-poor and ugly," according to one of the characters trending on social media platform Weibo with the hashtag "Chinese character of the year." Interest in the character—qiou—surged after Modern Express, an online Chinese news outlet, began promoting it in recent days as the Chinese character of 2018, ahead of the announcement of an official choice later this month.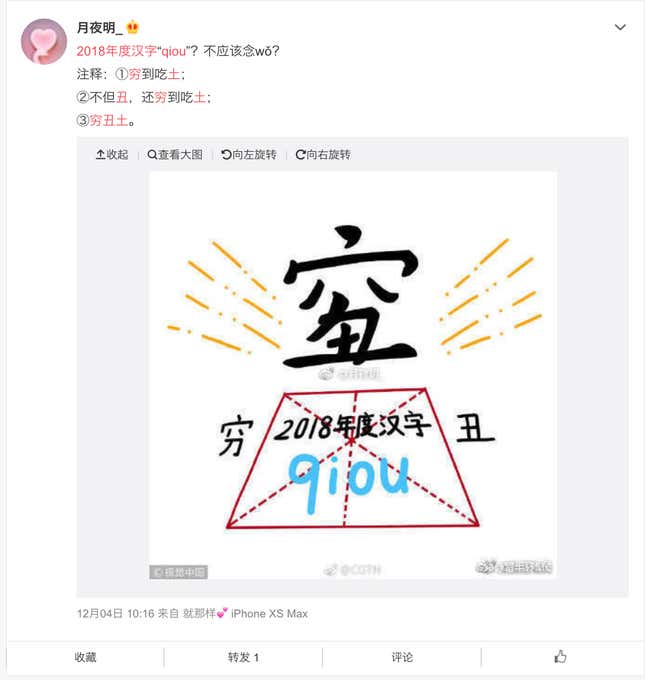 Qiou is a made-up character consisting of the Chinese characters for "dirt" (土, tǔ), "poor" (穷, qióng), and "ugly" (丑, chǒu). As one Weibo user put it (link in Chinese), being qiou means that you're so poor that you literally have to eat dirt—and it's apparently how many young Chinese claim to see themselves, despite being China's most affluent generation.

While young Chinese have grown up with a standard of living their parents couldn't enjoy, they've also experienced rising inequality and fierce competition for good jobs, as China churns out record numbers of college graduates. Against that backdrop, for many well-educated young people, achieving things like buying a home or finding fulfilling work seem impossible even after grueling years of study.
One education ministry official noted just this week that with economic growth slowing down, job prospects for young people are "complicated." After college, a fresh Chinese graduate on average earns a monthly salary of 4,000 Chinese yuan (UDS $580), according to a 2017 report on recent graduate employment from MyCOS, a data analytics company serving universities in China—not enough to buy even the cheapest iPhone X model.
As one Weibo user going by the name Wu Wang Meng Meng commented, the word qiou represents the fruits of "the successful completion of nine years of hard education."
The character appears to be part of the spread of sang (丧 ) culture, a term that describes a loss of ambition and rejection of traditional measures of success among Chinese youth. Before qiou, there've been other words and memes that convey the feeling that things are hopeless and pointless. One of them is the phrase "Buddhist youths," which conveys a feeling of logging out and not striving for things. And a precursor of qiou that became popular several years ago is diaosi, or loser, also used by young people to describe themselves.
A Chinese researcher noted that self-mockery is one of the ways China's youth copes with its stresses. "The creation of this Chinese character by netizens is a way to ridicule the current social trends and the predicament of young people in an ironic tone," Dong Zhouzhi, a doctoral candidate in Chinese language at Nanjing Normal University, told Modern Express (link in Chinese). "Nowadays, society is paying more and more attention to status and wealth. Young people are under great pressure."
A 2017 study by China's National Health Commission found that 40% of the freshman class of Peking University, the most prestigious college in China, believed their lives were meaningless.
Weibo's trending hashtag comes ahead of a shortlist of contenders for character of the year from an annual poll conducted by a national language research center and media platforms. The top word will be chosen by a combination of popular votes and input from language experts. Last year's winner referenced a bubble in China's online economy.