Wake up, sneak in a workout before grabbing lunch with teammates, stretch before practice, run through plays, scrimmage another team, and get to sleep.
This isn't the routine of a soccer player or aspiring Olympian, but the template for a new generation of esports players—professional gamers who compete for huge sums of money, sometimes in front of sold-out arenas.
Esport training and tournament competition can lead to long, intense schedules, which means pros have to maintain peak reaction times, fast-twitch muscles, and good decision-making for hours on end. Most of the money is made in prizes, which means that if you don't win, you don't get paid beyond a modest base salary. Players are under immense pressure: Losing a $500,000 tournament because you were tired isn't an option.
So while the stereotypical gamer might stay up all night, chug energy drinks, and rip through bags of Doritos, professional esports teams are starting to realize they require much of the same mental, physical, and emotional support as do traditional athletes.
The biggest changes have been the simplest: Training during the day and encouraging esports athletes to sleep at night. It turns out nutrition is important to mental and physical performance as well, so teams are hiring chefs and dietitians to tailor players' food to their nutritional needs. Most pro teams now have coaches and managers, and some pros are recruiting psychologists.
Exercise and diet have been cornerstones for professional athletes in sports like baseball, basketball, and soccer since the mid-20th-century rise of exercise science, a field which developed once sports leagues became billion-dollar institutions with the resources and scientific backing to sculpt talented players into all-stars. Babe Ruth's diet of exclusively eating hot dogs is now a thing of the past, and players typically have better stats because of it. As esports grows, it's experiencing a similar transition.

You wouldn't take Rory Jackson for an esports player at first glance. He's tall and broad, with close-cropped hair and a stocky build, like a soccer player—which he once was. He grew up in the UK playing semi-professional soccer for Nottingham Forest Academy, and says the two sports (soccer and esports) have more in common than you might think. "Everyone plays a role," he says, "and you have to remember it."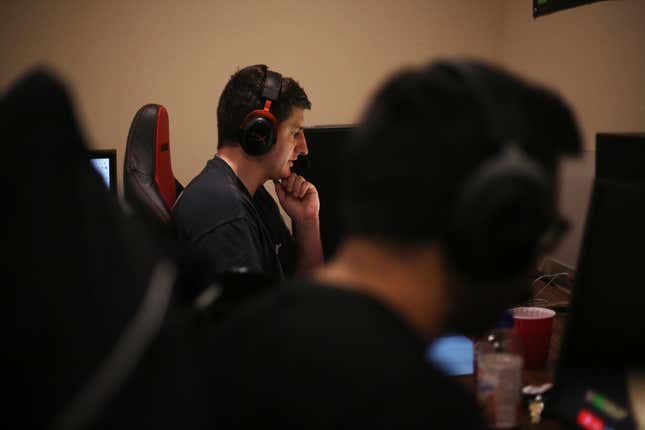 Jackson never thought he was going to be an esports professional. He got hooked on playing Counter-Strike: Global Offensive (CS:GO) with his friends while attending Sheffield University. He was living that stereotypical gamer lifestyle: staying up all night, often getting two hours of sleep between playing CS:GO and waking up for early classes. He played competitively, but not in the big tournaments he does now.
Then he got a call from Matt Dickens, the coach of compLexity's CS:GO team at the time, who now works as team manager. Dickens asked him to fly to the US to try playing for the pro team.
Jackson made the team, and began a slow transition from a "casual," someone who plays competitively but doesn't take training seriously, to a professional (he plays using the name "dephh"). It took a year to realize how a sleep schedule affected his play and for him to change the habit. It took another year to start working out and eating right. "It's kind of hard to change out of the old gamer mentality of how you treat your body and treat yourself," Jackson says.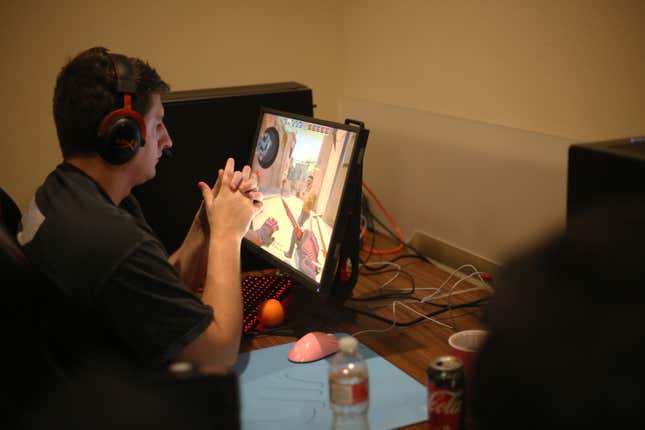 The organization Jackson competes for, compLexity, is in the middle of its own modernization journey, after being acquired by Dallas Cowboys owner Jerry Jones and investor John Goff. The team is more than 15 years old, founded by current CEO and Counter-Strike player Jason Lake in 2003, and has nine teams under its purview, over a variety of different games and platforms.
Lake talks about three different eras of esports. In what he calls "esports 1.0" players lived in their parent's basements and practiced with their teams online. They'd meet at big events, but it was largely remote.
Then came the team houses, or "esports 2.0." Here teams all lived in the same place, so they could all roll out of bed and play on the same schedule. Lake said that the idea made for better tournament outcomes, but not necessarily better teams; the social dynamic of living and working with the same people in the same place every day makes team houses kindling for conflict and strife.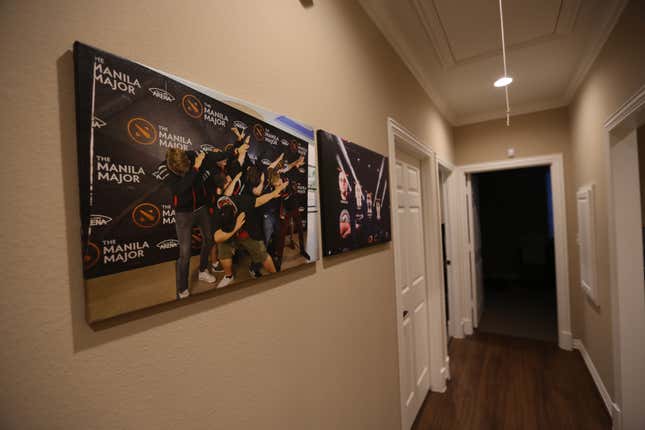 CompLexity is currently somewhere between "esports 2.0" and "esports 3.0." Its players live in apartments provided by the team. They practice in a small room that houses six computers for the CS:GO team and a spot for their coach to look on, across from a sparse kitchen decorated with two pictures, one of a player holding a Mountain Dew trophy. In between scrimmages, the coaches and players talk about shortcomings in the previous round, much like a traditional team would review game footage. Players stretch their wrists and hands; some get up and stretch their legs.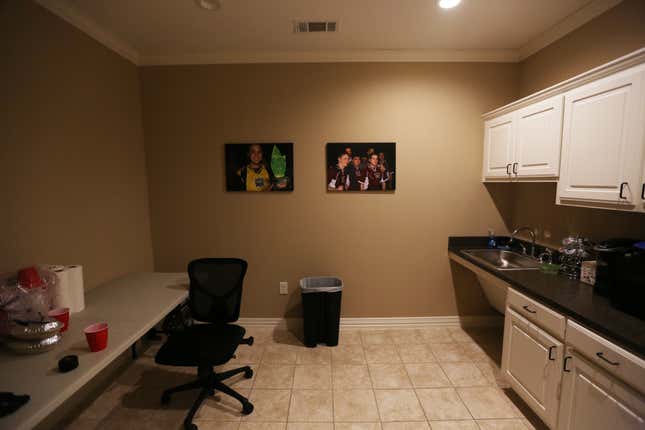 In the game, players train much like they would for traditional sports. There are plays to memorize, in which each player takes on a certain role and communicates with the team. Skills like "aim" in CS:GO are typically taken for granted at the professional level, but practice allows those skills to be kept sharp. Communication is crucial for any sport, but in a digital arena like esports, the players have an open audio line to talk to each other. Talking to your teammates could be the difference between a win and a loss, so players have to be verbal. The players also can look at their teammates' screens to get more situational awareness, another skill to work on.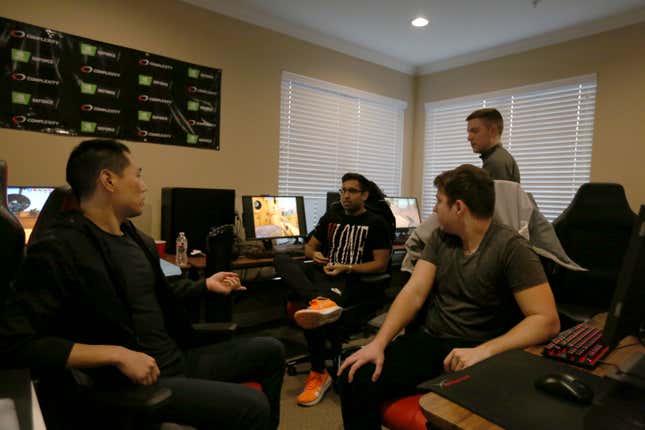 CompLexity doesn't have mandatory workouts yet, but manager Matt Dickens says that will likely change once the new facility opens. He also encourages players to get as much sleep as they can, which can be difficult given the ever-changing schedule of tournaments and scrimmages.
Lake modeled his vision for "esports 3.0" on the training and treatment of professional athletes, and it's easier to execute now that compLexity's management has access to the Cowboy's support staff. Since the acquisition, CS:GO players like Jackson have had access to the Cowboy's cafeteria, where they can get the same professionally prepared meals as the football players, as well as access to the Cowboy's fitness facility headquarters, The Star. In a few months, compLexity players will come to a brand new training facility across the street from The Star every day to practice, strategize, and even play against regular people in a gaming area accessible to visitors. (Get an inside look at the team's training regimen in this Quartz video.)
"We want their lives to be focused on their craft," Lake says. "If we can give them a better place to live, if we can feed them food that has better nutrition, if we can provide preventative medical care and in-home care if they would have some kind of injuries, just look out for all the things that go into leading a wholesome life, that enables them to focus on a long illustrious career."

Pro gamers typically wash out in their early to mid-20s, due at least partly to a lack of long-term career prospects as an esports player. But the level of investment in professional gaming has never been material until now, meaning teams are hoping that with the right support, pros could be able to have much longer careers.
But that means more than just eating right and getting enough sleep.
"The training schedules are actually quite insane because the injury rate is so low and the danger of [traditional] injury is so minimal that you can literally train 14 hours a day," says Weldon Green, now the coach for Counter Logic Gaming, who was a freelance coach when we spoke in February 2018. That means teams now deal with issues like burnout, hand and arm strain from repetitive motion, and harassment from hordes of fans and detractors online. If esports teams want to hang on to players for longer than a few years, they likely need to consider changes to how they train and care for mental health.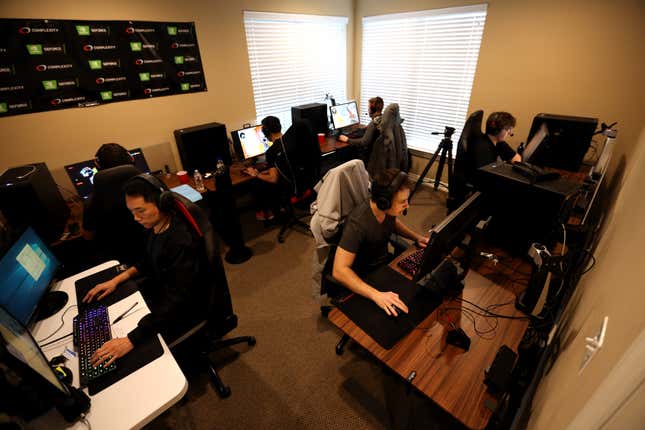 "If you look at how some of these players train, it in no way shocks me that there's burnout after three, four years," says Farzam Kamel, COO of the Overwatch team New York Excelsior. "The amount of time they spend practicing and playing every day is not sustainable. You get mentally fatigued, you're bored, you're going to move on to another challenge in life."
The transition to a healthier version of esports training won't be easy. Jackson, the CS:GO player for compLexity, took more than a year after going pro to realize the impact of taking better care of himself. And Kamel has already faced the realities of the cultural shift he's trying to enforce.
"They are not exactly jumping out of bed to go work out," he said. "And nor are we mandating the date that they do everything without fail. So it's a little bit more like a frank conversation, and encouragement and guidance."