Japan, which defines itself in its constitution as a "pacifist" nation, will soon be deploying an aircraft carrier and adding dozens more stealth fighter jets to its fleet, all in the name of self-defense.
Prime minister Shinzo Abe's cabinet approved the country's five-year defense plan today (Dec. 18), in a shake-up that's widely seen to be a move to placate criticisms (paywall) from Donald Trump over Japan's trade deficit with the US, and boost its military in the face of growing military threats from China and North Korea.
Abe's order of F-35 fighter jets from Lockheed Martin would take the number of planes in its existing fleet from 42 to to 147, seven years after Japan first announced it would replace its aging military jets with F-35s. Abe told Donald Trump in September that Japan would be spending more on defense, including purchasing more equipment from the US. One F-35 jet costs about (link in Japanese) $90 million, with the additional planes coming to about $10 billion.
The order puts Japan ahead of the UK as the biggest non-US buyer of the stealth fighter jets, according to the Wall Street Journal (paywall). The UK has plans to buy 138 F-35 fighters.

Total spending for the five-year plan is anticipated to be at 27 trillion yen ($240 billion), which also includes the purchase of two Aegis Ashore land-based interceptor missile systems from Lockheed Martin.
The five-year plan also calls for the upgrade of Japan's existing Izumo-class destroyer, or flat-top helicopter carrier, to becoming a full-fledged aircraft carrier that can launch F-35s in order to bolster the defense of remote islands—the country's first aircraft carrier since World War II. Japan's Lockheed order includes F-35B's, which are capable of vertical takeoff and landing. The Izumo went into commission in 2015.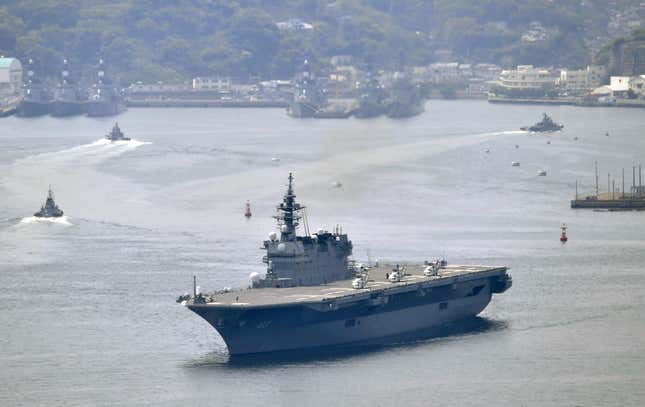 The military upgrade isn't popular with those who believe that Japan, which is only supposed to act in self-defense, shouldn't be pursuing these weapons. The prime minister, however, has made no secret of his desire to boost Japan's military capabilities, with military spending rising steadily in recent years. Abe—the grandson of Nobosuke Kishi (paywall), a former prime minister who was accused of war crimes and dreamed of remilitarizing Japan—is also pushing to amend (paywall) Japan's constitution, specifically the pacifist Article 9 clause.
The government has tried to deflect some of the criticism by evading the use of the term "aircraft carrier," for example, as a carrier, viewed as primarily offensive in purpose, would be the most marked evidence that Japan's Self-Defense Forces is violating its defensive mission. The government has, for example, called the upgraded Izumo destroyer a "multi-purpose operation destroyer." The left-leaning Asahi newspaper said that the Abe administration was "(r)esorting to its familiar linguistic sleight of hand" while crossing a red line in terms of Japan's military capabilities.