Updated Dec. 19 at 1:30pm EST with a statement from the Trump Organization. 
The Trump Organization is developing a new real estate project in the Dominican Republic, according to an anti-corruption watchdog, raising further questions about Donald Trump's conflicts of interest and about his daughter Ivanka Trump's trip to the island in August.
An undercover investigation by Global Witness, an anti-corruption NGO based in London, suggests the president and his family are pursuing a new real estate deal there, contrary to Trump's promise after he was elected that his company would not engage in any new foreign transactions during his term.
"President Trump promised that the Trump Organization would not pursue new foreign business deals during his presidency," said senator Dianne Feinstein (D-Calif.) in a statement issued in response to the Global Witness report. "He has not kept that promise, with his company pursuing luxury real-estate deals in the Dominican Republic and elsewhere."
The Trump Organization has a long, tangled history in the Caribbean nation. Trump licensed his name in 2007 to a planned development at Cap Cana, on the Dominican Republic's east coast, and even used The Apprentice to advertise it in 2008, offering a job of $250,000 to the show's winner to help manage the project.
Today, that project, which was called Trump Farallón, sits abandoned, a victim of the 2008 financial crisis; some investors say they lost millions. 
In February 2017, the month after Trump was inaugurated, his son Eric, who runs the Trump Organization with brother Don Jr., made a well-publicized visit to Cap Cana. We are "excited to be working with the Trump Organization in the future phases of the project," Ricardo Hazoury and Fernando Hazoury, president and vice president for the Cap Cana council, said at the time. 
In October of this year, a Cap Cana sales rep told a Global Witness investigator who traveled to the island that the Trump Organization is going to be the developer behind a separate section of the Cap Cana resort called "Condos de Playa Juanillo.'
The Trumps are "trying again," the sales rep told the Global Witness investigator, according to an undercover video that the NGO shared with ABC news.  "We're going to have a new development with the Trump Organization of apartments and commercial area, but that is still in the works," she said, pointing out that Eric Trump had recently been there. 
The Trump Organization told ABC that a return to the island would not violate their pledge for no new developments, because it is simply a continuation of the 2007 Trump Farallón licensing deal, and sent a similar message to Quartz: 
The Trump Organization has no plans to either develop or license its brand with respect to any new real estate project in the Dominican Republic. In 2007, the company entered into a license agreement with a local developer for a multi-component real estate development project to be built over several years. Though there have been some discussions about starting the next phase of the development, there are no plans in place at this time.
The two projects, the original Trump Farallón and the new Playa Juanillo are five miles apart from one another, Global Witness notes.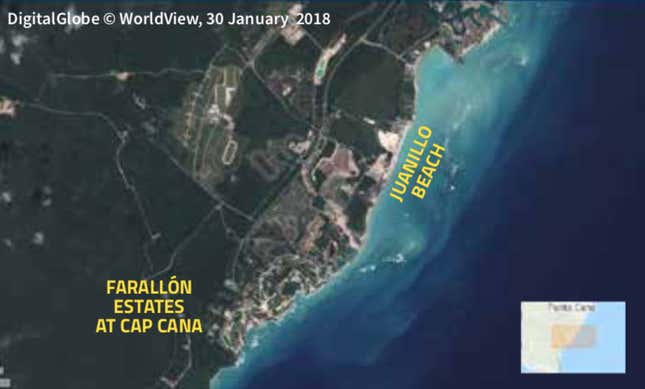 Ivanka Trump traveled to the Dominican Republic this past August, tourism's low season, when travelers can expect rainy weather and high winds. She was vacationing with her husband, Jared Kushner, the White House told Quartz, and paid her own hotel and travel expenses. (A hotel bill for the couple's Secret Service detail did cost US taxpayers nearly $60,000.) Before becoming a presidential advisor, Ivanka was in charge of the family real-estate group's acquisitions, including the purchase of Washington, DC's Old Post Office Pavilion and Miami's Doral Resort & Spa. 
What, exactly, the Trump Organization is planning in the Dominican Republic remains unclear.
Julie Anne Miranda-Brobeck of Global Witness said she found it "very bizarre" that Ivanka Trump would visit a Dominican beach resort during the month of August. Eryn Schornick, Global Witness' lead investigator on the Playa Juanillo deal, told Quartz that Donald Trump's as-yet unreleased tax returns could shed light on any links between Trump business entities common to both Playa Juanillo and Trump Farallón.
The US Court of Appeals for the DC Circuit said yesterday (Dec. 18) it would not force the IRS to release Trump's tax returns in response to a public-records lawsuit filed by the Electronic Privacy Information Center, a nonprofit public-interest research organization in Washington.