First daughter and US presidential adviser Ivanka Trump and her husband, Jared Kushner, vacationed at a luxury resort in the Dominican Republic over a long weekend in August. The cost to US taxpayers: more than $58,000. 
A White House spokesperson says the couple covered their own costs for what was a "personal trip," but taxpayers were on the hook for hotel expenses for the security detail.
Federal spending documents show a $32,064 payment made by the government on Aug. 3, 2018. The reason listed: "VIP VISIT AMANERA RESORT RIO SAN JUAN." Four days later, on Aug. 7, the State Department's bureau of diplomatic security made a separate payment for $26,280 through the US embassy in Santo Domingo, for reasons identified simply as "HOTEL RESERVATION." No specific property was listed, but this payment also appears to be connected to the stay at the Amanera.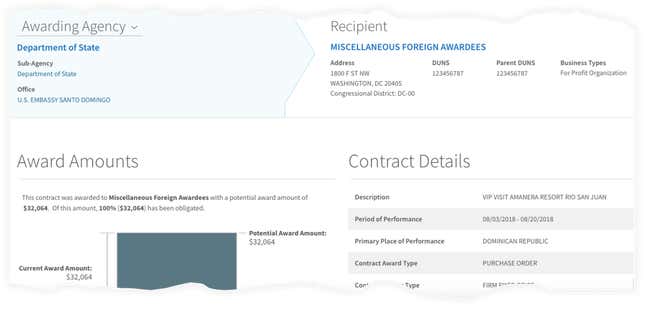 The Amanera Resort is a "six-star" property in the town of Rio San Juan, part of the Aman chain known for its clean lines and sky-high prices. According to Hoy (link in Spanish), a local news site, she traveled by private jet, and police vehicles and US Secret Service agents were observed outside the resort while she was there. Kushner's presence was not noted by local media, but was confirmed to Quartz by the White House, which told us:
"The Kushners were on a personal trip and followed all ethics guidelines and rules for White House officials. The only expenses incurred by the government were due to USSS protection, which they are required to have. They personally covered all other expenses incurred as related to the trip."
Trump arrived on either Friday, Aug. 10 or Saturday, Aug. 11 (local press reports differ on the exact arrival date) and left on Monday, Aug. 13. Accommodations at the Amanera on the same dates for August 2019 begin at $1,650 per night.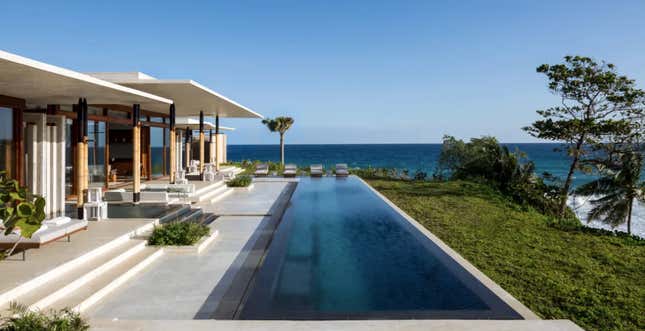 The cost of Secret Service protection depends on what the Secret Service deems necessary, and protectees have no say in those decisions, the White House spokesperson said.
Secret Service for the Trump family
Trump's immediate family, including his grown children, are entitled to Secret Service protection, ethics experts note. "The big problem is we haven't had necessary oversight of the unusually high expenses incurred by the Secret Service to support the security of Trump and his grown children," said Virginia Canter, the chief ethics counsel at Citizens for Responsibility and Ethics in Washington, and a former ethics czar during the Obama and Clinton administrations.
Historically, there's been little transparency on these kinds of expenditures. The cost of protecting the president's family is not publicly reported on an annual basis by the US government, nor tracked by any watchdog organization from president to president. Instead, the cost to taxpayers typically comes to light on a piecemeal basis, either as news outlets comb federal spending databases or as partisan outfits like the conservative group Judicial Watch, which frequently reported on travel expenses incurred during the Obama administration, critique their political opponents.
Last year, an NBC News report identified hotel and car rental expenses for the Secret Service and State Department coinciding with various business trips by Trump's adult children, including:
$97,830 during Eric Trump's business trip to Uruguay in January 2017
$4,0162.02 on rental vehicles just ahead of Eric Trump's business trip to Cap Cana, Dominican Republic, in January 2017
$53,155.25 during Donald Trump Jr., Eric Trump, and Tiffany Trump's business trip to Vancouver in February 2017
$16,738.36 during Donald Trump Jr. and Eric Trump's business trip to Dubai in February 2017
The president's children are routinely accompanied by security for leisure travel, too. A week-long Aspen ski vacation taken in March 2017 by Ivanka Trump, Eric Trump, and their families cost taxpayers at least $330,000 in security costs, plus thousands more in ski equipment rentals for the agents assigned to shadow the family on the slopes, according to records obtained by CBS News. Their half-sister Tiffany Trump's June 2017 holiday to Berlin with her boyfriend cost taxpayers a reported $22,440 in hotel expenses for the Secret Service agents who accompanied the pair. 
According to the documents on USASpending, a website run by the Treasury Department, the $32,064 payment relating to Ivanka Trump's Amanera visit came from the State Department's Bureau of Overseas Buildings. A State Department spokesperson says this is incorrect but had no further information on which agency paid the bill. The spokesperson confirmed, however, that the bill was paid with government funds.
Ivanka's role
Ivanka Trump's exact role inside her father's administration has been hard to define. While she's officially listed as "advisor to the president"  focusing on "education and economic empowerment of women," unlike traditional cabinet members, she does not have a well-defined portfolio or a public budget. In November, she hosted a "Pledge to American Workers" event at the White House, touting job growth. 
Her opinions, and those of her husband, who also is a presidential advisor, are taken seriously in the White House. Together they pushed for an "Opportunity Zone" program to give tax breaks to developers in low-income neighborhoods where a company in which Kushner owns a big stake has investments, the AP reported. The couple also is thought to have been a factor in the recently announced departure of the president's chief of staff, John Kelly, who once reportedly accused them of "playing government." 
Trump ties to the DR
Donald Trump said early in his presidency his Trump Organization real estate company would not enter into new business deals while he was in office. But in February 2018, the company revived a development project in the Dominican Republic, where it paired up with a local firm to build towers on the beach. Ivanka Trump, who was formerly in charge of overseas acquisitions at the real estate company, resigned her position before her father's inauguration, but Vanity Fair noted in January 2017 that she still gets a "fixed series of payments from the revenue of a spate of projects."
The US ambassador to the Dominican Republic is Robin Bernstein, one of the founding members of the president's Mar-a-lago club in Florida and supporter of Trump's Florida campaign. Bernstein was sworn in on July 3, about a month before Ivanka Trump's visit.