The US jobs market is improving at a glacial pace. Still, the healing is real.
Today the US Department of Labor issued its latest Job Opening and Labor Turnover survey data, known to the cognoscenti as JOLTS. The data showed a fresh positive milestone for the US labor market, as job openings in September exceeded 3.9 million. That's the best reading since the Great Recession hit.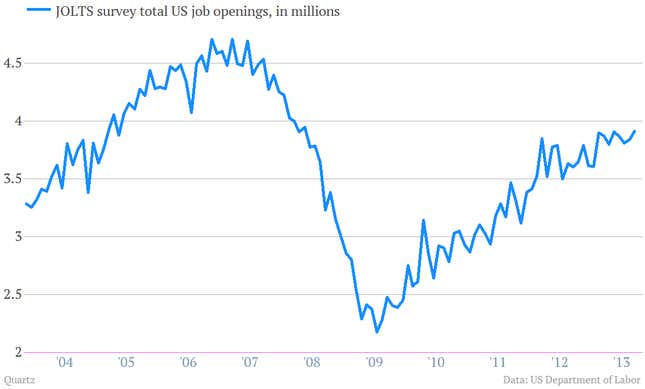 Less positive are the latest data on the so-called quit rate, which measures the share of workers leaving their jobs by choice. That rate is stuck far below pre-crisis levels, indicating job switching is relatively low and workers generally don't feel like they have many compelling alternatives to their current employers.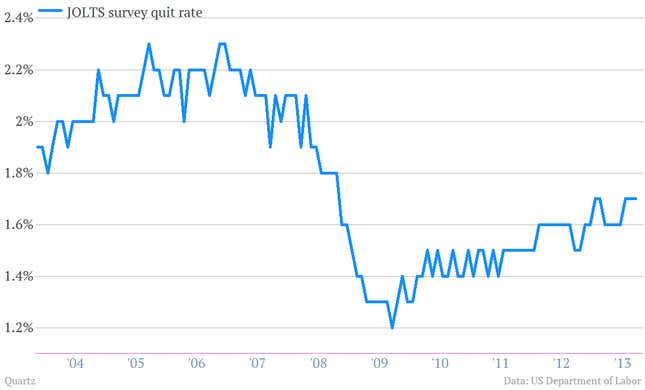 Economists—such as the presumed next head of the Federal Reserve, Janet Yellen—have spotlighted the quit rate as a good gauge of worker confidence in the robustness of the job market. In a speech earlier this year, Yellen mentioned that she'd like to see improvement in the quit rate, which would "signal that workers perceive that their chances to be rehired are good—in other words, that labor demand has strengthened." So, at least by this measure, Yellen would likely say that the US labor market still has a lot of healing left to do.