The recent flurry of housing has suggested that the Federal Reserve's dalliance with tapering, which started back in May, is cooling off a hot US market for single family homes. But new data out today offers a more muddled picture. Take a look:
Building permits seemed solid in October.
Monthly applications for new residential construction hit 1.03 million in October, the best since June 2008. (Housing starts data have been delayed because of the government shutdown and are set to resume on Dec. 18.)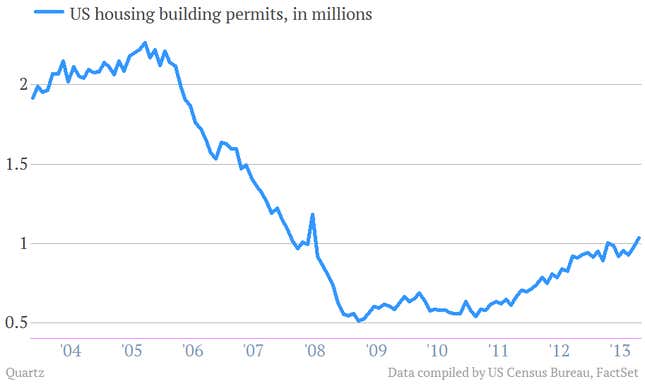 But those permits were mainly driven by plans to build new apartments.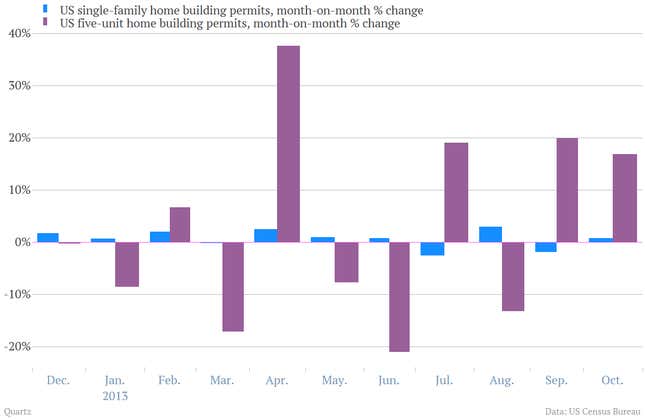 Home sales data was soft, too.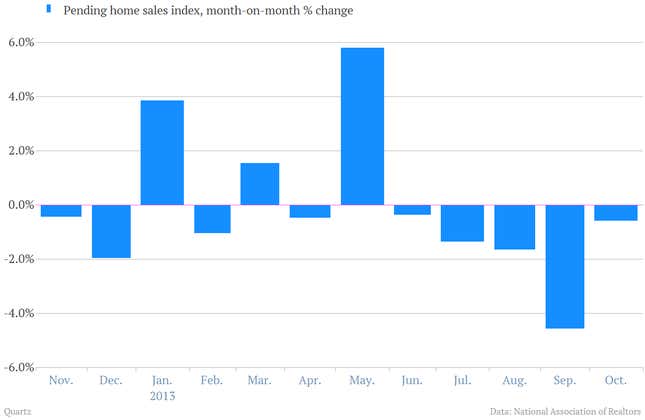 But don't panic. The housing market is not falling apart.
Permits to build housing with five units or more were up 16.9% month-over-month. Single family permits were up a scant 0.8%. This is still good news, but the multifamily sector tends to be far more volatile and therefore not as strong a signal about the housing market's future.
Pending home sales for October released on Nov. 25 were also a bit weak, dropping for the fifth straight month.
Just-released Case-Shiller housing price index showed housing prices continuing to rise in September. Home price appreciation was up 13.3% in that month, compared to the prior year. That's the best since February 2006, and an increase over 12.8% in August.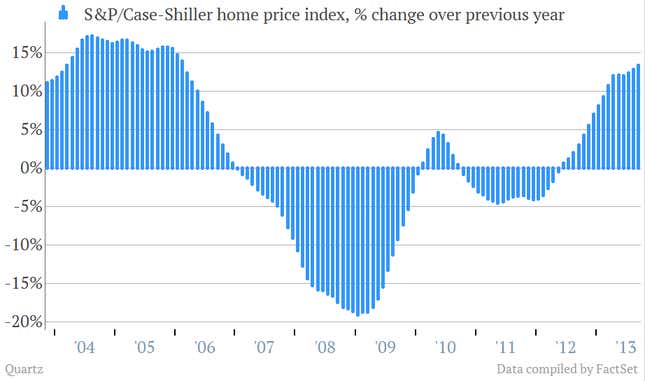 Another measure of US home prices, which tracks mortgages that are securitized by housing agencies such as Fannie Mae and Freddie Mac, showed a slowdown in home price appreciation in September. By that measure, home prices rose 0.3% in September, compared to the prior month—a much slower pace than earlier this year. This index tends to be a bit less volatile, as it focuses on repeat sales of homes that conform to government mortgage requirements. As such, it strips out some of the impact of newer, more expensive houses.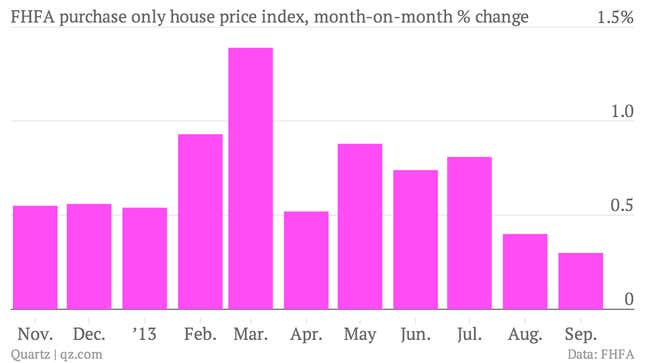 The takeaway? The Fed's taper talk—which started back in May and sent mortgage rates sharply higher—does appear to have weighed down the US single family housing market. But the wheels aren't coming off just yet. The housing market looks like it can continue to muddle forward with slightly higher mortgage rates—which remain quite low by historical standards. And that's a good thing.