The family of Paul Whelan, the Michigan man detained in Moscow on suspicion of espionage, is in the dark about nearly every aspect of his legal situation, his brother told Quartz.
Paul Whelan, 49, served in the US Marine Corps Reserve and now works in corporate security. He was arrested in a Moscow hotel room Dec. 28 by the FSB, the successor agency to the Soviet KGB, after allegedly taking possession a flash drive containing Russian state secrets. Under Russian law, espionage can carry a sentence of up to 20 years.
Vladimir Zherebenkov, the attorney assigned by the Russian government to defend Whelan, told CNN last week that formal charges had been laid but declined to provide details. However, if that is indeed the case, no one informed any of Whelan's relatives, according to David Whelan, Paul's brother.
"Why don't we know more from the US government, and other governments, about what's actually going on and what the charges are, even?" Whelan, a law librarian in Toronto, told Quartz. "It didn't take me two weeks to read the [Russian] Espionage Act and realize there are only four or five charges that they could charge him with under that. I don't understand why in two weeks we don't know which one of those elements it is."
Paul Whelan has been visiting Russia since the late 2000s, and was reportedly in Moscow to attend a friend's wedding. He worked as a part-time police officer in Michigan in the mid-1990s, and spent 14 years in the Marine Corps Reserve as an administrative clerk before being kicked out on a bad-conduct discharge for attempted larceny during one of his two deployments to Iraq. Whelan's now-defunct personal website suggested conservative political leanings; his (now-locked) account on VKontakte, a Russian knockoff of Facebook, shows him to be an enthusiastic supporter of Donald Trump and less fond of his predecessor.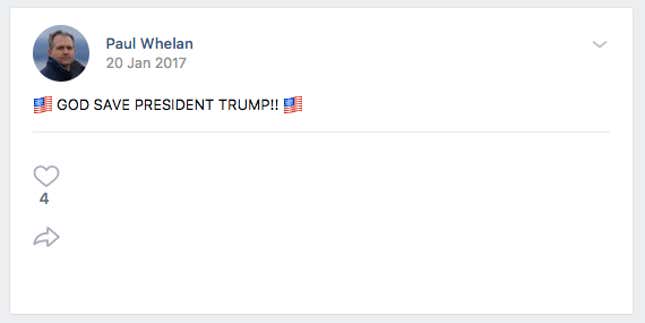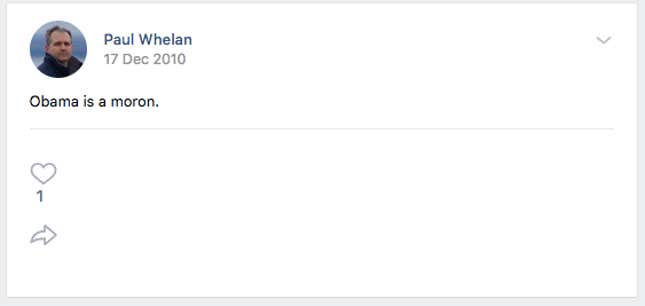 David Whelan said the family is frustrated by the lack of detail provided thus far by Russian officials, although they have communicated with attorney Zherebenkov through an English-speaking employee in his office.
"From a client-attorney standpoint, there's not a whole lot he can share with us [because it's] confidential or privileged," Whelan said.
Trump administration officials have said little about the situation. US ambassador to Russia Jon Huntsman met with Whelan in Lefortovo prison. Whelan was born in Canada and holds Canadian, American, British, and Irish citizenship, and consular representatives from those nations have visited him as well. During a press conference shortly after Whelan's arrest, secretary of state Mike Pompeo said the US would demand Whelan's return "if the detention was not appropriate." Trump has said nothing publicly beyond, "We're looking into that."
Whelan's family has been in touch with Michigan Democratic representative Haley Stevens and senators Debbie Stabenow and Gary Peters, the ranking member of the Homeland Security and Governmental Affairs Committee. The outreach from them has been "really valuable," said David Whelan, who added that and the US embassy staff has been extremely helpful in making sure Paul is safe and treated decently.
"There are an awful lot of statements of concern, which we definitely appreciate," David Whelan said. "But when is the government going to step forward and take action, to show that it is concerned and go beyond just saying it, so that we know that some effort is being made?"
US spies say Whelan doesn't fit the profile
Whelan was demoted from staff sergeant to private and given a bad-conduct discharge from the Marine Corps Reserve in 2008. Court documents show he was convicted of attempting to steal more than $10,000 while on duty in Iraq two years earlier. He was also convicted of accessing a military computer system using fake credentials, including a bogus Social Security number, to alter his own exam scores, and writing $6,000 worth of bad checks.
John Sipher, a CIA veteran who spent 28 years in the agency's clandestine service and once ran its Russia operations, said the CIA wouldn't accept someone with Whelan's checkered past, nor would the Canadian, British, or Irish intelligence services.
As Sipher previously told Quartz, "Putin knows very well that this is not US intelligence. He's seen the real thing over the years. This is a political game, pure and simple. An ugly game."
David Whelan said he doesn't know "anything about any contacts [Paul] would have had with anybody related to the CIA" and that "it's inconceivable that he would have been doing espionage in Russia. For anybody. For any country."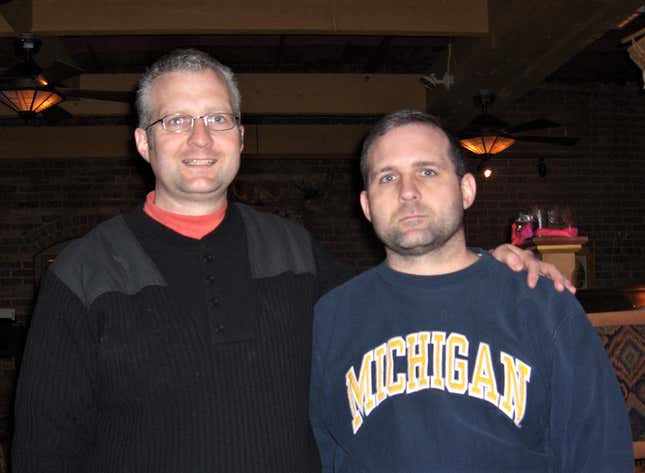 David Whelan also said he knew of no obvious financial distress that might have caused Paul to try and obtain classified material that could be later sold. "I think his career was going very well," said Whelan. "He seemed very happy in his life."
The accusations against Whelan come just weeks after accused Russian intelligence agent Maria Butina pleaded guilty to conspiracy charges in the US for improperly trying to influence the National Rifle Association and Republican lawmakers. Although Moscow denies Whelan is being used as a political pawn, experts have wondered if the Russians are in fact looking to swap Whelan for Butina.
Writing in The Atlantic today (Jan. 10), Sipher noted that "innocent Americans" have "unknowingly had classified material shoved into their hands immediately prior to an arrest in Moscow. All were held in the notorious Lefortovo Prison in a shameless effort to pressure the United States into releasing guilty Russian spies. Often, this strategy worked."
Putin "may wish to secure Butina's release before she can testify publicly," Sipher wrote. "Similarly, he could be sending her a signal to stay silent or face the consequences if and when she's sent back to Russia."
Alternatively, Whelan "would not be the first naïf to think that if he could make a big score on his own, he could then appeal to his military contacts or others back home to take him seriously," Sipher continued. "His public support for Donald Trump could have been an added benefit to the Kremlin. If Putin's goal is to pressure the White House to negotiate or consider a trade, it certainly helps the bargaining process to hold at risk a vocal supporter. Manipulating Trump's ego has become standard operating procedure among despots."
Paul Whelan remains "very hopeful" 
Russian state-run news agencies reported last week that Zherebenkov asked the court to release Whelan on bail, though the court has not set a date for a hearing. Whelan was in a "very hopeful" frame of mind when Zherebenkov visited him, Zherebenkov told the Associated Press.
That optimism may be at least partially misplaced, based on an interview Zherebenkov gave to the Daily Beast from a beach in the Dominican Republic, where he was vacationing. Asked if the FSB could have cooked up false charges against Whelan in order to swap him for Butina, he insisted it was an impossibility.
"They are highly professional investigators," Zherebenkov maintained. "Of course to avoid a scandal they double-checked all their reasons before they accused him…If they grabbed the person, it means they have serious reason for that, they can prove his guilt."
Zherebenkov then said, "At least for now, judging by what the investigation shows us, I am not convinced he is guilty. I don't see his guilt."
Whelan's situation is an individual problem, his brother said, but it is also something that should concern all Americans.
"We now have people like Michael White being detained in Iran," said David Whelan, referring to the revelation this week that Iranian authorities have been holding a 46-year-old California military veteran on unspecified charges since July. "We've got Paul in Russia, we've got people all over the place in many countries who are being detained. And there seems to be an unwillingness for the governments to engage to get them out."