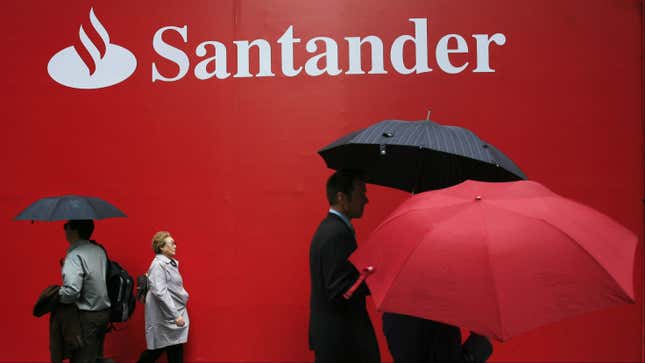 Since when do technical difficulties kill a banking merger?
Technical difficulties and delays were apparently the reason that Santander UK on October 12 bailed out of a deal to acquire 316 bank branches from Royal Bank of Scotland (RBS), valued at roughly £1.65 billion ($2.65 billion). The deal was two years in the making. In August 2010, Santander agreed to buy RBS branches in England and Wales, as well as RBS' NatWest branch business in Scotland, and certain SME and corporate activities across the UK. It was supposed to close by the end of 2011, but delays by RBS to separate its branches from its systems thwarted the closing again.
Santander said in a statement that conditions for the transfer of the business would not be met by a February 2013 deadline, and it refused to agree to a further extension.
There were delays and problems to be sure, but this is hardly the first time Santander has dealt with issues like these. Banking systems never match, and take time to integrate. Santander executives know this better than most. It's been the case with other UK acquisitions the Spanish bank has made in its ongoing bid to be a global banking powerhouse.
When Santander acquired the UK's Abbey National in 2004, numerous technical difficulties emerged as Santander attempted to integrate the bank's systems with its own. High-profile disruptions to banking service resulted in staff and customers closed out of systems. In August 2010—the same month Santander made its deal to buy RBS's businesses—Santander was in the news again, this time, when customers of the UK's Alliance & Leicester (A&L), a 2008 Santander acquisition, couldn't access accounts online. It had taken the bank two years to integrate customers and problems were still cropping up, as Santander tried to integrate A&L with Abbey, and also Bradford & Bingley, a third acquisition in the UK (2008).
It's entirely possible that Santander has simply had enough with technical problems involving UK banks and wanted a smooth transition or nothing. Then again, it's also possible it used the IT problems as an excuse to bail out of the deal.
Philip Hampton, chairman of RBS, clearly isn't buying Santander's official line. Speaking today from Tokyo, where's he's attending meetings on the sidelines of the International Monetary Fund meeting, he said.
People have speculated that it's not an easy time in general for banks to take on a lot of risk-weighted assets. IT challenges always get overcome.