How do you get people to use cars less? Try making driving more expensive.
Support for congestion pricing, a tax designed to mitigate traffic by charging motorists to enter crowded zones, is at a historic high in New York, according to a recent poll from Siena College of 805 registered New York state voters. Statewide, New Yorkers support a congestion pricing plan to reduce traffic and pay for subway improvements by a 52%-to-39% margin.
Support for congestion pricing outweighs opposition across almost every demographic—liberals, moderates, New York City, suburban households, upstate, white, black, latino, every age group, every religion, every income level. Only conservatives and, interestingly, union households are more likely to oppose the measure than to support it. Support for the tax was particularly strong among black (64%) and latino (57%) respondents, as well as among people ages 18 to 34 (63%) and people in the lowest income bracket, less than $50,000 (60%).
Only about 10% of voters hadn't heard of congestion pricing or had no opinion on it, setting up New York state governor Andrew Cuomo nicely to propose a congestion pricing plan in his 2019 "State of the State" and budget address this afternoon (Jan. 15). Cuomo proposed a fee to enter Manhattan south of 60th Street. The fee, Cuomo said, would create "toll equity" by ensuring drivers paid to enter the busiest part of Manhattan, regardless of where they came in. The exception would be for drivers traveling along the FDR Drive, on the east side of the city, to go north or south in Manhattan.
Here is a quality screenshot of Cuomo talking about the plan while closing his eyes and making a face: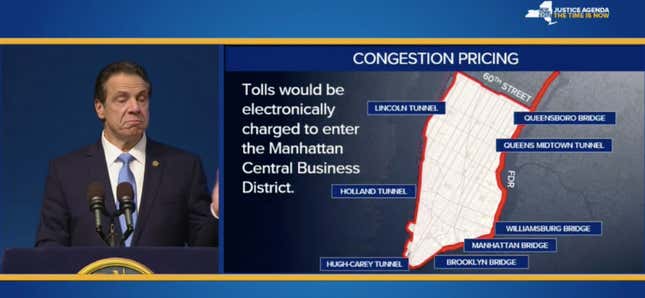 Vehicle speeds in the New York's central business district have been dropping since 2010, most recently to 7.2 miles per hour (pdf). Cuomo's office pointed to "remarkable growth of for-hire vehicles in New York City"—here's looking at you, Uber—plus new bike lanes, pedestrian plazas, deliveries, and tour buses. Construction, of course, also factors in. Uber policy manager Josh Gold said in a statement following Cuomo's address that the company supports congestion pricing for "all users of Manhattan's congested roads."
A mini-congestion surcharge on for-hire rides in Manhattan south of 96th Street was supposed to take effect in January, but remains on hold after cab drivers sued. That plan would add $2.50 to taxi rides, $2.75 to other black car trips and private rides booked through an app, and $0.75 for shared ride-hails, like UberPool or Via. Shared rides, in other words, get a big break.
Cuomo's congestion pricing plan would apply to all vehicles and is projected to raise $15 billion, but it wouldn't take effect until 2021, which seems like an awfully long time when measured in minutes-spent-waiting-on-a-stalled-subway-car. That $15 billion also represents only a quarter of the estimated $60 billion needed to rehab the city's subway system, and New York City mayor Bill de Blasio remains opposed to Cuomo's plan for the city to split the cost of a shortfall 50-50. "If anyone thinks that money can be found in the city budget, they may be smoking marijuana," de Blasio said yesterday—something else that could soon be legal in New York, if Cuomo gets his way.
Congestion pricing is popular among transit wonks, but historically has been politically unviable in New York and the rest of the US. Vehicle owners understandably chafe at the idea of having to pay even more money to get where they need to go, particularly if the toll is getting tacked onto a regular commute to work. A congestion plan proposed by former New York City mayor Mike Bloomberg in 2007 met a quick death in Albany.
But congestion pricing works in cities that have implemented it, such as London and Stockholm. Vehicle speeds rise, and congestion and carbon emissions fall. "If you survive this valley of political death, and people actually see the benefits, and also realize that, in addition to the benefits, it's actually not as bad as you thought—it's not so hard adapting to this—then support starts going up again," Jonas Eliasson, Stockholm's director of transportation, told Curbed in March 2018.
Despite the support in New York, enacting congestion pricing remains an uphill battle. But it's a far more achievable and implementable fix to a city's traffic woes than waiting around for a hyperloop, or fully autonomous driverless cars, or flying taxis, or any of the more fantastical solutions being worked on in Silicon Valley. Those moonshots may happen one day. But in the meantime, congestion pricing can hasten the car's exit from the American lifestyle.