Mexicans living abroad sent over $1.85 billion dollars (link in Spanish) back home in October, a 3% increase from September and nearly 5% spike from the same month last year.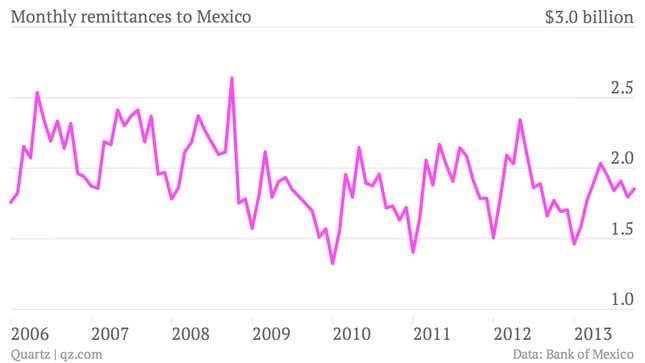 It's the third consecutive month in which remittances to Mexico grew from a year earlier—a welcome sign for those Mexicans back home who still depend on the generosity of relatives abroad, predominantly in the US, for the bulk of their disposable income.
Like most anywhere else, spending in Mexico jumps significantly during the holiday season. But the recent advent of El Buen Fin, Mexico's rendition of Black Friday, which was first introduced in 2011 and wrapped up on Nov. 18 this year, has not only lured more holiday season spending—Mexicans spent an estimated 160,000 million pesos (link in Spanish), or $12 billion, during this year's discount event—but nudged it earlier. The discounts have attracted so many Mexican shoppers that November spending could be eating away at the country's historically strong December sales. And the uptick in remittances may also be partly a response to El Buen Fin, as Mexicans abroad send money to their families in time for the shopping splurge.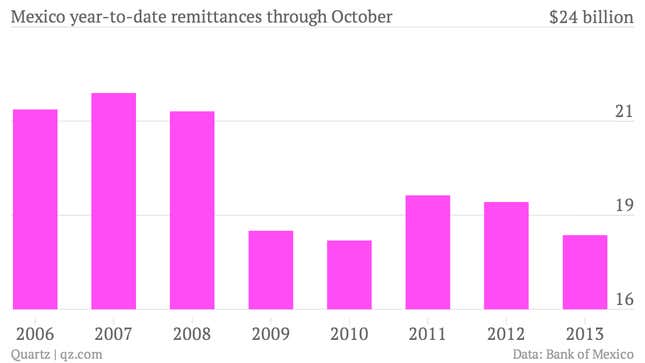 The holiday cheer could fizzle, however. The spike in remittances bucks a broader downward trend in remittences to Mexico, which have dropped 29% since 2006. The drop-off was sharpest after the Great Recession, but after bouncing back up in 2011, remittances now seem to be back on a downward track:
​