Davos is a place where it's easy to have a fear of missing out. There's always a more exclusive party than wherever you are, usually in a private chalet up the mountain. There's always a more elite briefing than the one you're in. And your competitors, whatever your field, surely are holding meetings with world leaders or other bigwigs more prestigious than the ones you set up.
This feeling extends to the Congress Centre, where the bulk of the official programming takes place during the World Economic Forum. Tucked away in the lower levels of the sprawling building, there's a restricted-access lounge that serves as a hidden meeting spot for the forum's top-tier attendees. Entrance is limited to those with the right color badges, the pecking order made visible by the security credentials everyone must wear around their necks to do anything of importance at the summit. You need at least the white participant badge—of which there are 3,000 this year—to be allowed in. It's called the Garden Lounge.
To get to the lounge, you have to first go through the security check to get into the Congress Centre, with Swiss soldiers and police operating airport-like scanning checkpoints. Then, you walk through a winding corridor, past another badge check, and down a narrow stairway.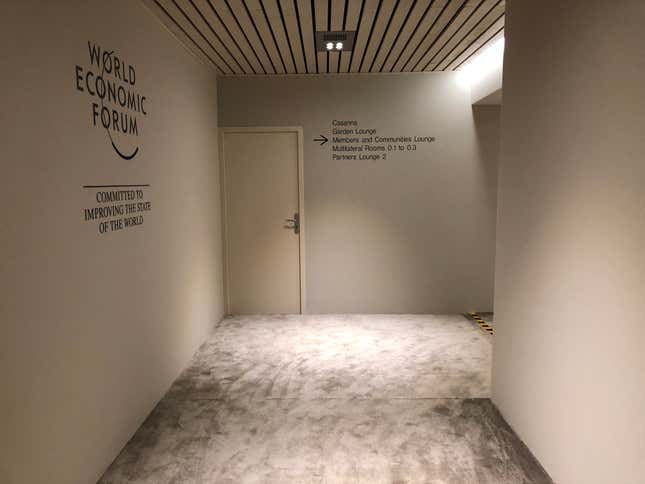 You then emerge in an open space that feels like a high-end club lounge at an airport. There are nicely designed chairs and a bar offering drinks and snacks. Beside the bar, there's a robot that will make coffee for you.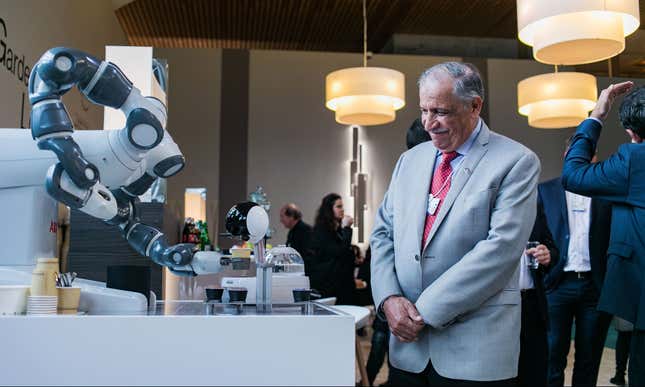 It's nearly impossible to tell, but the Garden Lounge sits on top of a swimming pool. The Congress Centre operates as a spa when the World Economic Forum isn't holding its meeting there, and this is normally a pool room. Divers anchor support poles in the pool that the floor of the lounge is then attached to.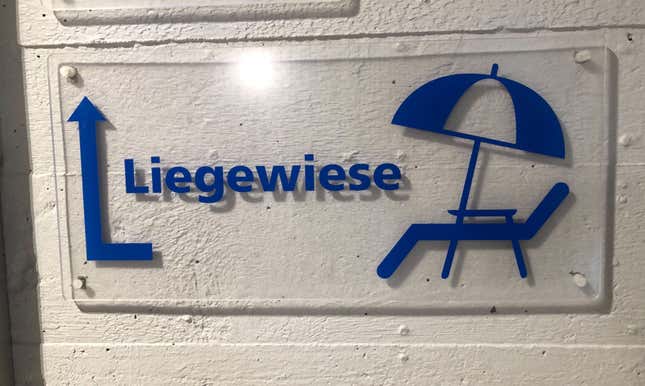 In previous years, the lounge was designated for public figures and their entourages, with access even more severely restricted than now. Canadian prime minister Justin Trudeau is among those who held meetings in a room off the lounge in years past. The public figure lounge was moved to another space closer to the large hall where the biggest speeches are held for the 2019 meeting.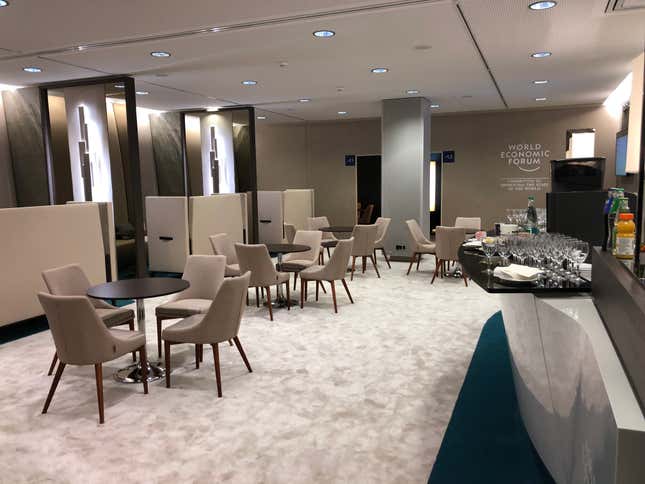 Alongside the Garden Lounge, there is—naturally—another lounge with even more restricted access. It's designated for participants affiliated with member organizations, which generally pay the World Economic Forum steep fees for that status. At Davos, you can never be sure that you are in the place where the real action happens, with the people who really matter.