Until very recently, you could pick a Grand Slam tennis match at random and be sure to see one of a very small number of logos on the players' kit. The Nike swoosh is sewn into the shirts of Roger Federer, Rafael Nadal, Maria Sharapova, and Serena Williams; Adidas' three stripes are worn by Andy Murray, Jo-Wilfried Tsonga and Caroline Wozniacki; David Ferrer and Agnieszka Radwanska show off Lotto's double diamond. But there's a new group of fast-fashion and lifestyle brands on the court, and they are putting big money behind the next generation of players.
The torchbearer was the then rising star of men's tennis, Novak Djokovic. Back in 2012, his clothing deal with an Italian firm, Sergio Tacchini, was a drag for both parties. The contract included performance-related bonuses, and from 2011 Djokovic couldn't stop winning. Sergio Tacchini couldn't keep up with the payments and struggled to distribute the kit to retailer. In mid-2012 the two parted ways, less than three years into a decade-long deal. But, rather than jump across to one of the established brands, Djokovic signed with a Japanese fast-fashion brand, Uniqlo, which has some experience with tech fabrics, but is better known for its puffy jackets and cut-price cashmere.
The deal was a coup for the firm, according to Isabel Cavill, a senior retail analyst at Planet Retail. It may have been jarring at first, but the image of Djokovic wearing the Uniqlo logo gave the company an instant lift into a whole new market. And so far the deal has been a harmonious one. The financials are undisclosed, but Djokovic has continued to win Grand Slams and has kept his nose clean, the two biggest concerns for his sponsors. For Djokovic, he has been given input into the design process, Uniqlo's high-street presence means the clothing reaches its customers, and, best of all, the firm has yet to move into footwear, so he has been able to negotiate a separate sponsorship deal with Adidas for his shoes.
Of course, the true indicator of success for sponsorship deals lie in their imitators. And six months after Djokovic and Uniqlo shook hands, a Swedish rival, H&M, announced it had signed up a Czech player, Tomas Berdych, to wear its first tennis line. (It has since cemented its move into sportswear by signing a deal to dress the Swedish Olympic, Paralympic and Winter Olympic teams.) Soon after came New Balance, a trainer firm which also produces some apparel, who are reported to be paying a young Canadian, Milos Raonic, $1 million a year to wear its first sportswear ranges. And UnderArmour, an American T-shirt company, are four years into an agreement with rising star Sloane Stephens.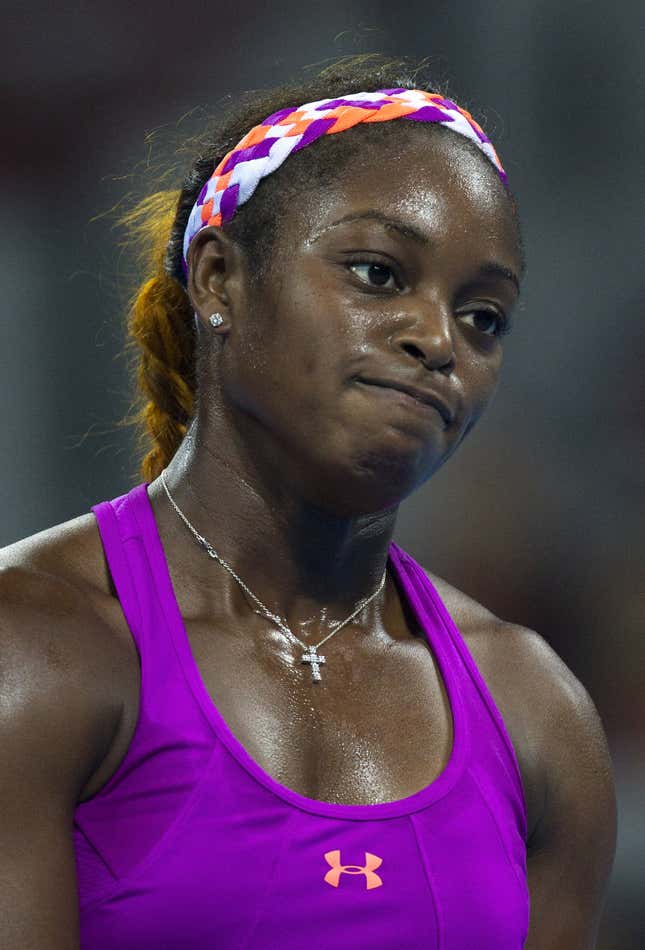 The latter two deals are especially interesting, as Raonic and Stephens represent the post-Federer, post-Serena generation. This reflects the barriers to entry in the market. There are only a very limited number of players with the consumer recognition of Djokovic, and they are all expensive for new entrants to poach. By getting in early with young players, New Balance and UnderArmour are hoping their deals prove a bargain. But there is no guarantee—so far the pair has just a single Grand Slam semi-final appearance between them.
In this respect, tennis sponsorship is a high-risk game. Unlike sponsoring a team—Manchester United, Ferrari or the New York Knicks—the success of the deal lies largely on the performance of a single athlete. A loss of form or off-court distractions can be ruinous. But the rewards are high too. Strict laws about kit design mean that for clothing sponsors, theirs will be the only logo in sight. And tennis players seem less prone to generating the unsavory headlines of soccer or football players.
Cavill believes that H&M, Uniqlo and their fast-fashion contemporaries have a strong chance of eroding the market share of Nike and Adidas—but it will cost them to do so. Nike pushed the market into a new league when it signed Maria Sharapova to an eight-year deal for $70m in 2010, and greater competition will push the value of sponsorship up further. For Raonic and Stephens, playing well on court will have huge rewards off-court, too.