Brazil's economy shrank 0.5% between the second and third quarters, data out today show, as protests raged, the currency tumbled and investment fell. It was the country's largest quarterly economic contraction since the first quarter of 2009.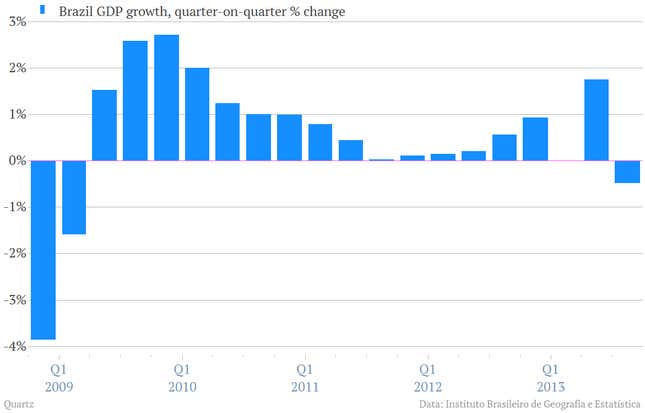 Investment, as measured by gross fixed capital formation, declined 2.2% during the quarter.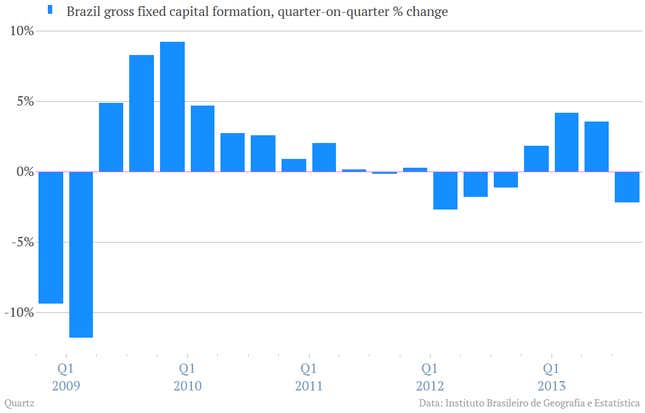 There would be plenty of reason for investors to take a wait-and-see approach to Brazil over the last few months. The protests that raged over the summer and fall didn't look great. But those protests were, in part, a manifestation of persistently high inflation (paywall), which is a turn-off to global investors as well. Adding to the uncertainty has been the sharp decline in popularity of leftist president Dilma Rousseff over the last year, which raises the prospect of a large shift in the direction of the country in next year's election.
"You only make investments when you have long-term visibility, and that visibility declined over the last years," David Beker, Brazil economist for Bank of America Merrill Lynch, told Bloomberg News.