After Republican political consultant Roger Stone was arrested by the Federal Bureau of Investigation this morning (Jan. 25) on charges of obstruction, witness tampering, and making false statements, the White House's response was swift.
His arrest and indictment "has nothing to do with the president, and certainly nothing to do with the White House," press secretary Sarah Sanders told CNN. "This is something that has to do solely with that individual."
The indictment, from the office of special counsel Robert Mueller, details multiple interactions between Stone and members of the Trump campaign ahead of the 2016 election. It describes Stone taking credit for the leaks of rival Hillary Clinton's emails. Those leaks bumped Trump's obscene statements about women from the headlines just before the election.
The indictment never references Trump directly, however.
Stone and Trump have a complicated, often contentious relationship that goes back decades and was centered around Trump's flirtation with politics for nearly as long. During Trump's 2016 campaign, Stone served briefly as his communications advisor, and founded a political action committee that raised over $500,000 for Trump. He's often claimed to have the ear of the president, and Trump recently thanked him publicly for promising to never testify against him.
That may change with today's indictment.
Raising money from Trump for Reagan
Wooing Trump to run was a 30-year project for Stone. He met long-time idol and Trump mentor Roy Cohn over bagels, he recalls, and asked for a meeting with Trump because he wanted to raise money for Ronald Reagan's presidential campaign, he told Vanity Fair's Marie Brenner in 2017.
Trump sent Stone to his father Fred in Coney Island, where a deal was struck, Brenner writes. "True to his word, I got $200,000. The checks came in $1,000 denominations, the maximum donation you could give," Stone told her. "All of these checks were written to 'Reagan For President.' It was not illegal—it was bundling. Check trading."
Later, Stone was sent to solicit Trump to run for governor of New York state in the 1990 race, after Republicans were "stung by the record re-election victory of Governor Cuomo last year," the New York Times reported in July 1987 (paywall):
Roger Stone, who ran President Reagan's successful New York effort in 1984, said he met with Mr. Trump in Atlantic City two weekends ago to ask how the casino owner and developer felt about a possible challenge to Governor Cuomo.

"Frankly, I came away empty handed," Mr. Stone said. "While Trump said he was flattered and might be interested in public office in the future, he likes Mario Cuomo and couldn't see a race against him."

Mr. Stone said leaders from the state's Republican and Conservative parties asked him to meet with Mr. Trump after the developer, recently engaged in a much-publicized feud with Mayor Koch, said he was not interested in running against Mr. Koch.
By 1989, Stone's lobbying firm with Paul Manafort, who later became Trump's campaign head, is described as having Trump as a client (paywall); within a decade that relationship had deepened and Stone was Trump's official "political advisor."
The raunchy Reform candidate
In 1999, with Stone at his side, Trump publicly left the Republican Party to explore a presidential bid as a member of the Reform Party. He told reporters he planned to "use his experience as a casino and real estate developer to successfully run the United States," CNN reported then, and said that Oprah Winfrey would be an ideal running mate.
Later that year, Stone told the New York Post there was little chance Trump would release his tax returns if he ran for president, after Trump and his then-girlfriend Melania Knauss made news with a "raunchy interview" about  Trump's presidential ambitions (and the fact that she was naked) on Howard Stern's talk radio show. Stone tipped the Post off to the fact that Trump was dropping out of the race in February 2000, blaming the  "fratricide" of the Reform Party and a surge by Republican candidate John McCain.
But Stone and Trump's relationship continued. In 2000, Trump confessed to secretly spending $150,000 to fund ads against an upstate New York casino backed by a Native American tribe. The man behind the ad campaign? Stone, who worked on behalf of a "little-known upstate anti-casino organization." Together, they paid $150,000 in fines (paywall).
And then, the men's friendship seemed to go dark. By 2008, Trump was telling people he was disgusted by Stone. "Roger is a stone-cold loser," he told the New Yorker, in a profile of Stone in which the "dirty trickster" takes credit for the "Brooks Brothers riot" that threw off the final counting in the Al Gore–George W. Bush presidential election of 2000 and for aiding in the downfall of former New York governor Eliot Spitzer. "He always tries taking credit for things he never did," Trump said.
Stone on the 2016 campaign trail
But by 2015, Stone was on the "Trump for president" kick again, and his consulting company Drake was being paid about $20,000 a month to work as Trump's communications advisor. He introduced Trump to Infowars host Alex Jones, the fake news peddler and conspiracy theorist, who interviewed Trump on his show.
The detente was short-lived, however. The two men had a falling out that was described by each as the other's fault, and Stone was either fired, or resigned, from the official Trump campaign. 
"Sorry @realDonaldTrump didn't fire me- I fired Trump," Stone tweeted (his account has since been suspended). The Trump campaign called Stone an attention-seeker in a statement.
Late that year, however, Stone started the "Committee to Restore America's Greatness," a political action committee for Trump that ultimately raised over half a million dollars; it's main goal was to target rival candidate Marco Rubio, Reuters reported, citing a fund-raising letter.
By 2016, Stone was again traveling the campaign trail with Trump, appearing at this July stop in New York, where Trump announced his vice presidential candidate, Mike Pence.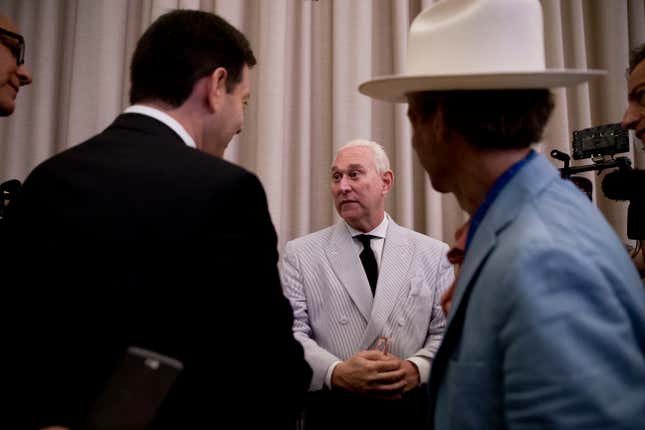 In September 2017, as the House investigative committee probed Trump's potential collusion with Russian government forces in the election, Stone was called in for three hours of closed-door testimony. "I expressed my view that I'm aware of no evidence whatsoever of collusion by the Russian state or anyone in the Trump campaign or anyone associated with Donald Trump," he told reporters afterward.
The only thing Stone is guilty of now, his lawyer said today, is being Trump's friend. "Roger intends to fight the charges as this is nothing more than going after him for 40 years after Watergate and being a friend to the president," he said.