2018 was the year of expensive skincare for Big Beauty. Per recent earnings reports from beauty industry giants, and analyses from several research firms, skincare has overtaken makeup and is showing no sign of slowing down.
On Feb. 5, Estée Lauder reported second-quarter sales of just over $4 billion, a new quarterly high for the cosmetics company. Its rival, L'Oréal, beat analyst expectations in its annual report Friday, with its best sales growth in over 10 years, pushing its stock to a record high.
For both companies—which are two of the seven major manufacturers in the beauty industry—the skincare category (made up of lotions and moisturizers, serums, cleansers, toners, masks, and more) was their biggest cash cow.
For Estée Lauder, skin products brought in $1.7 billion in sales, up 16%, in its latest quarter. The sharp spike was due to the stellar sales of prestige brands like La Mer, Estée Lauder, and Clinique. In its earnings call, the company's president and CEO, Fabrizio Freda, hailed skincare as "the fastest-growing category globally."
L'Oréal, the world's largest beauty company, noted that the bulk of its growth came from its L'Oréal Luxe (luxury skincare, makeup, and perfume) and Active Cosmetic (skincare) divisions. Chairman and CEO Jean-Paul Agon said in the company's annual results report that Lancôme—"driven by its skincare performance"—led growth in the Luxe category by crossing the €3 billion ($3.4 billion) mark in 2018, while Active Cosmetics "achieved its highest growth for more than 10 years in a very dynamic skincare market."
Color cosmetics (lipsticks, eyeshadows, mascara, and other makeup) once dominated the beauty industry in the US, but has in recent years lost its supremacy to skincare. An October 2018 report by the NPD Group showed that skincare's year-over-year growth was 16% in the US, while makeup had only grown by 3%.
Globally, skincare also dominates: An industry outlook from Euromonitor in August 2018 forecast that skincare had experienced the strongest growth globally against all other cosmetics categories in the third quarter, a spot previously controlled by makeup. Notably, the firm highlighted that when it comes to sales, premium (typically $50-$2,000) anti-aging products rule.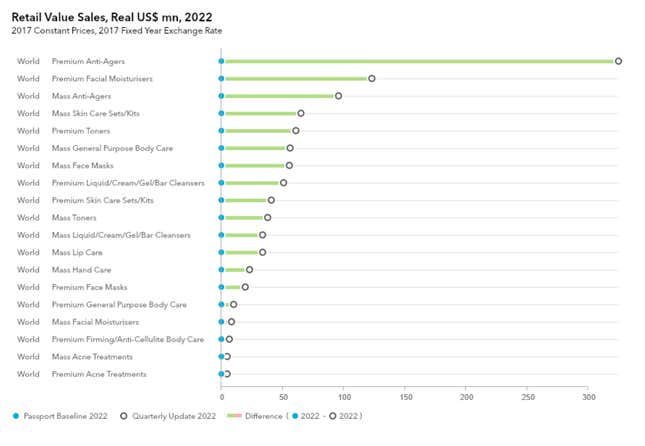 Online publication Fashionista recently speculated that the skincare industry could be reaching "bubble" territory: Some analysts believe that the unprecedented growth of the category within legacy brands, paired with the unfettered proliferation of independent labels (the last two years have seen the debut of over 100 new brands) has caused the market to become dangerously "fragmented and crowded."
In spite of that, skincare looks like it will remain a bright spot for the beauty industry. Euromonitor noted that the trend is likely being driven by consumers' growing focus on healthy living, as evidenced by a ballooning wellness industry. Meanwhile, buzzy brands like Glossier and Milk Makeup—which initially launched as makeup brands—are expanding their skincare offerings. Even makeup queen Kylie Jenner—whose wildly successful makeup company reached over $900 million in sales last year—filed various patents for skincare last October.