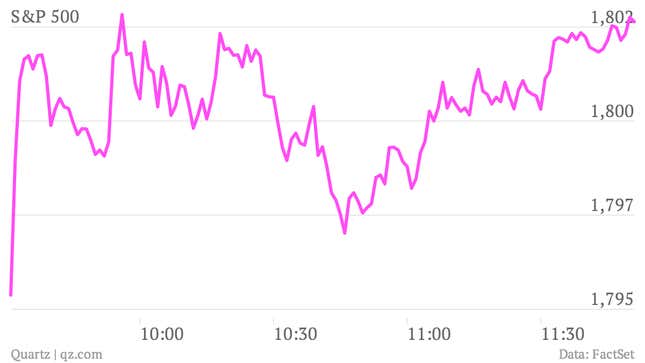 Rock solid November US job data turned the attention of Wall Street analysts back toward the taper today. As anyone following financial markets this year could tell you, the taper is a near-mythical moment when the Fed will begin to ease up on the amount of government guaranteed bonds it buys each month. (The bond buying program is currently set on autopilot to the tune of $85 billion a month.)
After the today's jobs report, the Wall Street Journal's Jon Hilsenrath—viewed by many in the bond market as something of an oracle on Fed policy—wrote:
Strengthening payroll employment gains lay the ground work for the Fed to begin pulling back on its $85 billion-per-month bond-buying program and increases the odds that it will start either in December or January.
A Fed watcher from J.P. Morgan wrote a note entitled "Jobs report smells a little like tapering." In it Michael Feroli wrote that he still thinks the US central bank won't start to let up on bond buying at its next meeting Dec. 17-18.:
Over the past two years the labor market has created almost 4-1/2 million jobs, yet the participation rate has continued to decline. At some point the Fed will have to accept that the labor supply is trending lower, and hence that the decline in the unemployment rate truly represents progress toward their full employment mandate. In the meantime, we still think December is a close call but that the FOMC will hold off on tapering until January.
The chief Fed analyst at French banking behemoth BNP Paribas, concurs. Julia Coronado writes:
On balance we think the Fed holds its fire in December and awaits more data on growth and inflation, although there will likely be a discussion at the press conference that if broader metrics confirm the strength in survey and payrolls then they will taper QE in coming meetings. Our baseline continues to be that the first taper comes in March 2014.
Normally any whiff of fact that the Fed might lean toward easing up on its support for the US economy has been accompanied by skittishness in the stock market. Not so today, with the S&P 500 up nearly 1% at last glance. Such signs of confidence among investors could actually encourage the Fed to test the taper waters sooner rather than later, argues Alan Ruskin, an analyst at Deutsche Bank.
That equities are this strong is a clear signal to the Fed that tapering will not do too much damage to risk appetite -which will have the effect of making a Dec tapering even more likely!
UPDATE: Goldman Sachs analysts also offered up their two cents:
We do not think the report was strong enough to prompt the Fed to taper asset purchases in December, although a move at the upcoming meeting remains a possibility.