Alibaba is China's biggest e-commerce firm, with grand global ambitions and a mega-IPO in the works. Haeir Group is a Chinese industrial giant that makes "white goods" like washing machines and refrigerators. What they have in common is the need to ship physical goods to the far-flung corners of China, which is why their newly announced logistics joint venture was good news on the Hong Kong stock exchange on Monday (Dec. 9).
Under the terms of the deal, Alibaba will invest HK$2.82 billion ($364 million) in Haier Electronics and its online marketplace, Goodaymart, to help its online merchant customers ship their goods to smaller Chinese cities. The venture, in which Alibaba will take a 9.9% stake in Goodaymart and a 2% stake in Haier, sent shares to their highest level in 14 years. The stock has almost doubled this year.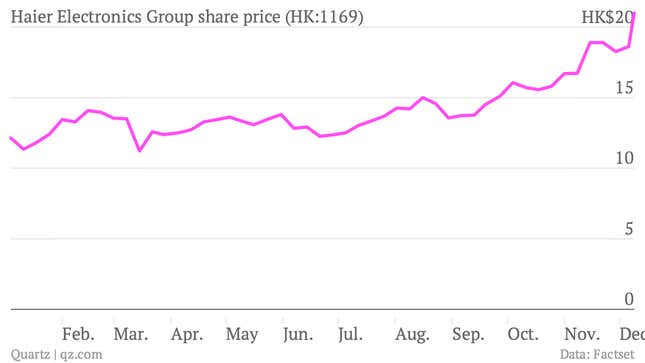 Haier has been striving to become a household name beyond China's borders, scooping up New Zealand's Fisher & Paykel Appliances business last year. But its distribution business—which handles both its own goods and those of other companies—has become a massive business in its own right. Logistics and distribution now account for much of the company's sales, with revenue up 11% to 26.6 billion yuan ($4.4 billion) in the first six months of the year.
The parent company has been on a quite a roll lately. Revenues have risen four-fold since 2000, reaching 160 billion yuan (about $26 billion) in 2012. Haier's share of the global appliance market is neck and neck with Whirlpool (paywall) at 9.6%. Of course, that's helped by the fact that Haier is the dominant appliance retailer in fast-growing China. But 11% of Haier's total sales came from outside of China, as we've pointed out before. The deal with Alibaba gives Haier money to fund more acquisitions to widen its global footprint. In January, the Boston Consulting Group ranked Haier as one of the world's 50 most innovative firms, one spot above Amazon. If it wants to stay there, it might want to start investing in drones.