The summer's panic around the weakening rupee seems to be long forgotten.
Indian stock market benchmarks surged to record highs Monday after official results showed the pro-business Bharatiya Janata Party (BJP) won sweeping victories in recent elections.
The Bombay Stock Exchange's benchmark Sensex closed up 1.6% at 21,326 today, topping a previous peak of 21,987 set on Nov. 1.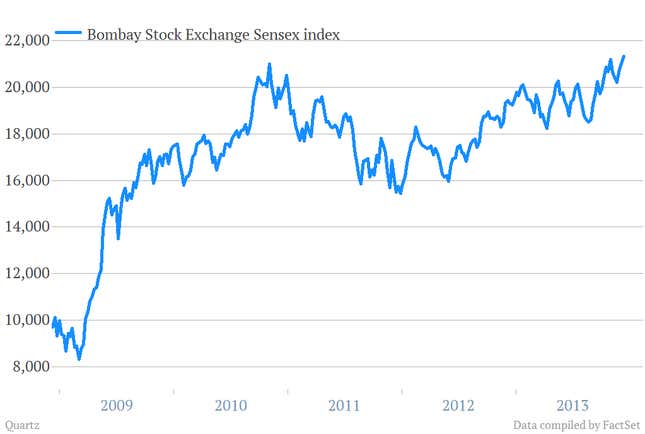 The Financial Times notes that some have taken to calling the 10% rise in Indian stocks over the last three months the "saffron rally," referencing the color often associated with the BJP. The positive results for the BJP—it won victories in four states that released official results over the weekend, including Delhi, where the capital is based—have raised hopes that the BJP might be able to dislodge the ruling Indian National Congress party (INC) in national elections due in May.
"INC has lost significant ground, losing two state governments and failing to make a dent in support for two governments of the opposition," wrote Barclays analysts of the election results. "Of the nearly 600 assembly seats for which results were declared on Sunday, the BJP won close to 70% of the seats. These four states together represent roughly 20% of the seats in parliament."
Still, investors might reconsider the idea that a major change in politics would drastically relieve India of growth-stifling corruption and bureaucracy. Eurasia Group analysts remind us that the BJP's strength is still too regional to run the country decisively. Even if the party had a big enough victory to form a government, it would still require building a coalition, which wouldn't likely be able to implement significant structural changes.
"With political partisanship now at unprecedented levels, cooperation within the ruling coalition on thorny economic reform issues such as tax reform, elimination of fuel subsidies, financial sector liberalization, and at least partial disinvestment of inefficient state-controlled enterprises, will be difficult," Eurasia analysts wrote.