Virgin Galactic, the space-tourism company backed by Richard Branson, sent three people to space today in a test flight that brings the company closer to its long-awaited entry into regular service.
Two pilots, Dave Mackay and Michael Masucci, directed the SpaceShipTwo rocket plane to an altitude of 90 kilometers (56 miles) over the Mojave desert after it was released from its carrier plane at about 45,0000 ft. up. In the cabin, Beth Moses, the company's chief astronaut instructor, took the first ride as a passenger.
The spacecraft spent a few minutes in microgravity at the apogee of its flight, where NASA research payloads were able to perform brief experiments and gather data, helping generate revenue for the company.
With Moses in the cabin, the flight also began proving out the safety, comfort, and enjoyment of passengers. The weight carried on this flight is within 100 lbs. of the expected weight with a full complement of passengers, Virgin Galactic CEO George Whitesides told Quartz this week.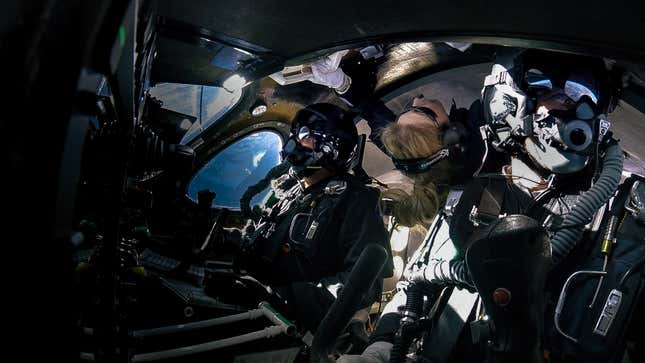 The company has been testing out passenger mechanics with flights in parabolic airplanes that generate 20 to 30 seconds of time in microgravity. Passengers will be able to leave their seats to float, and then buckle back in for the descent and glide back to earth, though Whitesides says that "you'd be fine if you didn't make it back to the seat."
There will still be more flight tests to come as the company works to expand the safe performance parameters of the vehicle and identify the best techniques to fly the spaceplane. This flight, for instance, tested out a slightly different center-of-gravity, something to be expected when passengers of different sizes eventually board the craft. The company also began testing interior cabin fittings for safety and comfort on this flight.
And Whitesides says he wants to make sure paying customers get a "proper Virgin brand experience—it should look cool," reminiscent of the branding seen on the Virgin Group's airlines.
When the company is satisfied with the vehicle's safety and performance, the plan is to move the company's operations to New Mexico's Spaceport America. Virgin Galactic has hundreds of passengers who have put down deposits, including celebrities like Lady Gaga and Leonardo DiCaprio, and it needs to start earning revenue.
Branson told AFP earlier this month that he is spending $35 million a month on Virgin Galactic and that he hopes to see the test program completed by July. Virgin sources not authorized to speak about the spending say that likely includes spending on Virgin Orbit, a satellite-launcher spun out of the original firm.
Whitesides wouldn't confirm Branson's estimate, but it's clear plenty of investment has gone into the Virgin Galactic and its sister firm, the Spaceship Company, which employ about 700 people. On the factory floor, much of the construction of another SpaceShipTwo is complete. It's a far cry from the company's troubled evolution, which included the loss of the original SpaceShipTwo in 2014 and the death of its co-pilot, Michael Alsbury.
Since testing began anew in 2016, this is the fifth supersonic flight of the current vehicle, and the second time it has gone past the edge of space since its first attempt in Dec. 2018. Where the boundary lies is a matter of debate, science, and tradition—internationally, the dividing line is drawn at 100 km (62 miles) above the planet and named for Theodore von Kármán, a co-founder of the Jet Propulsion Laboratory; the boundary recognized by the US government is 80 kilometers (50 miles) above the earth.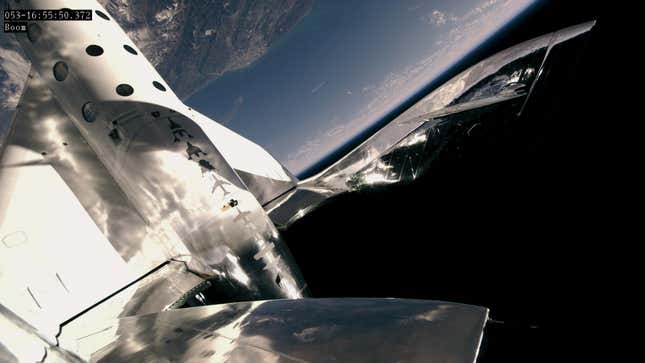 The first two pilots to fly to space in the new vehicle, C.J. Sturckow and Mark Stucky, were awarded astronaut wings by the FAA this month.
Jeff Bezos, whose space company Blue Origin is a potential competitor for Virgin Galactic, said on Wednesday that any passengers flying in SpaceShipTwo would have "asterisks next to your name about whether you're an astronaut or not." While Bezos' suborbital New Shepard rocket flies to the higher altitude, he has yet to put any passengers in the vehicle.
Spats about altitude aside, one difference between the two companies' future business plans is that Virgin Galactic's spaceplane may be the more effective program to develop suborbital flights from point to point on earth.
Speeding into space and several times past the speed of sound could make trips around the world a matter of minutes rather than hours, but there is much to do before engineers get there. Whitesides notes that SpaceShipTwo can help get there by piloting a number of innovations, including a highly-reusable spaceplane, integration into existing airspace, and a positive, reliable customer experience.
First, though, his team must finish the test program, a situation faced not just by Virgin Galactic and Blue Origin, but also Boeing and SpaceX as they seek to fly humans to orbit this year for NASA.
"I think anybody who is doing this professionally knows that human spaceflight is hard," Whitesides says.