More than 100,000 telecom executives, mobile-industry insiders, analysts, reporters, and gadget gawkers have descended on Barcelona for Mobile World Congress—sorry, MWC Barcelona—which kicks off today (Feb. 25).
The theme of this year's MWC is "Intelligent Connectivity." Is there is any other kind?
If you thought there was a lot of 5G hype last year, steel yourself. Carriers are starting to roll out higher-speed 5G networks around the world in 2019, so nearly every device manufacturer is racing to position themselves as a leader in adopting the technology. Realistically, these networks are only starting to be built, and almost no one can actually take advantage of the networks in their daily life for years.
As far as devices go, every phonemaker seems intent on releasing a folding phone this year (see below for details). To get one, be prepared to open something else that folds—your wallet—because these things are not cheap.
Huawei is one of the expo's largest sponsors, but that's not why it will be the talk of MWC this week. The world's largest network equipment seller is under fire from US officials, who accuse it of building backdoors into telecom systems on behalf of spies in Beijing. America's attempts to enlist European allies in blacklisting the Chinese firm appear to be faltering, though, and Huawei will seek to win converts in Barcelona by trying to focus on technology, not geopolitics.
What everyone is talking about at MWC
Several tech companies jumped the gun and announced new products ahead of the expo's opening. Here's a rapid rundown of the weekend's announcements:
Huawei. The Chinese tech giant introduced a new version of the MateBook X Pro laptop with a massive, sharp screen that gives Apple a run for its money. Huawei also made waves with the Mate X, what it calls the "world's fastest foldable 5G phone." (Take that, Samsung.) Living on the edge will cost you a lot of yuan: The Mate X starts at a cool €2,299 ($2,600).
Xiaomi. According to the Chinese gadget maker, "the 5G era has arrived!" (You'll probably hear a lot of people say that this week.) For Xiaomi, this means a 5G-compatible version of the Mi Mix 3 it released last year (it also now has a slide-out selfie camera). The company also launched a new flagship device, the Mi 9, that has huge display, wireless charging, and three rear cameras for €449.
Nokia.HMD, the Finnish group which owns the rights to the iconic mobile brand, unveiled five new low-cost devices. These range from the €30 feature phone with a month-long battery life to the €700 flagship that features five (yes, five) cameras—a nightmare for trypophobics.
LG. The Korean tech company unveiled its snappily named V50 ThinQ 5G, along with a few other devices. It also unveiled a bizarre case for the phone that features a second screen: Instead of following its rivals with a premium-priced folding phone, it made one with two screens that snap together. Simple! The ThinQ can also be controlled by hand gestures, so if you ever wanted to answer a call with the classic "talk to the hand" move, you're in luck.
Microsoft. CEO Satya Nadella brought two of his top lieutenants to Barcelona to announce two new products, neither of which is a phone. (Disruptive!) Leather-jacketed cloud exec Julia White announced the Azure Kinect, a camera with depth-sensing capabilities and a seven-microphone array. Alex Kipman then announced the $3,500 HoloLens 2, an update to the four-year-old augmented reality headset. Don't get excited about ordering one just yet, though, since Microsoft is pitching the headset as an enterprise device, for jobs like walking manufacturing employees through complex tasks and industrial design.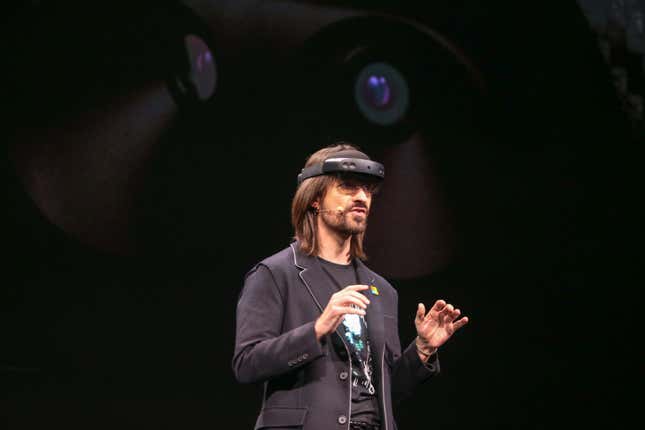 The race to 5G—and foldability
As the conference continues, we'll undoubtedly come across an ever-increasing number of companies releasing new products that they say will aid our forthcoming 5G existences. They will include more powerful networking equipment, snazzier smartphones, and ones that fold out to become larger phones.
It will be interesting to see how many companies are able to articulate why exactly we need faster data connections or phones that unfurl. As Qualcomm puts its on its website:
5G is a new kind of network: a platform for innovations that will not only enhances [sic] today's mobile broadband services, but will also expand mobile networks to support a vast diversity of devices and services and connect new industries with improved performance, efficiency, and cost.
Got it?
The folding phones on display this week will cost thousands of dollars. The costs of building out 5G networks will cost a small fortune. And it's not clear yet whether the benefits will be real. It's great that we can watch more YouTube videos on ever-larger displays. Is that enough?
Tests right now clearly suggest faster speeds on 5G networks versus older 4G technology. But not the mind-blowingly fast, reliable speeds that might realistically usher in the next generation of connected devices, like fleets of self-driving cars, drones making deliveries, or VR telemedicine.
But you won't hear much doubt about our fast, foldable future within the halls of big tech conventions like MWC.