Sixty years ago, North Korea's leader, Kim Il Sung, travelled via China before flying to Hanoi to meet Vietnam's president, Ho Chi Minh. The visit took place not long after the two countries established diplomatic relations. Now, his grandson, leader Kim Jong Un, is taking a similar approach.
Kim is making his way by armored train from North Korea's capital Pyongyang through China to Vietnam's capital Hanoi, where he will meet US president Donald Trump on Wednesday to discuss ending North Korea's pursuit of nuclear armament. It is the second meeting between the two leaders following their historic summit in Singapore in June.
Kim left Saturday afternoon, and is expected to arrive in Hanoi later today (paywall), the New York Times reported. A direct flight would take a few hours. Kim had to borrow a plane from China to get to the last summit—he may be taking the train to avoid doing so again, North Korea expert Cheng Xiaohe, from China's Renmin University, told the New York Times.
Kim's train passed through Tianjin, a city around 130 kilometers (80 miles) from Beijing, on Sunday afternoon and arrived in Changsha, a southern Chinese city, around 1pm local time today, Korean news agency Yonhap reported. Other stations on the route included the cities of Zhengzhou, Wuhan, Nanning, and Pingxiang.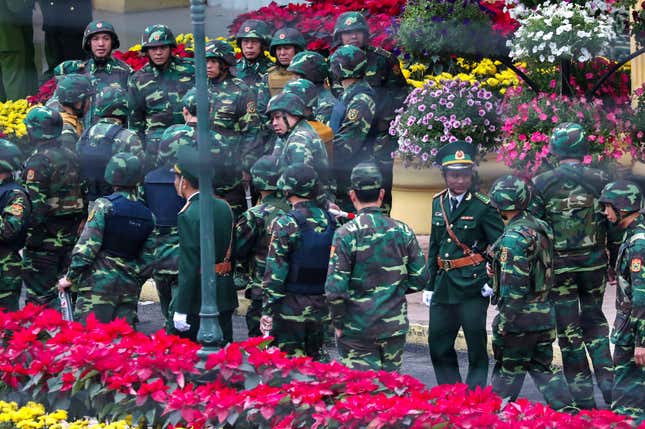 Kim will need to take a car from the Vietnamese border town of Dong Dang to get to Hanoi. That's because Vietnam's train tracks were originally designed to be incompatible with Chinese ones to make it harder for China invade, Cheng said. It's unclear if this is the first time Kim has visited any of the Chinese cities he will be passing through. When his grandfather, Kim Il Sung, was en route to Vietnam in 1958, he first paid an official visit to Beijing, Wuhan, and Guangzhou before taking a plane, arranged by China, to Vietnam.
North Korea's foreign minister Ri Yong-ho recently completed a four-day trip to Vietnam to learn more about the country's economic reforms. In the 1990s, both countries were similarly poor. As in China, Vietnam's Communist Party has managed to remain in power while managing the country's incredible growth, something that is likely to appeal to Kim.
Below are some of the scenes Kim is likely to see in China, where states have taken on huge debts to build the world's largest high-speed train network.