Jonny Wren specializes in Europe. To be precise, he specializes in European wines from lesser-known regions, like wines using the Vermentino grape, which is popular in Sardinia; or Priorat wines from Tarragona in Catalonia; or Primitivo, a grape found in the southern Italian regions of Puglia and Campania.
Based in Dover, on the southern coast of England, Wren set up his business, Songbird Wines, five years ago selling wines to restaurants and bars in Kent and the southeast of England. Almost everything he sells is imported, with just a handful of places in Kent purchasing local wines. It's a situation replicated all over the country; 99% of the wine consumed in the UK has been imported. "I'm a Europhile when it comes to wine," the 47-year-old said.
Like every business in the UK with a connection to the rest of the continent, Brexit has thrown a hurdle into his path. It's too early to tell what the UK's future relationship with the EU will look like and what impact that will have on the UK. The Bank of England, the Treasury department, and various think tanks have all run scenario analyses to try and figure it out, but the scope of outcomes vary significantly. They all agree on one thing, however: The UK will be poorer for leaving the EU.
Wren runs his business alone. He buys 60% of his wine from importers, but he purchases the rest directly from the wineries he likes. He's just one of an estimated 180,000 UK traders whose only experience is trading within the EU, where frictionless trade currently exists but could be demolished as soon as the end of the month. All of these businesses will have to figure out how to make customs declarations for the first time after Brexit.
On an unseasonably warm day in February, Wren throws up his hands, exasperated with a situation that's likely to be shared all over the country. "Nobody knows what's going to happen," he said. "The news keeps changing every day. So how can you prepare for something that could completely change? I'm busy enough as it is, I don't want to waste my time when I could be doing something else, preparing for something that's going to change completely."
Still, he's doing what little he can. He's brought in extra stock of Prosecco, Riojas, and the popular house wines served by the restaurants he supplies, enough to last a few months. But Brexit has already come with a price. Since the 2016 referendum, the pound has lost about 10% of its value against the euro. "Prices have had to go up," Wren said. "Everyone's taking on bit of a hit." Wren has cut his margins and some of the restaurants he sells to have done the same, all to avoid customers taking on the full cost increase. "You just take the rough with the smooth," he says.
If a transition deal is passed into law, Brexit won't change trading rules or regulation in the UK for a few more years. But this doesn't really matter. For many businesses, Brexit isn't something that may or may not happen this year or in the near future. It has already happened. The 2016 referendum has had irreversible consequences. The scale of the challenge companies face vary greatly, but for all of them Brexit is now something to maneuver, to find ways over, around, or under.

What Brexit has already done
Business investment
About a tenth of the UK's economic growth comes from business investment, which is how much companies are spending on things that will grow their business long term, such as machinery, transport equipment, and software. In the UK, business investment fell in every quarter of 2018. That's the first time there has been four consecutive quarterly declines since 2009, during the depths of a global recession.
Even amid a global slowdown in economic growth, and a notable one in Europe, the contraction in the UK's business investment stands out. The Bank of England squarely pins the blame on the uncertainty created by Brexit. "The recovery of business investment from the 2008 recession was broadly in line with previous episodes until the EU Referendum Act was passed in 2015," the latest quarterly Inflation Report said. "Since then the recovery in business investment has stalled." Growth has turned out to be 18 percentage points lower than what the central bank was forecasting before the vote and it doesn't expect 2019 to be much better.
Corporate contingencies
In a survey of 369 UK businesses the central bank conducted in late 2018, it found that a third of companies had already changed their business plans in response to Brexit. More companies were still preparing their plans, and only a third of companies are waiting to see what happens before reacting. Companies are setting up new legal entities, changing sourcing and supply chains, and, in some cases relocating offices. The Institute of Directors, a business lobby group, surveyed 1,200 companies and found that a third were considering relocating some of their operations outside of the UK.
Economic slowdown
The UK has barely kept a grasp on its title as the world's fifth-largest economy—briefly conceding it due to the plummet in the pound—and is predicted to permanently lose its place this year as its overtaken by India and France. UK economic growth slowed to 1.4% in 2018, down from 1.8% the previous year, the slowest growth since 2012. If all goes smoothly with a Brexit deal and transition arrangement, the scenario the central bank is required to assume when forecasting, then growth this year will be just 1.2%, the slowest pace since 2009.
But it would be wrong to prescribe too much of the UK's economic sluggishness to Brexit alone. There are some deeper issues relating to the UK economy, namely that it relies too heavily on growth built on personal consumption, fueled by debt with too little corporate investment, and stark regional inequality. Meanwhile, Bank of England governor Mark Carney recently noted another worrying trend: In the UK, the share of highly leveraged companies is above pre-crisis levels. It's notable because this debt isn't even being used for investment. And all comes on top of a dismal record of productivity growth.
---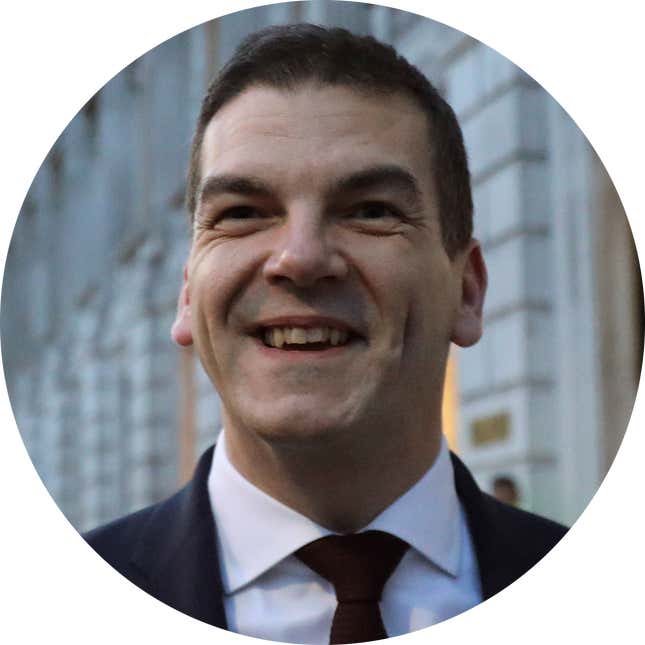 The people of Brexit
Olly Robbins: Theresa May's right-hand man
A completely obscure figure outside of Westminster and Brussels, Olly Robbins is one of the most important people in determining the UK's future. After the 2016 referendum, prime minister Theresa May created the Department for Exiting the European Union and installed Robbins as the most senior civil servant within it. When May decided to personally take over the UK's Brexit negotiations last year, she took Robbins from the Brexit department to be by her side, where his height and broad shoulders make him hard to miss in photos.
Behind the scenes, Robbins is the man responsible for the nitty-gritty of the government's negotiations with the European Commission, regularly shuttling back and forth to Brussels. While the political decisions are made by May and other ministers, it's Robbins' job to actually achieve results.
At the age of just 43, Robbins has risen remarkably swiftly up the ranks of the British civil service, from Tony Blair's principal private secretary at 31 to overseeing Brexit today, serving four prime ministers along the way. Even by civil service standards, he is immensely private. His journey into government, though, is not unusual, since he studied philosophy, politics, and economics at Oxford, the degree course that has churned out much of the UK's political class. As a bureaucrat, he's become a regular target for Brexiteer MPs who have accused him of using the civil service to push through the softest possible version of Brexit. He's one of the few civil servants from May's inner circle at the UK Home Office still hanging on today.
---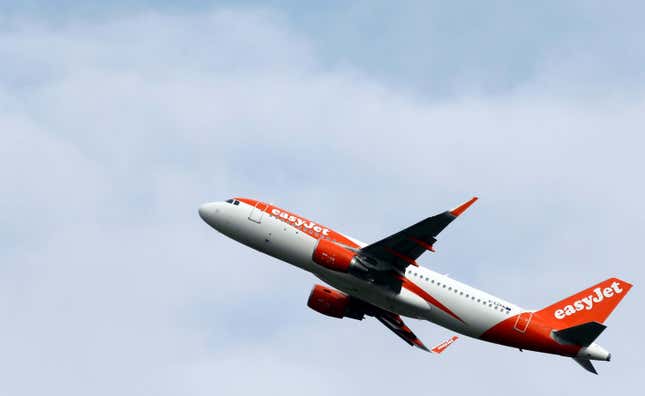 Case study
easyJet: The British airline that's had to become a European one
One of the earliest fears about Brexit was that flights between the UK and Europe would suddenly stop. If the UK left the EU without a deal then trading arrangements between the two would revert to WTO rules. But the skies aren't governed by WTO rules, so a no-deal Brexit would mean airlines couldn't fly between the UK and the bloc because it would be out of the EU's Common Aviation Area.
With more than 100 million passengers traveling back and forth between the UK and Europe on British airlines last year, Brussels and Westminster have finally assuaged these concerns. By late 2018 both sides confirmed that even in the event of a no-deal Brexit, flights between the UK and the EU would be allowed to continue.
But this by no means concludes the matter for airlines. The UK and EU were both only agreeing to a "bare bones" policy, which covered traffic rights and safety, but doesn't cover British airlines operating flights between the 27 remaining EU member states.
"One of our biggest challenges of the year has been Brexit," said John Barton, chairman of easyJet, at the company's annual general meeting in February. The UK's largest airline, based on passengers, has been engaged in "significant" preparations in case of a hard, or no-deal, Brexit.
Even as Barton spoke of easyJet's 41% increase in annual pre-tax profit and a record number of passengers (some 88.5 million people), much of the AGM, held at the company's office in an orange-roofed hanger beside London Luton airport, was dedicated to detailing Brexit preparations. Even with all the reassurances that flights wouldn't be grounded between the UK and EU after March 29, easyJet has to deal with the fact that about 40% of its business is flights within Europe, i.e. flights not covered by the "bare bones" policy.
In July 2017, the British airline announced it was setting up a separate operating airline in Austria. This meant getting an Air Operator Certificate (AOC) from Austro Control, which controls Austrian airspace, and an airline operating license from a government ministry. A separate UK-only AOC was also established, to ensure that UK operations in no way relied on existing EU traffic rights. Since then, more than 1,000 pilot licenses have been transferred, 3,300 cabin crew licenses have been re-issued, and 133 planes have been re-registered in Austria from the UK. While no planes or people have been relocated, the change has cost the company £10 million so far.
But the new AOCs aren't enough. An airline with a European operating license flying within the EU needs to adhere to EU ownership and control requirements. That's to say, easyJet needs to become a European majority-owned airline, not a British one.
Early in 2019, easyJet's ownership was 49% non-British EU nationals, just short of the 50% plus one share requirement. If March 29 comes around and there is no Brexit deal and no adjustment period for airlines, easyJet is prepared to take unusual measures. A small number of British shareholders, the most recent ones, would find their shares suspended. If "over time" easyJet still can't get its EU-resident ownership levels above the threshold, it will enforce another provision, compelling non-EU shareholders to sell their shares to EU nationals. These arrangements were voted on and agreed to at the AGM in early 2018.
In addition to all of this, a new spare-parts hub is also being set up in the EU, so that engineers can still access what they need if there's disruption to trade or delays from customs checks.

What could happen next
Long-term economic impact
Forecasting what will happen to the UK economy in the immediate aftermath of Brexit is about as useful as reading tea leaves. But much energy has been expended on trying to understand what the long term impact will be.
According to the government's own analysis, after 15 years the UK economy will be smaller under every scenario. The Treasury also analyzed what could happen under no-deal, prime minister Theresa May's deal, a standard free-trade agreement, and a Norway-style agreement (which keeps the free movement of people, access to the single market, and requires the UK to follow EU rules). It also considered what would happen if immigration stayed the same or if there's no net flow of immigrants from the EU, which alone would slash GDP by 1.8%.
---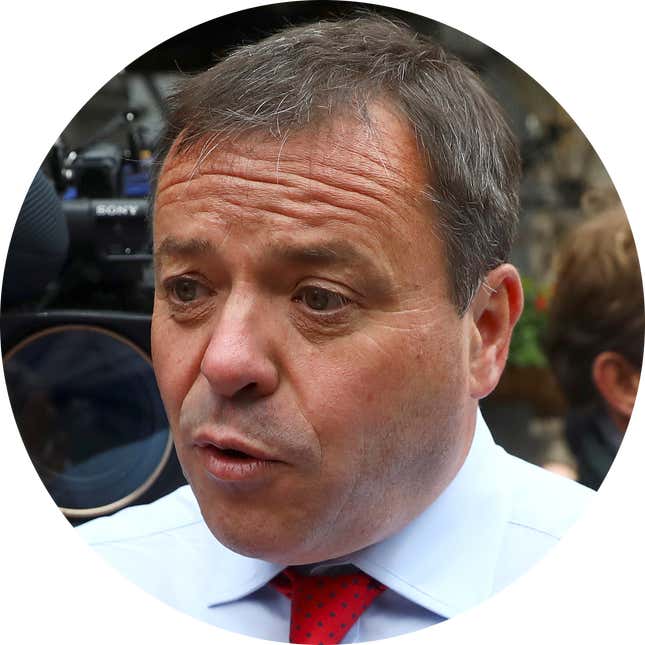 The people of Brexit
Arron Banks: the money man behind Brexit
"Boisterous Bristol-based insurance tycoon, South African diamond mine owner, philanthropist and man of the people." This is how Arron Banks is described at the start of The Bad Boys of Brexit: Tales of Mischief, Mayhem & Guerrilla Warfare in the EU Referendum Campaign, a ghostwritten book published under his name. Banks was a major donor to Leave.EU, the unofficial Brexit campaign. He gave about £8 million, which means he's believed to be the biggest donor in British political history, but now he's being investigated by the National Crime Agency for it. The agency suspects he might not be the true source of the funds, which highlights Banks' long-running connections to Russia.
For example, he's met the Russian ambassador to Britain several times and helped him connect to Trump's transition team. His wife is Russian and they have a car with the license plate X MI5 SPY. His wife, Ekaterina Paderina, the daughter of a Russian regional official, was (before she was married to Banks) ordered to leave the country after being suspected as a spy. She won an appeal to remain.
Banks first caused a stir when, as a Conservative party donor in 2014, he announced that he would give £1 million to Nigel Farage's far-right party UKIP. It was at the height of former prime minister David Cameron's fears about defections from the Conservatives to UKIP, which ultimately led to the then-prime minister's plan to hold an in-out EU referendum. When Farage became the first British politician to meet Donald Trump after the 2016 election, Banks was with him at Trump Tower.
---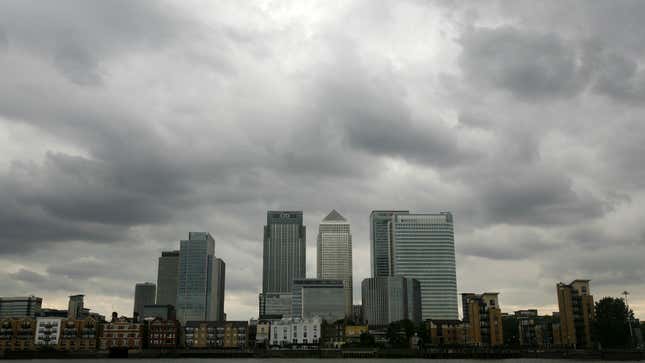 Financial services' flights to safety
Even if the UK can figure out an agreement internally and with the EU at the 11th hour, for Bank of America it'll be too little, too late.
"Dublin is our headquarters for our European bank now—full stop," Anne Finucane, Bank of America's vice-chair, said last month. "There isn't a return. That bridge has been pulled up… From a trading perspective, likewise, Paris would be the European trading arm."
Over the past three decades, the financial services industry in the UK ballooned, after what became known as the Big Bang. For better or worse, financial services make up about 7% of the nation's economic output, with half the activity coming from London.
About two-fifths of financial service exports go to the EU, amounting to about £27 billion in 2016. When the UK leaves the EU, and should there be no transition period, financial firms in the UK will lose their right to provide their services in EU countries. This system, known as passporting, has been integral to London's growth as a global financial center. Once a company is established in London it can provide the same services—such as lending, market trading, portfolio management, or payment services—across European borders without getting new authorization in those countries or needing to set up a separate legal entity, which is costly. These rights are at the core of the EU's single market for financial services.
All this business will be upended by a hard Brexit. Even if there's a transition period, it's likely that passporting rights will disappear once it's over, in favor of a less-integrated equivalence system. Unlike the aviation system, financial services aren't getting much in the way of special status and side agreements. Firms are being warned to prepare for the end of passporting as soon as March 29. This has meant changing contracts and relocating capital and people into other EU cities if firms want to keep hold of their European customers.
The scale of the change Brexit will bring to large multinational corporations is vast, and requires significantly more money to be spent on preparations. Bank of America said it would end up spending about $400 million as it moved people and technology out of London. About $50 billion in banking assets are being moved to Dublin and a 500-person trading business is being set up in Ireland, while many traders are also being moved to Paris.
UK bank Barclays said it would end up spending about £200 million on Brexit preparations. Royal Bank of Scotland said that Brexit had saddled it with about £100 million in extra costs per year. The bank is in the process of transferring its European clients to Amsterdam. Executives at RBS are worried that if the UK crashes out of the EU it might not be able to clear more than €50 billion in cross-border payments each day. Chief executive officer Ross McEwan said in mid-February on a conference call after announcing annual results, "I don't think I'm alone in saying that the political uncertainty around Brexit has gone on far too long."
After Brexit, will London's place as leading financial services center hold? Probably. But will it be diminished? Almost certainly. According to EY, financial firms have already announced plans to move £800 billion of assets out of the UK because of Brexit. By the end of November, just over a third of the UK's 222 largest financial firms had publicly laid out their plans to move some operations.
Case study
Transferwise: A startup that needs to start over
"If I was setting up TransferWise today, I probably would not choose London." That's Taavet Hinrikus in 2017, one of the co-founders of the cross-border payments company and one of UK's first and most successful fintech "unicorns." Fintech has been the shining star of the UK's financial sector for the past few years, but even fintech isn't immune to Brexit.
Hinrikus said he and his business partner originally chose London because of its access to an EU-wide talent pool and because it's an exciting place for immigrants. Forty percent of the company's staff in London are from the EU and another quarter are from other parts of the world, said Jenifer Swallow, the firm's general counsel. Since Swallow joined in 2015, the company has grown its staff from 300 people to 1,400 across 11 offices.
Now, facing the loss of passporting, Transferwise is setting up an office in Brussels. Setting up a new office isn't a particularly large challenge for Transferwise—it's gone through the process of getting regulatory approval somewhere new several times as it's opened offices in Singapore, the US, Malaysia, and Australia—but it's still a move the company is making entirely due to Brexit.
"There was absolutely no need for us to set up another market specifically in relation to operating our business out of that other country because we obviously had our license in the UK and we could passport to EU citizens from the UK," Swallow said. Now, the company is urgently working to get another office up and running in Belgium by the end of March. Rather than move people from London, this office will be staffed with other Europeans.
Aside from a new office, there are other concerns. Prime minister May has said that Brexit means ending the "free movement of people" that all EU nationals currently have between member states. In the future, the UK's immigration system will be fully controlled by the UK government (though that's still up for debate with the EU, as part of future trade talks). After much delay, the government published its outline for a new system in December, which is designed to bring net migration down to "sustainable levels."
The plan has already proved controversial, by labelling jobs that earn less than £30,000 per year as low-skilled, despite the median wage in the UK being about £24,000, and submitting these people to much harsher immigration rules. While the plan also suggests lifting the cap on high-skilled workers, Swallow is still worried. "My concern is around making sure that we can still hire and retain excellent people from all over the place," she said. "That would be my one question mark. And that's in the hands of the politicians."
The big issue is technical visas. Swallow said there are many people who do jobs that are new and not well understood and could get shut out in the new visa system. It's a concern shared across the financial sector that complains about the system that already exists. "Stressful, inefficient, and precarious is what we were told," the City of London's policy chair Catherine McGuiness said of the sector's view of the immigration system.
---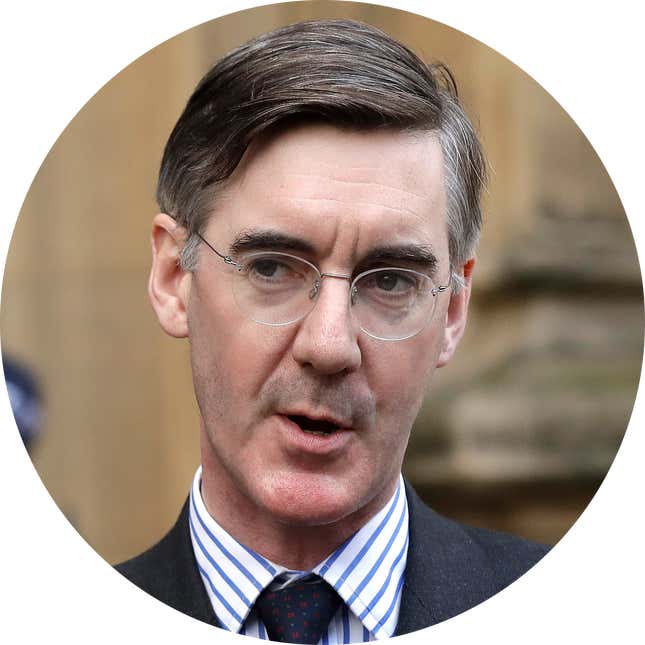 The people of Brexit
Jacob Rees-Mogg: A rebel MP
The UK's most unlikely political phenomenon was probably "Moggmania" in the summer of 2017. Back then, Jacob Rees-Mogg, an arch-conservative MP in Somerset, became a cult figure and briefly appeared to have the potential to become the next leader of the Conservative party. While this is no longer true, Rees-Mogg has been thrust out of obscurity and into the center of the Brexit drama. For just over a year, he has been the leader of the European Research Group, a faction of rebel MPs that have long been opposed to the UK's membership to the EU.
He's a caricature of old-fashioned Britishness. He is tall and lanky, has had the same haircut since he was a small boy, and sports double-breasted suits. He lives at Gournay Court, a large country house built in 1600 and drives a vintage Bentley. He and his wife have personal wealth in excess of £100 million. And he's certainly cultivating his cartoonish image: In 2012, his use of floccinaucinihilipilification earned him the record for the longest word said by an MP in the House of Commons.
In an interview with the Financial Times, he said: "One of the joys of life is winding up po-faced lefties." The father of six has ultraconservative social values, opposing same-sex marriage and abortion, even in cases of rape.
In November, Rees-Mogg tried to unseat the prime minister, holding a press conference outside Parliament, believing a vote of no confidence against May was imminent. It wasn't. It took another two months, and then May survived the challenge.
Last year, he said of May's Brexit plans: "You've got to judge people, ultimately, by their actions rather than their words. Fine words are well known for not buttering parsnips, and we are not getting our parsnips buttered at the moment."
---
What could happen next
European jobs
Many jobs are likely to be created in the EU by companies with offices in the UK setting up branches in cities within the bloc. Take Bought By Many (BBM), a six-and-a-half year old company disrupting the insurance industry by helping people with niche needs band together to get better insurance terms. Its biggest market is pet insurance, and is popular for people looking for "exotic pet" coverage for their ferrets or Bearded Dragons. On the morning of April 1, Steve Long, the company's head of international business, expects to be queuing up at the Swedish Financial Services Authority in Stockholm waiting to get a stamp on a letter he will then take over to the Swedish Companies Registration Office to officially open the company's Swedish branch.
BBM only operates in the UK, with about 90 staff, and Steven Mendel, the CEO and co-founder, was happy with this situation. Not because he didn't have global ambitions, but because when he set up his company in London and went through the rigorous regulatory authorization he knew he could use to set up shop anywhere else in the EU. Now, he says, Brexit has pushed the company into overseas expansion earlier than it would have otherwise chosen—and at a cost. Already, the small company has spent more than £50,000 on legal fees in just the past six months. "It's causing massive upheaval here," says Mendel. "We're kind of stuck in this ridiculous limbo space."

The winners of Brexit
The money that is draining away from the UK because of Brexit is creating financial winners elsewhere. A report published by the Centre for Economic Performance at the London School of Economics found that between the referendum and the third quarter of the 2018 there was a 12% increase in new investments made by UK firms into other EU countries. That amounts to £8.3 billion, and has come almost entirely from the service sector.
Even as the stampede of jobs from London's financial hub never quite materialized—the City of London now forecasts just 2,000 to 7,000 jobs will leave, down from an initial estimate of as much as 75,000—the gains for European cities aren't to be sniffed at. There is stiff competition among European cities to get this business because new offices tend to create more local jobs around them. Amsterdam is getting so much business its regulator is getting a budget boost to handle the shift in trading. Paris, Frankfurt, Dublin, and Brussels are all reaping the rewards of Brexit by taking advantage of London's losses.
Paris is marketing itself as "the largest financial centre in the post-Brexit EU." Behind this campaign is Paris Europlace, which represents the French business community. Arnaud de Bresson, its chief executive, said about 260 businesses have announced plans to move some of their operations to France, the majority of which will go to Paris. He said this will amount to 5,000 direct jobs and indirectly create another 25,000 jobs.
Though Brexit might be good for Paris, de Bresson still thinks it's a bad decision. "The competition is not inside Europe, it's between Europe and the rest of the world," he said.
---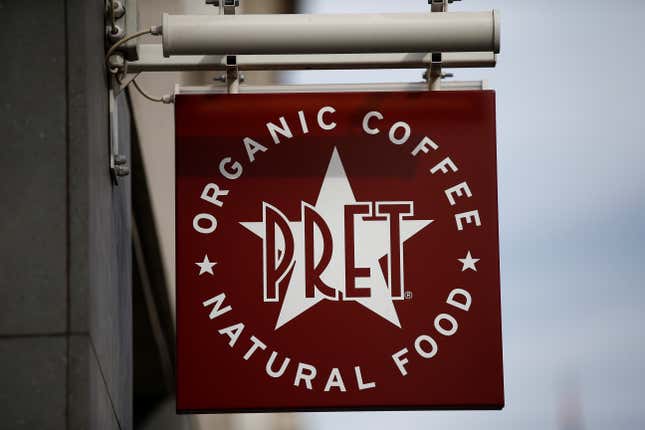 Case study
Pret A Manger: Labor's too tight to mention
Since it was founded in 1986 in London, Pret became a household name by transforming a British food staple—the sandwich—into a multibillion-pound industry and livening up lunch breaks all over the city. But Pret is also well-known for its multinational workforce. Walk into a Pret and the staff's name badges feature a flag representing their nationality. There are about 9,000 workers across 380 stores in the UK, and in 2017, Andrea Wareham, Pret's HR director, told a British parliamentary committee that about 65% of them were EU nationals (other than British). "I would say one in 50 people who apply to our company to work is British," she said. "If I had to fill all our vacancies with British-only people I would not be able to fill them because of the lack of applications."
Brexit has brought up a lot of issues about British attitudes to certain kinds of work. Industries that rely on large numbers of low-wage workers are concerned that, as the UK government seeks to slash immigration, they will be left without the staff they need, the unintended consequence of which could be a slowdown of economic growth, hurting everyone.
After the Brexit referendum, Pret said it had to stop relying on job applicants to come to them via their website and London recruitment center. Instead, it started using job centers and advertising on social media to try and attract more British candidates. When launching a work-experience program for 16-18 year olds, Wareham sad in a Pret blog: "Attracting British applicants is not exclusively a Pret problem, and is symptomatic of a wider cultural bias. British schools and parents don't always take careers in the hospitality industry seriously, but they really ought to."
The UK's Recruitment and Employment Confederation has emphasized these concerns. It says that because the labor market has record-low unemployment rates and levels of economic inactivity, there simply aren't enough British nationals "willing and able to fill low-skill roles."
This is a pressing issue. EU net migration to the UK has been falling since the 2016 Brexit referendum. Europeans haven't waited to see what will happen when the UK eventually leaves the EU. Already, the share of EU staff at Pret has declined.
The number of immigrants coming from the group known as the EU8—Poland, the Czech Republic, Estonia, Hungary, Latvia, Lithuania, Slovakia, and Slovenia—has fallen so dramatically that net migration is now negative. In the year to June 2018, 14,000 more people left the UK from the EU8 than came in.
This is a big problem for the agricultural industry, too, since it relies heavily on seasonal workers from European countries, often the EU8. Recruitment tends to take place about nine months in advance. For this spring, farms have found it much harder to secure the staff they need, the National Farmers Union said. Part of the reason has been the massive depreciation of the pound since the vote, which means working in the UK is less attractive to foreigners. The pound has lost more than 10% of its value against the euro and the Polish zloty since before the referendum.
---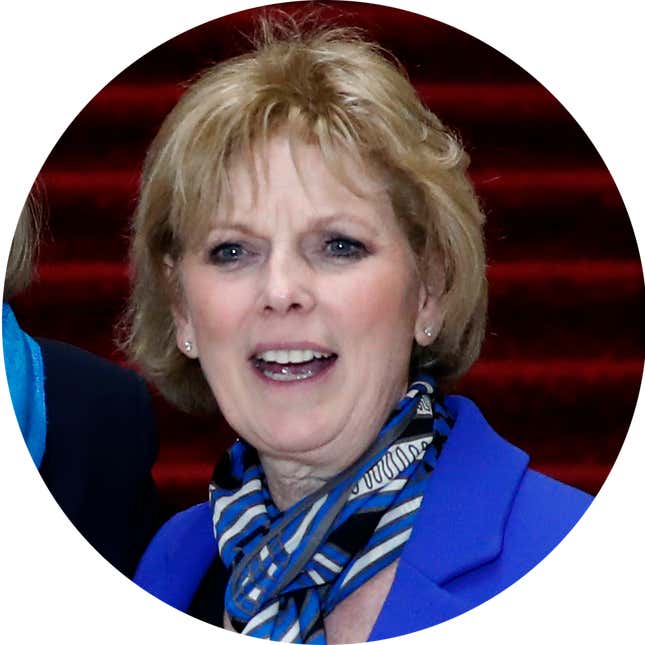 The people of Brexit
Anna Soubry: a bipartisan Remainer
After two and a half years, Brexit has fundamentally, and maybe permanently, ruptured party politics in the UK. In February, Anna Soubry defected from the Conservative party, along with two of her peers, to join a new group of independent MPs launched by defectors from the Labour party. In the past, Soubry, an MP since 2010, said she would have been willing to join a new party to stop a hard Brexit from happening. She worked with Chuka Umunna in a pro-European, cross-party group in Parliament. (Umunna was one of the highest-profile Labour MPs to quit the party and join the independent group.)
In October, she was amongst those leading the march for a People's Vote, which was attended by an estimated 700,000 people calling for a second referendum on the terms of the UK's exit for the EU. (Most of the crowd would likely vote to stay in the EU.) The former journalist and lawyer said late last year of her party's handling of Brexit: "This will be the biggest mistake our country has ever made. The young will never forgive my party."
---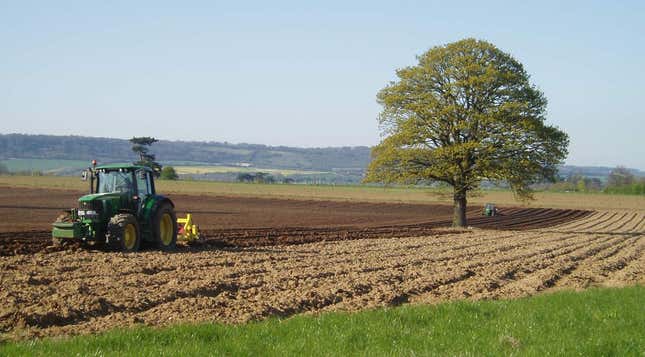 Case Study
Laurence J Betts farm
Each summer the number of residents of Laurence J Betts farm, about 60km southeast of central London, grows four times larger. Spread across 1,400 acres of land, this farm has been growing salad since 1930 to supply London and the southeast as well as companies such as McDonalds, Subway, and Sainsbury's. To do this, more than 100 seasonal workers are needed to harvest lettuce and other crops. Almost all of them come from Romania, which joined the EU in 2007, along with Bulgaria. For Alison Tanton, the farm's director of finance and HR, this is where one of the most severe consequences of Brexit arises.
In the event of a no-deal Brexit, freedom of movement stops immediately and EU nationals will only be able to come to the UK for three months to work, study, or holiday. For longer stays they will have to apply for a type of visa called European Temporary Leave to Remain, a new system that no one has any experience of dealing with. This announcement was "a big scare because our workers come to us for six months," Tanton said. "And the vast majority of them are due to arrive at the end of April."
The farm is now nervously waiting to see what's happens next. All of the company's business plans revolve around the expectation that these workers will be able to arrive in April, after the Brexit date. The employment requests went to Romanian recruitment agencies before Christmas. "Are they going to arrive and be told they can only stay for three months and we need them for six months?" Tanton said.
Even if Brexit is delayed, the inflexibility of the UK's future approach to immigration is sure to be an issue for the farm. The farm's irrigation manager is technically a seasonal worker. He's Romanian and comes to work in the UK for nine months of the year, spending the winter—when the farm imports the salad they sell from Italy and Spain—back in Romania. He is neither suitable for a short-term seasonal worker scheme, nor is he seeking a permanent, continuous residency in the UK.
Right after the referendum, the farm lost some of its workers to Germany, which also relies on a large number of seasonal workers, because people chose to work somewhere earning euros (with its more stable exchange rate) and without the nasty comments some received, as British xenophobes were emboldened after the vote.
As staffing the farm gets harder, compromises have to be made. After each season, the farm scores its workers on things like the quality of their work, the speed of their work, their attendance, and their attitude, to decide who should be invited back next year. In a testament to the farm and the staff, each year about 70% of the seasonal workers were there the year before. But this year, they've tried to increase that number. "We had to lower our expectations on some of those scores," Tanton said. Attitude still mattered, but speed less so. The direct impact of Brexit: "We had to compromise productivity in order to get enough boots on the ground."
The farm is trying to innovate and get machinery to do more of the work, but this is a slow, long-term plan that won't insulate it from Brexit. And there are no British nationals lining up for a job, should there be a shortfall. "There's just no appetite for it," Tanton said. "We can't offer them year-round work and there just would be nothing to do for these people in the winter. And it's very physical. There's no appetite for bending over and cutting lettuce in the sun, the wind, the rain."

What could happen next
Trade deals
One of the shining promises of pro-Brexit MPs is that after leaving the EU, the UK will be able to strike new trade deals on its own terms. But this overlooks the fact that outside of the EU, the UK's bargaining power is diminished.
Take India as one example. The UK is keen to sign a free-trade agreement with the nation which it has had a long, and somewhat troubled, history. But it's clear, post-Brexit, the UK would need to make some concessions. High on India's list of demands will be loosening the visa restrictions on Indians coming to the UK. This would clash with the UK's plans to dramatically reduce immigration.
India has also noted that some of the food standard regulations by the EU currently inhibit trade into the UK, such as the level of toxins in spices and hygiene standards of dairy processing plants. India might use its growing economic leverage to push the UK to lower its standards. But this would put the UK at odds with the EU and create further frictions with the nation's largest trading partner. Not to mention the fact that India is already in trade talks with the EU. In short, like the Brexit negotiations themselves, new trade agreements are likely to be vastly more complicated than expected.
How Tony Blair changed UK politics forever
In May 2004, the EU added 10 new member states—Poland, the Czech Republic, Estonia, Hungary, Latvia, Lithuania, Slovakia, Slovenia, Cyprus, and Malta. With accession came freedom of movement, and citizens from these 10 countries were given the right to live and work anywhere in the EU. It was the largest expansion of the union since its founding.
Due to concerns about mass migration from the new countries, the older 15 members were allowed to put restrictions on freedom of movement, or "transitional controls," for a maximum of seven years. Nearly all countries chose this route, with just the UK, Ireland, and Sweden opening up their labor markets immediately.
This decision taken by Tony Blair's Labour government was relatively uncontroversial at the time, but that's because it was made with the expectation that other countries would keep their borders open, too. Most countries changed their mind at the last minute. A report by the UK Home Office in 2003 forecast net migration to increase by only 5,000, to 13,000 per year. It said: "Even in the worst case scenario, migration to the UK as a result of Eastern enlargement of the EU is not likely to be overly large. The evidence brought together indicates that net migration from the [10 accession countries] to the UK will be broadly in line with current migration movements."
This ended up being a wild underestimation. In the first five years, net migration from the new EU members to the UK was about 304,000 and represented 25% of all net migration to Britain during that period. In 2010, the Conservative party won the most votes in the election, memorably with a promise to reduce net migration from the "hundreds of thousands" to the "tens of thousands." The sudden increase in immigration to the UK after the 2004 EU expansion, in hindsight, fundamentally changed British political attitudes towards migration.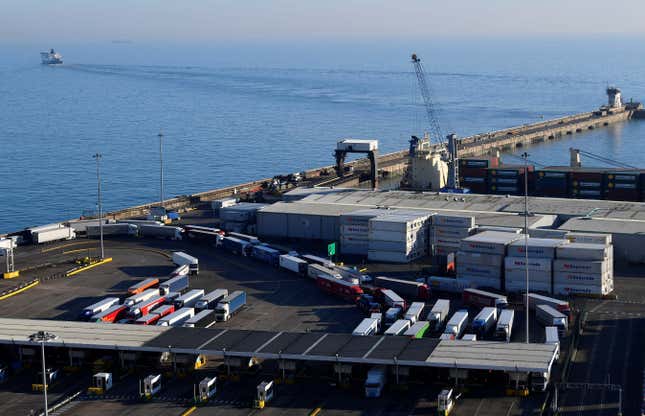 Case study
Port of Dover: A key link in Britain's supply chain
If the UK leaves the EU without a deal, customs checks would be implemented at the borders, putting a wrench in the complex "just in time" supply chains many businesses rely on.
The Port of Dover is Europe's busiest ferry port. It handles more than £120 billion in trade each year, equivalent to 17% of the UK's trade in physical goods. Remarkably, this is all at one port with two ferry operators and a fleet of 12 ships moving 7,000 trucks a day, on average.
Any delays created by customs checks at this border would crumble these internationally integrated supply chains. And the impact of checks is expected to be huge. So much so that the government attempted to rehearse what delays would mean for local traffic in the Dover area. The Department of Transport got 100 trucks to practice driving down to Dover during rush hour in January, an exercise was widely derided as a waste of time.
Toyota has warned that a no-deal Brexit would lead to production stoppages at its plant in the UK. Its supply chain is so fine-tuned that every car is essentially made to order with components arriving every 37 minutes from suppliers in both the UK and the EU. The company says it doesn't have the ability to stock more than it needs for one day of production. Warnings like this have been made by other carmakers.
---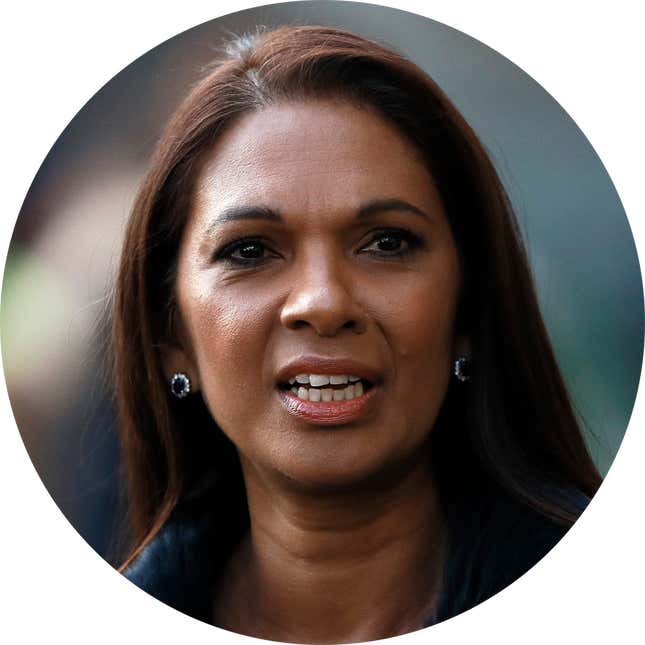 The people of brexit
Gina Miller: the bravest face in this Brexit drama
She has stepped out of the limelight, but Gina Miller remains one of the most important figures in Brexit history. She was the lead claimant in a legal case immediately after the referendum, arguing Brexit could not be triggered without a binding vote in Parliament. May's government fought the challenge all the way to the UK's Supreme Court, arguing that "royal prerogative" means MPs didn't need to be consulted. The government lost.
Even though MPs voted by a wide margin to eventually notify the EU of the UK's intention to leave under Article 50 of the Lisbon Treaty, it was an important case in ensuring that the government didn't overstep its powers, setting a precedent of giving Parliament a bigger say in the Brexit process.
Miller persevered as the face of the legal challenge, despite public attacks on her. She was vilified in the British tabloids, accused of trying to derail Brexit, and received death threats. Viscount Rhodri Philipps was sent to jail for 12 weeks after offering £5,000 to anybody who would kill Miller, saying the money was for the first person to run over "this bloody troublesome first generation immigrant" and "If this is what we should expect from immigrants, send them back to their stinking jungles."
Miller's treatment is an example of how vicious the UK's debate about Brexit has become. But Miller is known for showing strength in the face of power. She runs an investment firm with her husband, and began the True and Fair Campaign to end financial misconduct, supporting rules to end hidden fees that didn't win her many friends in the industry.
---
What could happen next
Disruption hits decline
Brexit could be the nail in the coffin of many of Britain's struggling industries. Take car manufacturing. Investment in the industry dropped nearly 50% in 2018 from the year before.
Last month, Honda announced that it would close its Swindon plant in 2021, with the loss of 3,500 jobs. The Japanese company downplayed Brexit as a factor, citing global industry trends and the need to produce more electric cars. But recall that Honda already gave a stark warning about the potential disruption of Brexit, especially a no-deal Brexit. In 2017, in evidence to a UK parliamentary committee, Honda cited the impact of an extra 15 minutes for each truck to clear customs in Dover. Honda estimated that delay would lead to around 90 hours of delay per day, costing £850,000.
---
Stockpiling
Brexit has now come to be characterized by the breathless reports of people and companies stockpiling up and down the country. There are the serious cases of people fearfully stockpiling medicines like insulin in their fridges, the country's largest wine retailer stockpiling more than 1 million extra bottles, and Unilever stockpiling Magnum ice creams. The UK government has told pharmaceutical companies to increase their medicine stocks by six weeks and make arrangements to fly over other essential products.
The challenge is where to put all this extra stock. Food retailers said they were stockpiling where possible but all the frozen and chilled storage is now taken, and there's not much warehousing space in the UK in general. This is a problem confirmed by Peter Ward, CEO of the UK Warehousing Association.
Warehousing is a low-margin industry, so companies have to run at or near full capacity to make any money, Ward says. Before Brexit, the logistics industry was already going through a transition. As more people shop online and expect same-day or next-day deliveries, storage space has been in high demand. But it's also struggled with the location of storage, with little of it near large population areas.
The challenges the industry faces aren't likely to go away soon, as Ward warns of a "perfect storm" of issues: Not enough warehouses are in the pipeline to be built, urban land development is earmarked for residential building, and there's a "severe labor and skill shortage" made worse by Eastern European migrants leaving the UK since the Brexit vote.
The UK mostly has general-purpose warehouses. But for firms like food retailers and pharma companies, there's not much temperature-controlled warehousing, because it wasn't needed before. "That's getting increasingly difficult to find now, if it can be found at all," Ward says. He also believes there are only fix or six companies licensed to store controlled drugs.
"Anybody who hasn't taken these steps up until now is going to find it extremely difficult," Ward said. "There's always churn in the market so there is going to be incremental space but it's not coming through in any kind of abundance."

There are almost no ways of describing the complexity of Brexit that do it justice. Every business has countless things to consider both big and small, with more considerations urgently arising as the UK gets closer to a possible no-deal Brexit. If that happens, and chaos inevitably ensues, Jonny Wren, who lives off the main road that connects Dover to London, is crafting a plan to get to his customers in Kent.
"I've seen what it's like there on the first day of the summer holidays and it gets fairly gridlocked," he said. He'll be leaving behind his car in Canterbury and will get the train back and forth to Dover. "If I can't get out, I won't be able to get deliveries done to customers so i'm having to make a plan B by finding other means of transport in and out of Dover."
But even then, there remains hope that the government won't allow Brexit to wreak too much havoc. "You just sort of think, well, within a few days something will be sorted," Wren added. "Because sometimes it does take a drastic situation to cause drastic action. And it might be a case where [politicians say] 'we can't run the country like this.'"