March is a sensitive month in Tibet. In 1959, an uprising led to a bloody crackdown by Chinese forces, culminating in the 23-year-old Dalai Lama's escape to India on March 17, where he arrived after two weeks of apprehension over his fate. Protests marking the Tibetan revolt were put down in 1989, and most recently in 2008, months before China was set to showcase itself to the world with the opening of the Beijing Olympics.
It's hard to imagine such acts of defiance taking place today. In 2011, Beijing further tightened its chokehold on the autonomous region under the leadership of new Tibet Communist Party secretary Chen Quanguo (paywall), who implemented a vast array of security measures, including the incarceration and "re-education" of those who had returned from listening to the Dalai Lama's teachings in India. Tibetans were also forced to adapt their culture to party ideology and to learn how to "revere" science, part of Beijing's ongoing propaganda campaign that portrays its rule in Tibet as a benevolent exercise in modernization and anti-feudalism. Ten years ago today (March 28), the Chinese instituted Serfs' Emancipation Day as a holiday to celebrate its program.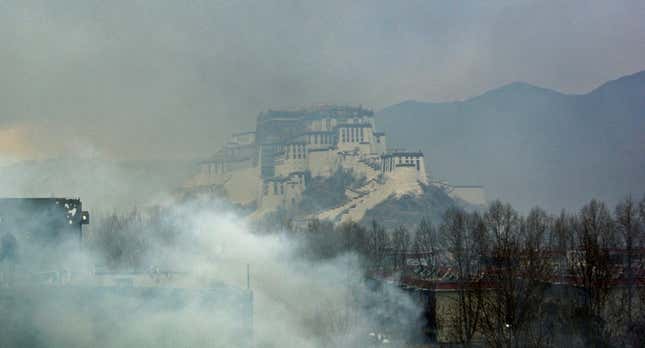 "To some extent, China has been very successful in dealing with Tibet," said Tsering Shakya, an academic at the University of British Columbia in Vancouver.
Beijing is applying the Tibet model to another minority considered to pose a danger to the state. In 2016, Chen became party secretary in the Xinjiang region of northwest China, where his Tibetan policies are largely seen as the foundation for repression of the Uyghur minority. Large-scale re-education camps hold hundreds of thousands of Muslims as Uyghur cultural and religions practices face systematic erosion.
From Kundun to Rock Dog
Advocates hope that growing international awareness over Xinjiang will help rekindle the world's attention toward Tibet, which has dwindled amid the Chinese Communist Party's relentless efforts to reshape the global conversation about the region.
Perhaps the starkest manifestation of that is in the arts. Tibet, once a cause célèbre in Hollywood as the subject of films such as Kundun and Seven Years in Tibet—in which Brad Pitt played the role of an Austrian mountaineer who tutored the young Dalai Lama—is today almost nowhere to be seen on screen. Actor Richard Gere, one of the most well-known celebrities to support Tibetan independence, said in 2017 that he has been shut out of major productions because of his outspokenness.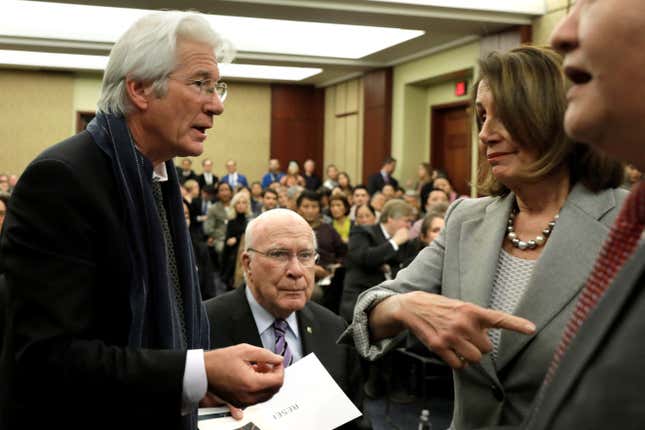 When Tibet is still visible, said Seagh Kehoe at the University of Leicester, it is often in a watered-down and totally depoliticized fashion, as in the animated Rock Dog, a 2016 joint US-China production about a Tibetan mastiff who becomes a music star. Self-censorship over Tibet can be seen at work in London as well, with a West End theater suspending performance of a play about Tibet last year reportedly at the urging of the British Council, the UK's international cultural organization, which is partly government funded. Following accusations of censorship by its playwright and apologies by the theater, Pah-la is now due to be staged next month.

Shaping the narrative on campus
Universities are another important battleground in Beijing's attempt to mold its narrative. Campus activism in an earlier era was generally pro-Tibetan. That's changing today with the ballooning number of Chinese students abroad—over 600,000 now compared with fewer than 50,000 in the late 1990s.
Chinese authorities "see overseas students as allies in their ongoing efforts to counter regime opponents" including groups sympathetic to Tibet, Xinjiang, Taiwan, and the Falun Gong, according to a report (pdf) last year by the Wilson Center, a Washington, DC-based think tank. The report detailed attempts by Chinese officials to put pressure on institutions to cancel invitations to the Dalai Lama and to bring more Chinese delegations to US universities to espouse the Communist Party's line on Tibet.
Chemi Lhamo, a Tibetan student who was elected last month as a student president at the University of Toronto, received thousands of threatening Instagram messages from Chinese students. The student union decided to close her office out of concern for her safety. Chinese officials in Canada denied having anything to do with the incident or a case in which a Uyghur speaker was disrupted by Chinese students at McMaster University who had reportedly sought advice (paywall) from the consulate in Toronto. Chinese diplomats in Canada have praised the actions of students in both instances as being "patriotic."
"Slow violence" gets less attention
Draconian restrictions on travel by Tibetans, foreign diplomats and journalists has made getting disseminating information from the region immensely more difficult.
Ever-tightening security has eliminated visible, large-scale displays of protest. The "optics of urgency" spotlighting the Xinjiang situation, such as satellite photos of camps and reporting by journalists on the ground, are missing from the Tibet narrative, wrote Gerald Roche, an anthropologist at La Trobe University in Melbourne. The "slow violence" that characterizes the plight of Tibet today, Roche added, makes it harder to get global attention.
Ahead of the 60th anniversary of the uprisings in Tibet, Chinese authorities further tightened control, restricting even foreign tourists from traveling there. Meanwhile, a white paper from China's State Council on Tibet released yesterday (March 27) boasted of "democratic reform" over the past six decades, including a chapter titled "The People Have Become Masters of Their Own Affairs."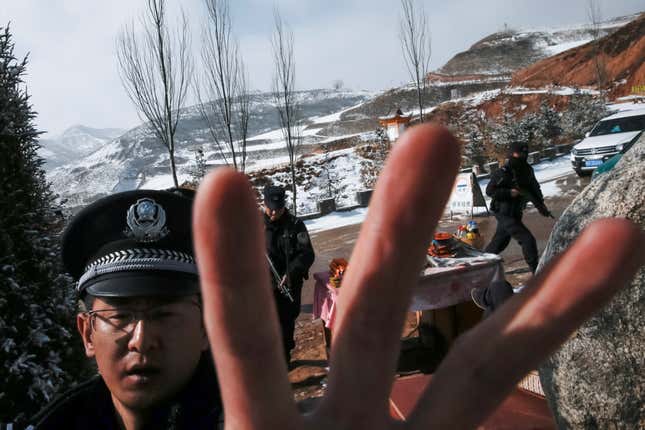 Dramatic protests have continued. Since 2009, Tibetans have been self-immolating as a form of protest, with the act spreading from nuns and monks to laypeople. The International Campaign for Tibet's latest count of self-immolations totals 155, with the last of the three known to have occurred in 2018 taking place in December. International media coverage, however, has largely disappeared. "We have some 150 cases of self-immolation, but for all I know it could be 300," said Kevin Carrico at Monash University in Australia. "Even for people who pay attention to this situation, we don't really know what's happening."
The debate over the next Dalai Lama 
Sophie Richardson, China director at Human Rights Watch in Washington, said that spotlighting China's human-rights abuses in Xinjiang can reinforce mutual support between diaspora Uyghur and Tibetan groups. There's a common "core pathology" underlining Beijing's actions in both places, including the "erasing of cultural identities and practices," she said. Lhamo, the Tibetan student, told Quartz that a growing focus of her activism now involves building ties and sharing information with Uyghurs, Taiwanese, and the Falun Gong.
Advocacy groups have also welcomed renewed pressure by the US on Beijing. Congress passed the Tibet Reciprocal Act in December, which denies entry to the US any Chinese official who blocks Americans from going to Tibet. Matteo Mecacci, a former lawmaker in Italy and president for the International Campaign for Tibet, said the bill signals "enduring, bipartisan support for Tibet" in the US. The law requires annual reports detailing access to Tibet for Americans, with the first published this week.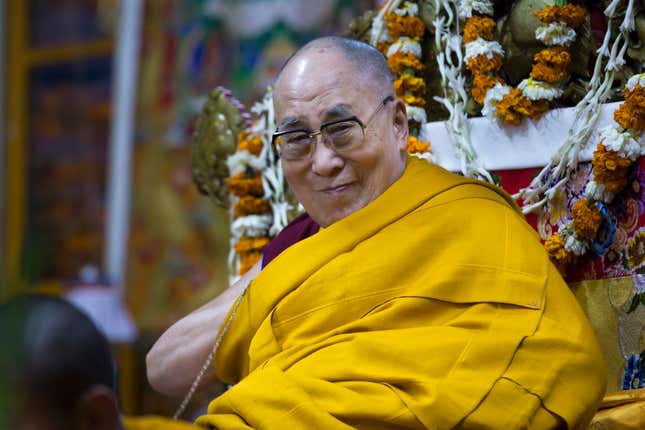 The fight over the Dalai Lama's succession—and China's obsessive control over it—could also return Tibet to headlines in the coming years.
Amid a flurry of attention this month marking the leader's 60th anniversary in exile in Dharamsala, the 83-year-old Dalai Lama said in an interview that his next incarnation could be found in India, adding that Beijing is likely to appoint its own successor whom "nobody will trust." Beijing, which consistently maintains that the Dalai Lama is a separatist, promptly reiterated that the selection of the next Tibetan spiritual leader must follow Chinese law.