Ahead of Tesla's big Model Y reveal event Thursday evening (March 14) in Los Angeles, CEO Elon Musk has been teasing details about the latest addition to its line-up, another SUV.
Tesla already has a premium SUV, the Model X. But the new car is likely to be more compact than the premium version, and closer in price to the Model 3 sedan, whose price was recently cut to $35,000 for the most basic variation. To cut costs, and make it easier to ramp up production, the Model Y will share 75% of the Model 3's parts.
Tesla's new focus on affordability comes as it looks at pushing the Model 3 globally, with deliveries beginning last month in Europe and in China—its biggest overseas market and the world's biggest market for electric cars, where sales of electric vehicles could reach seven million annually by 2025. Tesla's a deeply admired brand in China, but it accounted for a just a fraction of the 1.2 million electric vehicles sold in the country last year. In large part, that's down to price.
Tesla's Model S and Model X have starting prices of more than 700,000 yuan ($115,000) in China, substantially more than they cost elsewhere. Even the Model 3 costs between $60,000 and $77,000 (link in Chinese) after the most recent cuts.  Tesla has already started building a Gigafactory in Shanghai that will focus on making the Model 3 and Model Y more cheaply for local sale, but the latter isn't expected to be produced at scale until the end of 2020. Meanwhile there are already a variety of electric SUV offerings from the roughly 80 electric passenger car makers (paywall) in China.
Autohome, a website tracks car prices and models in China, shows there are 48 electric SUVs (link in Chinese) currently available on China's market. Although it's still too early to draw a direct comparison given the limited details of Model Y out there, several of these models could end up competing with the Model Y if it's offering similar specs to the Model 3, said Angus Chan, an analyst based in Shanghai for Bocom International.
China has at least 16 models (link in Chinese) in the compact SUV category. But while the Model Y could start at around 450,000 yuan ($67,000), based on current Model 3 pricing in China, with a range slightly less than Model 3's 325 miles (523 kilometers), its likely competitors—China's leading EV makers—have offerings that cost less than half that. (Update: Musk announced the Model Y will cost between $39,000 and $60,000, with the cheapest standard version delivering only in 2021, while pricier variations will become available in the fall of 2020. It's unclear yet how the Shanghai Gigafactory will shape its price in China.)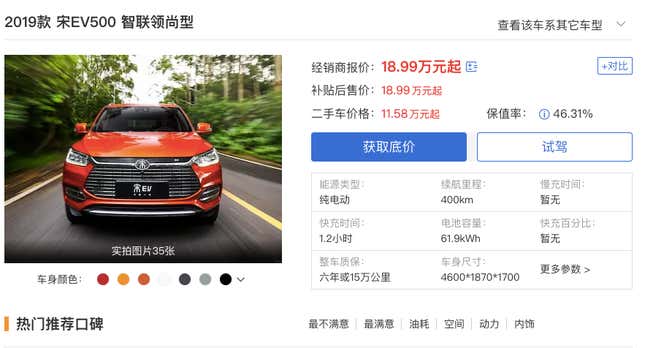 BYD, China's top-selling electric vehicle maker in 2018, offers Song, an electric SUV model equipped with a battery range of 400 kilometers (250 miles). Song's starting price is around 190,000 yuan ($28,000). The company sold around 33,000 of the model (link in Chinese) in 2018, according to China's online news portal Sina.
BJEV, a state-owned manufacturer, has the EX5, which starts at an even lower price of 170,000 yuan (link in Chinese), and has a battery range slightly higher than the Song.
Great Wall, which last month sold the most SUVs (link in Chinese) in China, including both electric and fossil, has the ORAiQ—with a battery range starting at 360 kilometers, it's priced at around 190,000 yuan (link in Chinese). Great Wall sold some 3,600 ORAiQ in 2018, according to data from the company (link in Chinese).
There's also Xiaopeng, a five-year-old EV startup inspired by Tesla. The standard model of Xiaopeng's G3 starts at around 160,000 yuan (link in Chinese) with a battery range of 351 kilometers. Xiaopeng has delivered 24 G3 cars as of December.
EV startup NIO's upcoming ES6, a five-seater SUV, which starts at 358,000 yuan with a battery range of 510 kilometers, could also end up competing with the Model Y, said John Zeng, director of research firm LMC Automotive's China office. NIO's chief financial officer Louis Hsieh said in its 2018 earnings that NIO is about to begin deliveries of ES6, which could come to NIO's showrooms as soon as May.
Even in the luxury segment, Tesla is already facing competition from homegrown brands. NIO's seven-seater SUV ES8 was reportedly the best-selling luxury SUV in December, according to CleanTechnica. NIO sold 11,348 ES8 in 2018, while Tesla sold around 16,360 cars in China, according to data from LMC Automotive. Tesla declined to comment on the sales figures.
Venturing into the mass-market segment could carry other risks for Tesla in China, where the company's recent sea-saw price adjustments have caused outrage among Tesla owners.
Some buyers have mourned (paywall) the loss of tens of thousands of dollars because they bought Model X just before the reduction at the end of February, which cost them an additional $26,000 compared with the price now. Others were disgruntled because they had wanted to be associated with a luxury brand.
One female Tesla owner surnamed Yuan said in an interview (video, link in Chinese) that she's no longer driving her Tesla bought in December after the price drop: "It used to be a cool thing driving this around… [the price cuts] struck hard at the identity of the brand."
"Tesla should be more careful when adjusting their price," said Toliver Ma, an auto analyst at investment and securities company Guotai Junan International. "Lowering their price will hurt their brand image as the higher price partly represents their premium in the market."
Sometimes it seems like even Musk isn't so sure about the wisdom of his ever-changing price strategy. In response to questions on pricing strategies on Twitter, Musk said prices of Tesla's add-ons such as Enhanced Autopilot and Full Self-driving capabilities will revert to normal price on Monday.
By the time it gets on the road, Tesla's Model Y will arrive to increasing competition globally from traditional fossil-fuel carmakers venturing into the electric market. Volvo Cars, the Swedish carmaker owned by Chinese car firm Geely, said it wants 50% of its car sales to be electric six years from now. Germany's Audi and Mercedes Benz are also rolling out electric vehicles in Europe and in China.
By 2020, Tesla will face a completely different situation as the majority of car brands will roll out new electric vehicle products, said Zeng, the LMC Automotive analyst. Tesla will end up with only a niche market if it continues focusing on the premium branding position, he added.
Update: The story was updated on March 15 (March 14 California time) to include price and delivery information about the Model Y from its launch event Thursday.
Looking for more in-depth coverage? Sign up to become a member and read more in-depth coverage of China's electric-car boom in our field guide.