The UK, Germany, and Ireland today (March 12) joined Australia, Singapore, Malaysia, and Oman in banning all Boeing 737 Max 8 planes from their airspace, two days after one of the planes crashed on a journey from Addis Ababa, Ethiopia, to Nairobi, Kenya, killing all 157 people on board. It was the second fatal crash involving the Boeing 737 Max in less than five months, prompting questions and concerns about its safety.
The decision is a "precautionary measure," the UK Civil Aviation Authority said, to remain in place until further notice.
In a statement, the CAA announced that it would continue to monitor the situation: "As we do not currently have sufficient information from the flight data recorder, we have, as a precautionary measure, issued instructions to stop any commercial passenger flights from any operator arriving, departing or overflying UK airspace."
Passengers booked onto Max 8s are expected to be rebooked onto other aircrafts, though travel delays are all but certain, according to airlines such as Britain-based Tui Airways and Norwegian Airlines.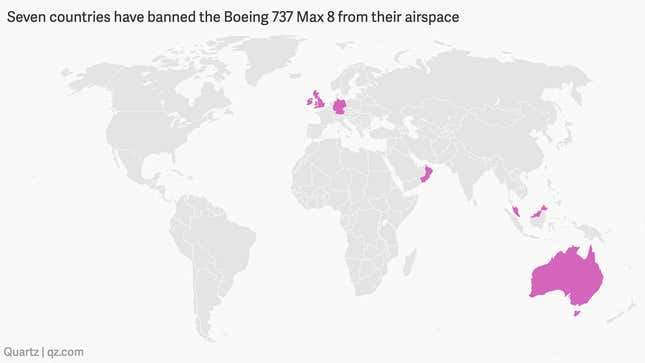 Following Sunday's crash, three countries asked their domestic airlines to ground their 737 Max 8s: Ethiopia; China, which had eight Chinese nationals on board the Ethiopia flight; and Indonesia, which is still investigating a crash involving a 737 Max 8 last October in which 189 people died. Nearly 30 individual airlines across the world have since grounded their 737 Max 8 planes, despite claims from Boeing that the model is safe. At least 18 others continue to fly the jet, following a Federal Aviation Administration directive that the planes are airworthy.
"External reports are drawing similarities between this accident and the Lion Air Flight 610 accident on October 29, 2018," the FAA said, in a statement (pdf). "However, this investigation has just begun and to date we have not been provided data to draw any conclusions or take any actions."
Investigators from around the world are now at the site of the Ethiopian Airlines crash, where it's hoped that information from the "black box" will reveal more about what went wrong. The flight data recorder and the cockpit voice recorder have both been recovered, the airline said, though a full report could take as much as a year to compile and release.
This story has been updated to reflect further countries that opted to ban the planes from their airspace.