If there's any doubt remaining whether the future of transportation is electric, the Model Y should dispel it. Until now, Tesla and other automakers have offered high-priced luxury vehicles, or economy-sized sedans and hatchbacks. With the release today (March 14) of the Model Y, Tesla's first mass-market SUV, the electric carmaker is entering one of America's most lucrative car segments. You can watch Tesla's livestream of the official model release event tonight here at 8pm pacific time/11pm eastern time.
It marks the next milestone for electric vehicles, whether or not the Model Y achieves the same remarkable success as the Model 3, which nabbed 455,000 pre-orders before a single one had even been built.
In the US car market, sedans are steadily being replaced by sport utility vehicles (SUVs), crossovers, and hatchbacks. According to marketing-information firm JD Power and Associates: the share of total retail sales make up by SUVs rose from 36% to 49% between 2014 and 2018. Automakers have no choice but to follow buyers' preferences, and American carmakers have already ceded most of the sedan segment to their Asian and European competitors. In 2018, Ford discontinued all its non-truck autos except for the Mustang coupe and a small crossover SUV. Morgan Stanley estimates GM and Ford's 2018 profits all came from full-sized pickup trucks.
So far, Tesla's mainstays, the Model S and Model 3, have powered the company's sales. With some 140,000 units sold in 2018, the Model 3 was the best-selling electric car in the US last year (and sold more than four times that of the second-ranking Toyota Prius Prime) and the fifth best-selling sedan overall. The Model 3 accounted for 20% of the 700,000 mid-priced sedans (categorized as those costing $30,000 to $50,000) sold in the US in 2018.
Nevertheless, Tesla can't survive without expanding into the lucrative SUV and truck markets. That's why its next three releases are the Model Y, the heavy duty Semi-truck, and a pick-up truck to be revealed in 2019. (Musk has said he's "most excited" about the futuristic Blade Runner-esque pickup truck).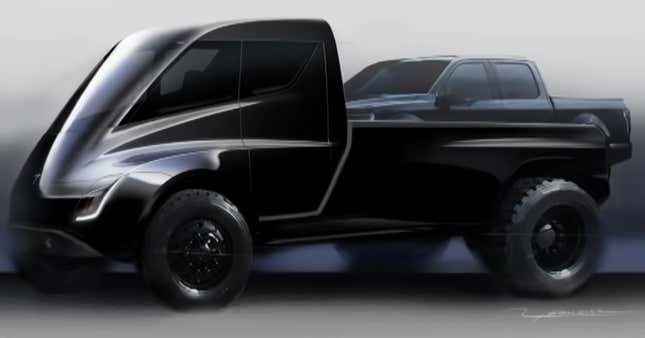 That might seem an uneasy fit. American truck owners have at times had a hostile relationship with the electric carmaker, for example "ICE-ing" out Tesla owners by blocking charging stations, and "rolling coal" on electric vehicles, aka, covering them in exhaust soot. But even Ford is acknowledging the new reality on the road. America's premier pickup manufacturer has said it will make a fully electric version of its wildly popular (and profitable) F-150, as well as a hybrid version due out by 2020. "We're all in on this and we're taking our mainstream vehicles, our most iconic vehicles, and we're electrifying them," chairman Bill Ford said last January at the 2018 Detroit auto show.
The Model Y's price and place in the market
Tesla already has a luxury SUV in the market, the $88,000 Model X, and luxury carmakers like Porsche and Jaguar have their own EV entrants in that race. But there aren't many affordable mid-sized electric SUVs at the moment (crossovers are SUVs affixed to a car chassis, in this case the Model 3 frame). Fisker has one planned for production in 2021, and there are also EV hatchbacks like the Ford Focus and Kia Soul, though these may not satisfy customers looking for a small SUV.  A crossover SUV should, in theory, offer superior performance for suburbanites (with strong acceleration and a range of over 200 miles) and for workers (more torque for towing, and juice to power tools or accessories).
The Model Y should satisfy those needs, and it will have plenty of road to itself if it arrives, as planned, in late 2020. So far, Americans have gotten used to diminutive, hyper-efficient EVs like Nissan's Leaf, but electrification actually suits bigger gas-guzzlers as well, since they offer the space to cram in much more energy into big batteries. In addition, the historically wide profit margins should help Tesla, which is experiencing financial pressures due to the low margins on the $35,000 Model 3.
We don't know a lot about the Model Y yet, but Musk tweeted the cost should be only about 10% more than the Model 3, with just slightly less range using the same sized battery. The Model Y is expected to share about 75% of its parts with the Model 3. That should help keep the price low, which bodes well for sales—Tesla's pool of Model 3 buyers grew by a factor of five after dropping the price to $35,000, JD Power estimates. Tesla also has the advantage of a strong brand that buyers appear willing to spend more on. Tesla's trade-in data show at least half of customers who traded in their cars to buy a new Model 3 brought in cars priced under $35,000, suggesting many are opening their wallets to own a model from the electric carmaker.
Tesla had just under 2% of the total US market in the last quarter of 2018—but a 14% share for vehicles over $50,000. "[It's] a remarkable achievement for Tesla, especially given the fact that many new vehicle shoppers will not consider a pure electric vehicle due to concerns about driving range and charging infrastructure," said JD Power in an analyst note. "One certainty is that Tesla's sales will grow in 2019 and that growth will come at the expense of other automakers."
The road forward will not be smooth. At this point, Tesla seems to be succeeding despite Musk. While the CEO has been able to whip up excitement around his company, his erratic behavior has turned off investors, employees, and many customers. In February, the US Securities and Exchange Commission asked a judge to hold Musk in contempt for violating an agreement it brokered months ago seeking to rein in the Tesla CEO. Musk has announced Tesla would close its stores and start to only sell online (and then backtracked, saying it will keep them open), in addition to adjusting prices multiple times this month, angering some customers.
Can the Model Y solve Tesla's financial problems?
Tesla's financial picture is also less rosy than once thought. The investment bank UBS estimates Tesla will need at least $25 billion in new financing over the next decade to sustain production of its Semi, Roadster, Model Y, and future models, as well as to expand services. While Tesla defied predictions it would need to raise more money for manufacturing last year, UBS still maintains a capital raise is imminent. Even as the Model 3 funnels billions of dollars into Tesla's coffers, the tax credits that keep EVs affordable for customers are phasing out and competition are heating up.
The federal tax credit for Tesla vehicles fell by half to $3,750 per vehicle this January and will halve again this summer. Musk has also had to walk back promises of long-term profits. On a Jan. 31 earnings call, the CEO said he was bullish on Tesla's ability to stay in the black. "Last year was the most challenging year in Tesla history but also the most successful," Musk said. "I'm optimistic about being profitable in Q1, and for all quarters going forward." On Feb. 28, however, the executive admitted Tesla would likely lose money in the first quarter of 2019.
This comes on top of intensifying competition. Around a dozen new EV models are due to arrive in 2020. While demand for Tesla is high, the most attractive auto market, China, will not be easy to crack. The world's largest car market already has multiple Model Y rivals available for sale at a fraction of the expected price. Between China's roughly 80 electric passenger-car makers (paywall,) there are at least 16 compact electric SUVs that may compete with Tesla's latest offering (as well as 32 other non-compact electric SUVs; link in Chinese). In addition, the tariffs levied on American imports put Teslas further out of reach for most buyers in China.
Automotive information company Edmunds suggests Tesla's winning streak will be "virtually impossible" to maintain. It will certainly be a monumental challenge for Tesla's newly installed chief financial officer, 34-year-old Zachary Kirkhorn. "Tesla's in an awkward purgatory between being a startup and a mainstream automaker," says Jessica Caldwell, Edmunds' executive director of industry analysis, "and the biggest open question heading into 2019 is where the company really goes from here."
Correction: The Model 3 accounted for 20% of the 700,000 mid-priced sedans sold in the US last year, rather the total number of sedans.