It might not be the best thing for San Francisco rents, but the venture-capital (VC) industry reasserted itself as a major force in the US economy again this year—putting lots of money to work, successfully exiting some earlier investments, and sparking talk of another bubble.
VC-backed IPOs have hit their highest level since 2000, according to Dealogic. While the biggest VC-backed deal of the year (in terms of both the amount of money raised, and its broader significance) was Twitter's IPO, healthcare companies backed by venture capital actually raised more money as a whole on the public equity markets than technology companies did. There have been 43 US-listed VC-backed healthcare IPOs in 2013, raising a total of $3.6 billion. The biggest was the $192m debut in September by Ophthotech, which develops eye-disease treatments.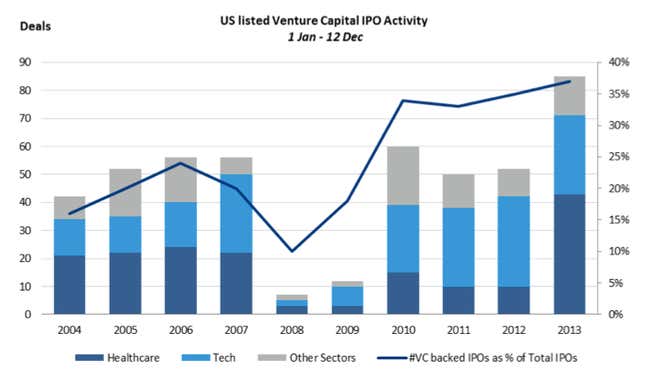 It's also been a huge year for VC investments. CB Insights tracks VC- and private-equity-backed technology companies valued at $100 million or more which it predicts could go public in 2014, based on "sustained product, market and financing momentum." Those companies raised $12.6 billion this year, up from $9.8 billion in 2012.
They are spread among a wide array of industries, although eCommerce , advertising technology and business intelligence and analytics startups are among the most prevalent.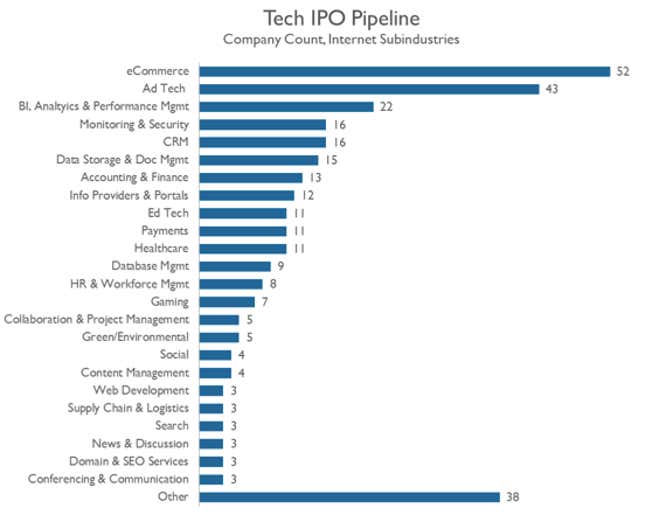 For those concerned about a bubble in startup land, the number of VC-backed companies attracting valuations north of $1 billion increased sharply this year. They include photo messaging app Snapchat, social network Pinterest, airbnb, wearable technology and auto-device company Jawbone, and cloud computing company MongoDB.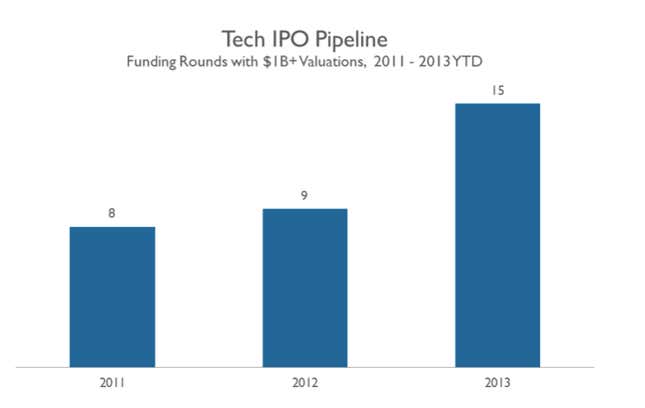 Yet, perhaps surprisingly, while venture-capital firms have been great at investing money they haven't been quite as good at raising it this year. According to Pitchbook, less money was raised by VC funds by the end of the third quarter of 2013 than in the same period last year, while fund closures also increased.