At its headquarters in California today (March 25), Apple held an event like few in its history. There were no new gadgets on display, no brushed aluminum, no pricey products for pundits to gawp at. Instead, the world's largest luxury hardware manufacturer announced a slew of new services for the devices that hundreds of millions of people already carry around in their pockets, as the company looks to shift to more regular, reliable revenue streams found in subscription business.
Here's a quick rundown of everything Apple announced today:
Apple Card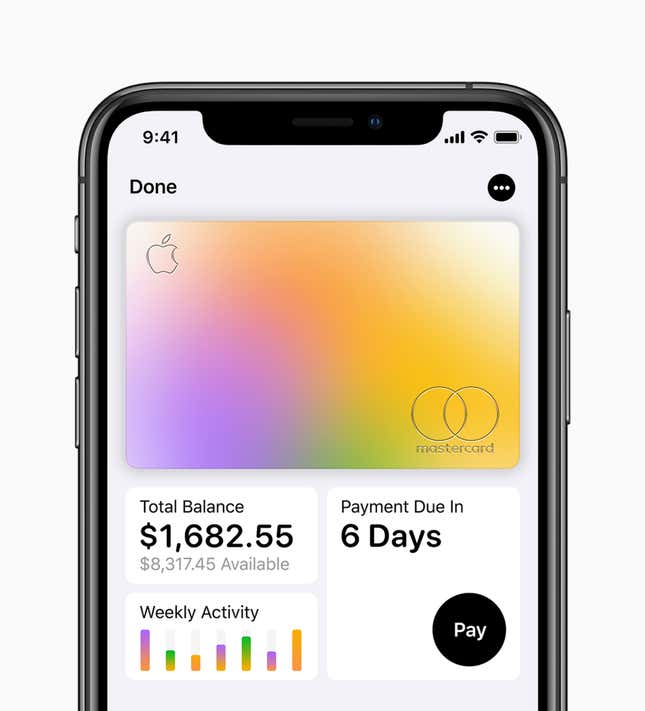 Building on the popularity of its ApplePay contactless payments technology, Apple announced its own credit card, backed by MasterCard and Goldman Sachs. The new card aims to be a simpler alternative to many credit cards on the market, with Apple saying its card will come with no fees (such as late fees or foreign transaction fees), and will offer 2% cash back on payments made through ApplePay. The card also offers 3% cash back for purchases of Apple products or services. The money Apple gives back will be sent to the user's ApplePay card on the phone, and can be spent like a prepaid gift card, or used to pay off the balance on the credit card.
While CEO Tim Cook said that Apple users are on track to complete 10 billion ApplePay transactions in 2019, the majority of credit card transactions (at least in the US) still require a physical credit card. So Apple decided to create a laser-etched, titanium card that works even at places where ApplePay isn't accepted. Transactions made using the physical card will also offer 1% cash back.
Apple will be offering the card in the US and Canada this summer, and said applying for the card should only take a matter of minutes.
AppleNews+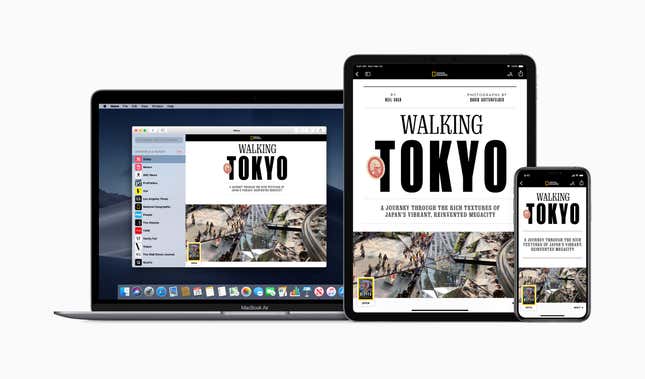 Apple first launched its News app in 2015, pulling in stories from publishers around the web and showing users stories based on a combination of algorithmic and human curation. Today, it announced a $10-per-month subscription add-on that allows customers to read any magazine (either a single article or an entire issue) from the 300-plus publishers that are part of the Apple News program, including Time, National Geographic, the New Yorker, Vogue, Wired, and Rolling Stone. It also includes access to some content from two newspapers, the Los Angeles Times and the Wall Street Journal.
Much like the Newsstand app the company launched with the iPad back in 2010, these digital magazines will have interactive covers and formats designed to work well on Apple devices. But Apple shuttered that original Newsstand app when it became clear that consumers weren't buying their news subscriptions through Apple, replacing it with the News app. Whether Apple can succeed this time around by providing a sort of Netflix-for-news is unclear.
The News+ service is available today for users who update their mobile devices to iOS 12.2.
Apple Arcade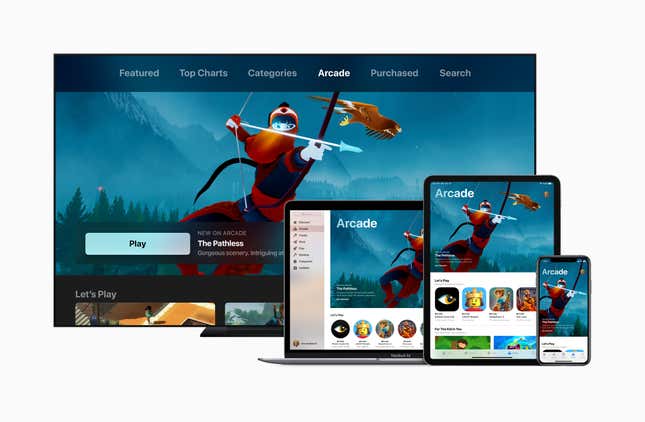 Much like it's trying to do with news, Apple apparently wants to bring indie game developers into the spotlight with its new Arcade subscription service. Subscribers will get access to over 100 "new and exclusive" games that will be available to play on Mac computers, iOS devices, and Apple TVs, and can share access to their family members' devices.
The service will be available in the fall, and Apple didn't say how much it'll cost.
Apple TV updates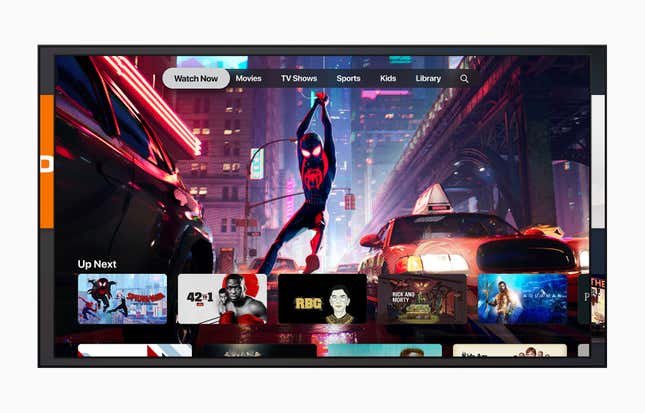 Apple is doubling down on its goal of becoming the portal through which its customers buy and consume all their content. With its Apple TV app, it wants to tie together all its users' TV services into one app, and will now integrate streaming services like Hulu and Amazon Prime Video, as well as cable services like Spectrum. Apple will also sell access to other video services, including Showtime, Starz, HBO, and CBS All Access. Users will be able to search through the TV app to theoretically find anything they subscribe to—apart from a few glaring omissions, including Netflix and YouTube TV.
The revamped TV app will be released in May for all Apple devices, as well as streaming boxes from Roku and Amazon, and smart TVs from Samsung, Vizio, Sony, and LG.
Apple TV+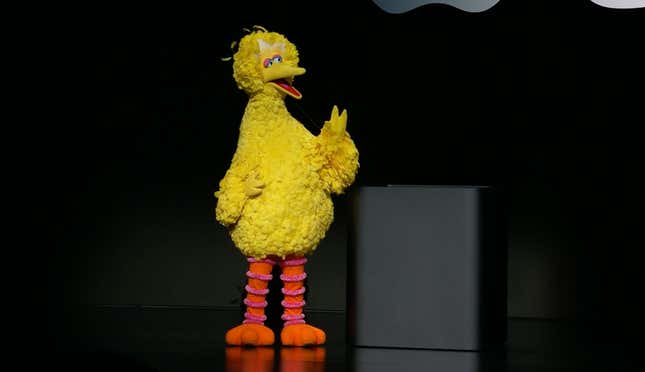 Apple threw another subscription offering into the mix with TV+. Although the service dominated the event, with a parade of celebrities including Steven Spielberg, Jennifer Aniston, Reese Witherspoon, Steve Carrell, Oprah Winfrey, and even Big Bird coming onstage to discuss the work they're doing with Apple, details about what the service will actually include were quite thin. TV+ will be a subscription service consisting of original content developed for Apple, but it's not clear how much it'll cost, what exactly will be on it beyond the handful of shows discussed onstage and two documentaries from Oprah, or whether there will be any other content included. Netflix, Hulu, and Amazon all have similar offerings, but round out their subscriptions with libraries of old TV shows and movies.
Apple said the service will also be available in the fall, and considering the company traditionally holds another launch event in September, it's likely we'll learn more about it then.
Want a better understanding Apple's TV strategy? Check out our guide to the streaming-TV wars.