Tech IPO funding has gone through the roof this year. But clean technology companies aren't seeing the love they used to. Instead they're scrambling for early-stage funding.
According to research from PitchBook, the amount of capital invested by VC funds into clean-tech companies (which can include everything from solar-panel manufacturers, to wastewater treatment providers, to developers of biofuels and producers of algae technologies for medical use) has fallen sharply this year, by about 62%. The number of deals closed has also decreased.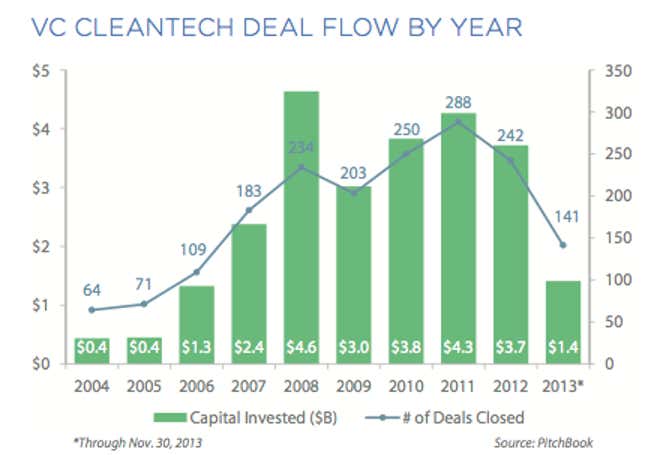 Similarly, the amount of capital raised by VC-focused clean-tech funds fell even faster, from $4.5 billion in 2012 to less than $1 billion this year.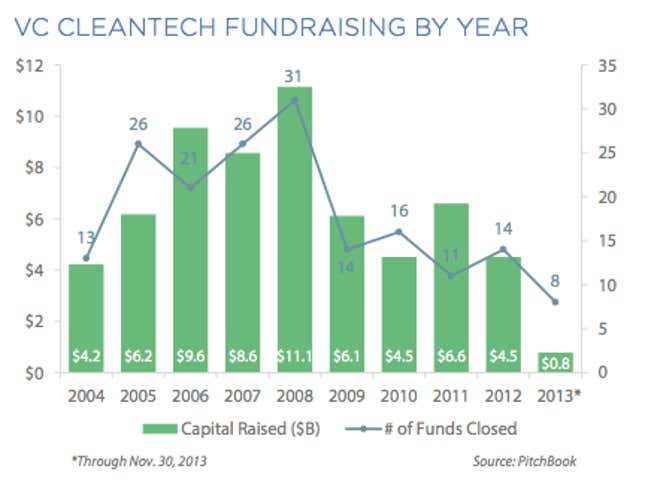 PitchBook chalks this up to a string of high-profile failures in the sector such as the collapsed solar company Solyndra, and the bankrupt electric vehicle maker, Fisker Automotive. Other examples include defunct lithium-ion battery maker A123 Systems, solar-panel maker Konarka, and electric-car-charger company ECOtality. Even the biofuels developer Amyris, which did go public, is trading at 82% below its 2010 IPO price. The natural gas boom (which has undercut renewable energy prices) and fluctuating silicon prices (which have also held back solar panel manufacturers) have played into the nosedive in funding.
Meanwhile, VCs haven't been able to exit their clean-tech investments with the kinds of profits they need to cover other losing bets. While Elon Musk's solar-panel maker, SolarCity, has nearly quadrupled in value since its IPO in late 2012, this is apparently the exception to the rule. There hasn't been another big clean-tech IPO since then (the biggest potential one, BrightSource Energy, pulled its IPO in April).  VC-backed clean tech startups that have been privately sold went at knockdown prices (such as MiaSolé, which was sold for just $30 million after attracting $550 million in funding).
But this also means you won't find many clean-tech startups with billion-dollar valuations. In fact, the average valuation for a late-stage VC-funded clean-tech company is $65.2 million, well below the average valuation for startups outside the sector, according to PitchBook's analysis.
That could make clean tech a bargain over the next few years, especially considering the upside (i.e., the flood of warning signs that climate change is accelerating.)
Albert Wenger, a partner at Union Square Ventures, an early investor in Twitter, Tumblr, Square and Etsy, echoed that sentiment earlier this year: "Anybody allocating assets [today] should consider clean tech. Why? Because clean tech today is where internet investing was after the dotcom bubble burst," he wrote on his blog. "All the institutional (and even most individual) investors have retreated while the secular trends are all in favor."