In 2017, more than 20% of deaths of people aged 15 to 24 involved guns.
That means that for every five deaths of young adults that year, at least one involved a firearm.
In a letter titled "Mass Shootings and the Numbing of America," published April 1 in the Journal of the American Medical Association, Eric Fleegler, a firearm injury researcher at Harvard Medical School, decried the lack of action to address high rates of gun deaths in the US. In 2017, the US had the highest rate of firearm deaths since 1996, with 39, 773 people dying from gunshots that year, among them 8,187 in children and young adults.
A chart published with the letter used data from the Institute for Health Metrics and Evaluation to show the rates of gun deaths among different age groups for 2017.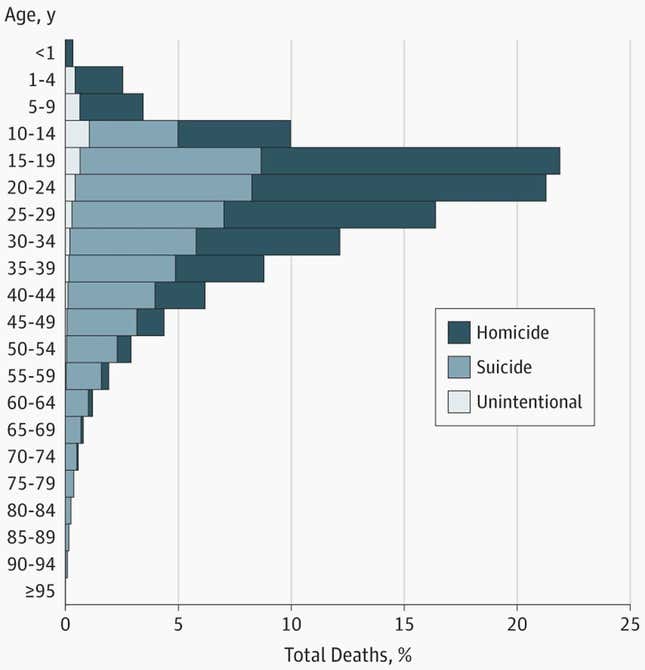 The year before, in 2016, guns killed more children (ages one to 19) than cancer.
"Mass shootings have become commonplace in the United States, whether in a house of worship, a public school, or a private home. Congress should offer more than 'thoughts and prayers' and enact laws that are strong enough to reverse the upward trajectory of firearm injuries and deaths," Fleegler wrote.
The federal government has not enacted a new federal firearm law since the Federal Assault Weapons Ban of 1994, which expired in 2004. In total, 18 states have adopted background check laws that go beyond federal standards, but another 12 states permit people to carry loaded guns without a permit. Research has found that some state laws actually contribute to firearm deaths, Fleegler writes: States with laws that "automatically permit concealed firearms if minimal criteria are met are associated with an 11% increased rate of firearm homicides," he wrote. "'Stand your ground' laws, which provide legal immunity to individuals using lethal force in self-defense, have been associated with about a 30% increase in the rate of firearm homicides."