The world has been running a global chocolate deficit for a few months now, gobbling up more cocoa than Africa, which produces the vast majority of the world's supply, can produce. And that's likely just the beginning of the problem.
Global cocoa supplies are expected to trail demand through 2018, which would mark the longest supply shortfall in over 50 years, according to Bloomberg. While that doesn't necessarily mean there will be a chocolate shortage—there's plenty left over from previous cocoa harvests to fill the gap—it's probably going to push cocoa prices up significantly over the next few years. Prices could jump as much as 14% next year alone, according to Bloomberg estimates.
The global demand for chocolate is on its way up—worldwide chocolate sales are expected to increase by over 6% next year, and reach a record $117 billion, according to Euromonitor. And guess which country is leading that growth? China. Chocolate sales in China have more than doubled over the past decade, and are slated to be the country's fastest-growing confectionary sector through at least 2016. Between 2006 and 2010 alone, chocolate sales jumped by 50%.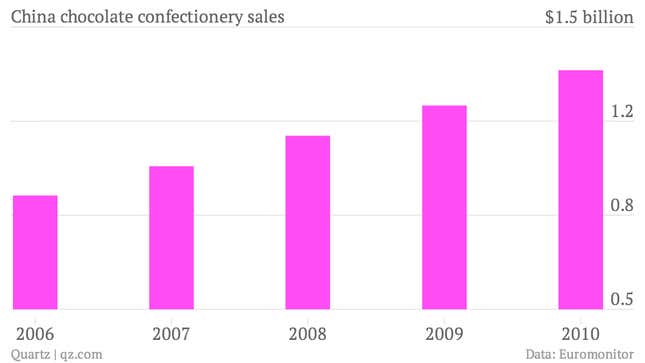 China's growing taste for chocolate coincides with particularly weak cocoa harvests in Western Africa. Poor weather in the Ivory Coast, the world's largest producer of cocoa, has hurt the country's cocoa output. And Ghana, the world's second largest cocoa producer, is already expected to miss its target for the year. Nestle, worried that the region's weak harvest could lead to an eventual production crisis, even jumped in to help by sending millions of cocoa seedlings to the Ivory Coast.
A shift towards chocolate consumption is pretty common among developing nations. China isn't the only country whose taste for it is growing—Brazil and India fall into that camp, too. But China is unlike any other developing nations in at least one way—it's the largest, and hungriest developing nation. "China by sheer size is going to be the most important and significant example of this," Euromonitor head of food research Lee Linthicum said back in 2011.
And the thing is, China's chocolate market is still largely untapped. The Asia-Pacific region houses more than half of the world's population, but currently accounts for barely more than 10% of global chocolate consumption. The average person in China still only consumes about 200 grams (less than half a pound) of chocolate every year, or less than 5% of what the average Western European (the world's largest chocolate consumers) eats. One thing is likely: That huge gap won't last for long.