Even if the rent isn't too damn high, it's definitely higher.
Rising US rents were one of the few parts of today's consumer price data that bucked the overall trend of soft price increases.
The key gauge of housing costs in the consumer price index is something known as "owners' equivalent rent" or OER. Basically, this is an estimate of what it would cost homeowners if they wanted to rent the house they lived in. (In consumption data, homeownership is tricky because it's something of a blend of consumption and investment.)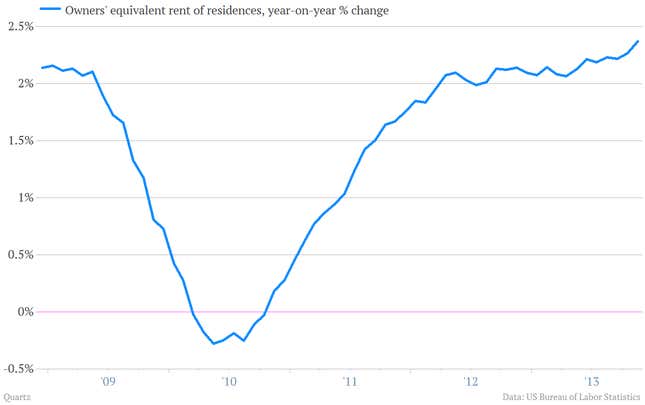 And this measure is on the rise, jumping 2.4% over the prior year in November. 
​
This is important. For one thing, OER is pretty influential in setting overall inflation numbers. (It accounts for about 32% of CPI, according to Ian Shepherdson of Pantheon Macroeconomics.)
What does that mean?
It means the fact that OER is on the rise will likely give the Federal Reserve some comfort that while inflation remains quite low, we're not likely to slip into outright deflation anytime soon.
And that could give the US central bank a bit more confidence that now is a good time to start easing up on its heavy-duty bond-buying program (i.e. the much-anticipated taper, which could theoretically be unveiled as soon as tomorrow at the conclusion of the monetary policy meeting the Fed is holding right now).