The US Department of Homeland Security is holding a farewell party for secretary Kirstjen Nielsen today at the agency's new headquarters, the site of a former psychiatric hospital in southeast Washington, DC, according to former DHS officials and Congressional aides.
As many as 200 people have been invited to bid farewell to Nielsen, who leaves DHS today, after resigning over the weekend as part of a purge of the agency spearheaded by Stephen Miller, the White House's presidential advisor.
DHS is in the process of relocating its headquarters to St. Elizabeths Campus, where the "Government Hospital for the Insane," a pioneering treatment facility for the mentally ill first opened in 1855. About 14,000 DHS employees are moving to the west side of St. Elizabeths 350-acre campus, into what the federal government says is the "largest construction project in the Washington metropolitan area since the Pentagon was built during World War II." The project, which was started more than a decade ago, has been marked by cost overruns and delays.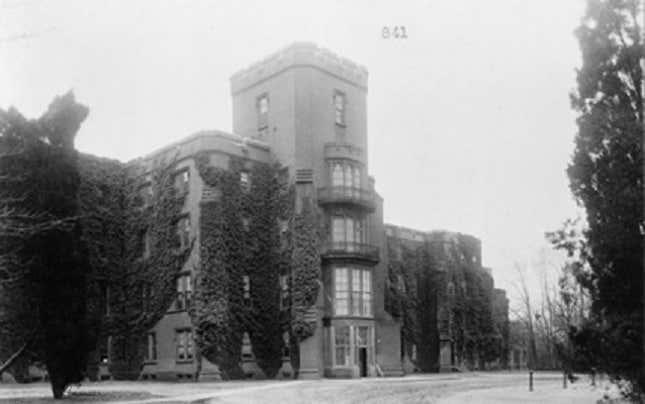 The agency is holding a ribbon-cutting ceremony this afternoon to celebrate the new headquarters; most of the employees on campus were invited. A smaller farewell gathering for Nielsen is planned afterward at the "Secretary's Office," where she would have worked from, were she staying. It's located in the pre-Civil War, Gothic Revival-style "Center Building" designed by the original architect of the Capitol, Thomas U. Walter. The building, which was used for exterior shots in the movie A Few Good Men, was completely gutted in the renovation.
No refreshments will be served at the first ceremony. It is unclear whether there will be cake at the latter.
Nielson's nomination to head DHS started with a party at the White House that the agency was billed for. During her tenure she became the public face of some of the Trump administration's most controversial anti-immigrant policies, including separating hundreds of kids from their parents at the border. Two died in US custody.
Nielsen also leaves the agency responsible to fend off threats to US transportation systems, borders, internet, air, and water weakened, disorganized, and dangerously politicized, security experts say.
Farewell parties for outgoing government officials are not unusual, ethics experts said, even if they were departing after friction with the White House. "It's normal for agencies", even if an official resigns or chooses to leave their career, said William Gray of Issue One, a government transparency watchdog. Jeff Sessions, the former attorney general, who left after clashing with Trump, was applauded out the door by Department of Justice employees, and bid farewell by the official twitter account.