Among the ever-growing number of Chinese dissidents living in Berlin is writer Liao Yiwu, who escaped to safety in Germany in 2011.

Liao was imprisoned in 1990 for four years for publicly reciting his poem, Massacre, which was written on the morning of the Tiananmen Square crackdown on June 4, 1989, and dedicated to the victims. After he was freed, he wrote a number of books exploring the lives of the downtrodden in China, all of which are banned there. He continued to be subject to intense surveillance and travel restrictions after his release.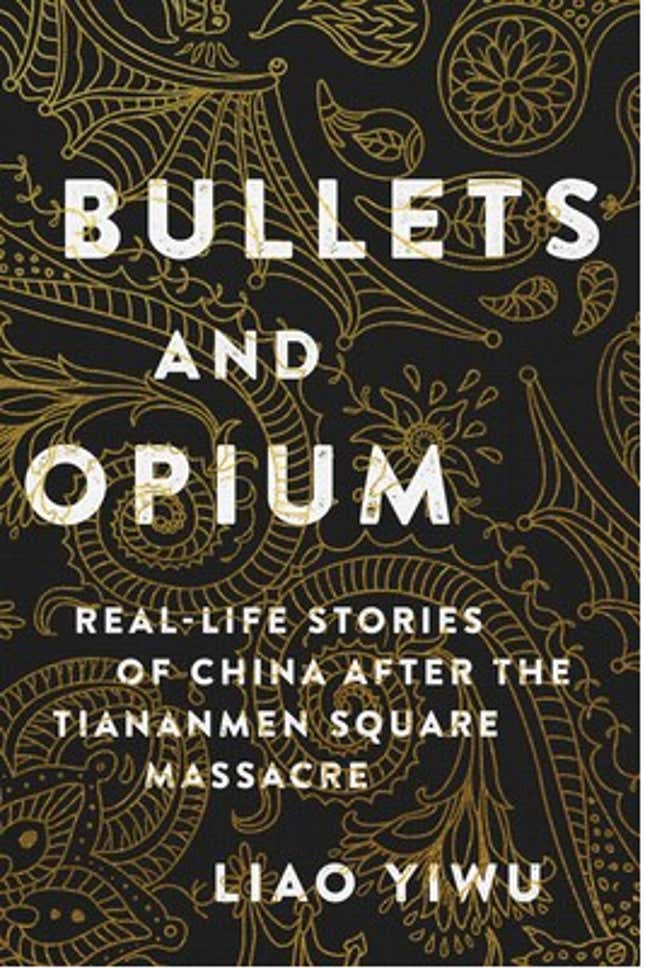 A month before the 30th anniversary of the Tiananmen Square crackdown, his book Bullets and Opium, a collection of stories of people who survived the incident, will be published in English for the first time. It was previously published in Taiwan and Germany, and will this year also be translated into Japanese and French.
The stories focus not on the student protesters whose names and experiences, Liao says, are well known, but on the lives of the ordinary, working-class citizens who bore the brunt of the army's attacks. Liao details how these "thugs," as they were labeled by the Communist Party, lived on the margins of society after they were released from prison, where they were subject to hard labor and torture. Liao is particularly interested in how this shaped love and sex for these men. "Many of those arrested were young men aged between 18 to 20. They never learned anything about women or relationships while they were in prison," Liao told Quartz. "When they came out, the world had changed… And so, impotence became a common problem."
The book also includes a collection of the letters exchanged between Liao and singer-songwriter Wolf Biermann—a close friend of chancellor Angela Merkel—as they lobbied in 2017 for Berlin to help Nobel Peace Prize winner Liu Xiaobo and his wife Liu Xia to leave China so that he could receive treatment for liver cancer in Germany. Liu Xiaobo, who participated in the 1989 protests, died in July 2017 in a hospital in China. In May 2018, Liao decided to release recordings of phone calls between him and Liu Xia in a bid to pressure Western governments to escalate their efforts in securing her escape from China, a decision that some criticized at the time for its potential to jeopardize delicate backchannel negotiations between German diplomats and Chinese officials. Two months later, Liu Xia was finally able to go to Berlin.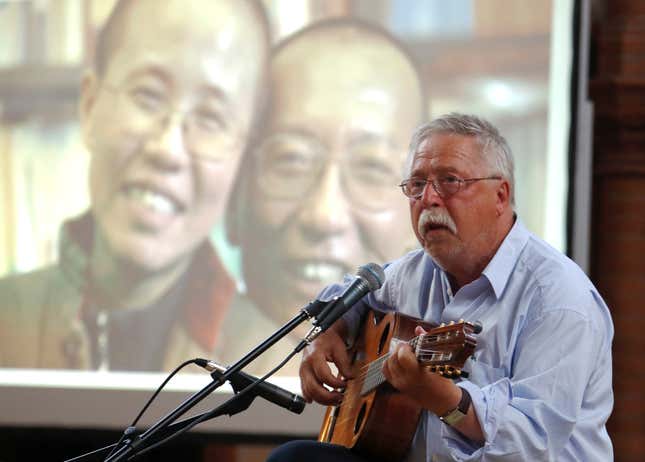 Liao, who waited for Liu Xia's arrival at Berlin airport, said that Liu now lives as she chooses to in the Germany capital, and that he has shifted his attention to other more pressing issues. "It's right that people care about her, but I myself am more concerned about the plight of Wang Yi," he said, referring to the Christian pastor who was arrested with 100 or so congregants late last year in Chengdu.
The "bullets" of the title of Liao's book refers to the weapons that the party has used to silence dissent of any sort since the events of 1989, while the "opium" is the economic development that millions of Chinese are now hesitant to jeopardize by speaking up. While once the Beijing square was a place where throngs of people gathered to express their desire for freedom, today Tiananmen Square is "one of the most heavily policed places on earth," Liao said. And as Chinese people themselves went from "loving the country to loving money," Liao lamented, his own pursuit for democracy and freedom for China hasn't changed. In that sense, he declared, "I have not failed my late friend Liu Xiaobo."
The following is an excerpt from Bullets and Opium.
---
In the fall of 2004, I got divorced for the second time.
Soon after, the secret police came and put me under house arrest after I interviewed two Falun Gong practitioners. My luck was lousy. Since my release from prison a decade earlier, the police tasked with following me had changed seven times. This time what happened was that two shabbily dressed, very worried-looking women knocked on my door. I thought they were beggars and I let them in. Out of habit I got out my notebook and recorded the horrible treatment they had suffered at a mental institution.
A week later I heard heavy pounding on my door. Fortunately, the door was solid and couldn't be opened by punching and kicking. In my desperation, I grabbed my bank card and ID card from the drawer, squeezed myself out the kitchen window, and started climbing up the chimney by grabbing onto two rusty wires. Just as I was reaching for the edge of the concrete, pulling and contracting my body and attempting to hook my right foot on the edge of the roof, my left hand slipped a little. I broke out in a cold sweat. The seventh floor! If I fell, my brains would splatter everywhere like a meat pie.
I took advantage of the heavy fog that night to sneak out of Chengdu and then out of Sichuan altogether. I made my way down to Yunnan to hide out until the situation calmed down. The following year, my work among the June Fourth "thugs" began in earnest.
"You're one of the lucky ones," said Wu Wenjian, the first thug I interviewed, when I started telling him my story.
"Yes," I said. "Compared to those who died."
"And to those who lived," he said.
Wu Wenjian was only nineteen in 1989. Against his parents' wishes, he joined the street protests on the morning of June Fourth, and he was lucky that a bullet only grazed his scalp rather than piercing his heart. He published a speech expressing his outrage; it was called "We Demand the Repayment of This Debt of Blood." It earned him a comparatively short seven-year sentence in prison.
Wu explained how thugs like him were treated after the massacre. For instance, seven of the first eight people convicted of arson—they had been charged with setting army tanks on fire—were promptly executed. The only one spared was Wang Lianxi, a sanitation worker who was found to be severely mentally disabled. As a result, his sentence was commuted on appeal to life in prison. After eighteen years, he was released, shortly before the 2008 Beijing Olympics. Then he was evicted from his apartment, like many other Beijingers, when the city forcibly removed thousands in preparation for the games. Wang Lianxi ended up homeless and was eventually sent to a mental hospital. Those who knew him said Wang had been sleeping on the streets and scavenging in dumpsters for food.
Another man called Lu Zhongqu, who had also committed property damage by setting vehicles on fire, was nearly beaten to death by troops on a rampage. "We saw the soldiers drag him into a tank and take him directly to a detention center," Wu told me. "By then he'd already lost his mind. He was covered from head to toe with bruises. He also had no bowel or bladder control left. He walked around in his own world and spoke to no one. He eventually disappeared, just like Tank Man."
Almost no one I interviewed was willing to speak publicly about sex, but the damage there was deep, too. All over China, many of those arrested after the 1989 protests were teenage boys, virgins, like Wu Wenjian. On their release, they were middle-aged men dealing with erectile dysfunction and premature ejaculation, and their recovery often took months or years.
Wu Wenjian told me his erectile dysfunction lasted at least two years. "I had been studying art, so not long after being released from prison I found a job at an ad agency. I traveled a lot for work, so I was staying in hotels and found myself in places full of sexy women. But I was scared that the police were following me and would catch me in the act if I tried anything.
"My first kiss was a disaster. I managed to crack the skin on her lips. As soon as I put my arms around her, I came, and it was visible. I was nervous and extremely horny, but the hornier I got, the less I could get it up. It went on like that all night. The girl was patient, and she kept stroking me and comforting me, but I was on the verge of tears. I just wanted to slap myself in the face. She left and never came back."
That's what happens when you've been sexually starved for a long time.
Many people were afraid to talk to me at all, like a friend of Wu's named Kun, who had sexual problems that were just a symptom of the wider malaise in his life. Wu tried to talk him into giving me an interview, but he declined: "If my boss finds out, I'll be fired right away."
Kun was a real patriot and had been honorably discharged from the army. The night of June 3, he was at Muxidi Bridge, one of the people directing the crowds of protesters from above to collectively resist the tanks. Someone later betrayed him to the military police, and he was convicted on charges of subversion and given a death sentence that was later commuted to life in prison. His wife left him not long after, taking their child with her. By the time he was released, years later, he was single and living with his eighty-year-old parents.
Kun told me a little of his employment history after getting out: "My first job involved standing outside big department stores, watching their customers' bicycles. It paid next to nothing. Out on the street on snowy days, I stomped my feet so they wouldn't freeze. Then my friends pulled some strings to get me the job I have now, working in a public bathhouse as a janitor. I clean toilets day and night, but at least it's a stable income. Forget nightclubs. Now bathhouses are the new thing. Drinking, karaoke, mah-jongg, bathing, full-body massages, foot massages, back massages, hand jobs… We'll satisfy the full range of the customer's desires.
"In that den of vice, I'm just the janitor who cleans the toilets. When the fat cats and magnates come in with girls hanging off their arms, I stand respectfully to one side and hand them napkins. In the 1989 student movement, we ordinary people supported the students because we were sick of corruption. We wanted the top Communist officials to disclose their 'gray income' and private assets. We wanted a fresh start for our country. Government officials are still in league with big business, while ordinary people can barely make ends meet. Society is suffering from a crisis of trust. Those of us who paid the price for supporting Chinese democracy are left waiting on the fat cats."
One time Kun was cleaning the toilets at work, when two shirtless businessmen came in. One was a former neighbor of his who had battled the tanks side by side with Kun during the movement. "I got lucky and slipped away into the crowd," the neighbor told Kun after recognizing him. "They had no proof that I'd taken part in the protests, and I denied my involvement strenuously. Eventually I got away with nothing more than making a self-criticism at work."
Responding to the Party's call to go into business, the neighbor went into food processing, making a fortune "selling dead pigs as live ones," as the saying goes. As long as you never breathe a word of 1989 and never reopen those old wounds, he advised Kun, you can keep making money. "You were literally on the top of the world back then!" exclaimed the neighbor, still expounding and shirtless as Kun waited to clean the bathroom. "There's no predicting what will happen to anyone," he added.
From Bullets and Opium by Liao Yiwu. Copyright 2012 by Liao Yiwu. Translated from the Chinese by David and Jessie Cowhig and Ross Perlin. Originally published in 2012 in Germany by Fischer. Excerpted by permission of Signal Press/Atria, an imprint of Simon & Schuster.