Ireland's making a real go of it. Since Dec. 15, it's no longer been getting new money from the European Commission, IMF or European Central Bank—the troika. (Cyprus, Greece and Portugal are still relying on the troika's cash handouts.)
And today an update on economic growth showed the island nation's third-quarter GDP had expanded by 1.5% over the previous quarter.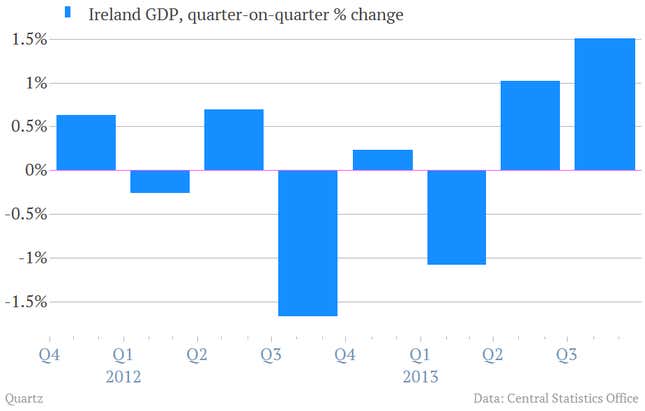 That kind of growth is good to see. And in fact, it's downright necessary if Ireland has any hope of lightening up its staggering debt load, which has climbed to around 126% of GDP.
But happy days are not anywhere near back. A recent report from an Irish think-tank estimated that years of austerity budgets—higher taxes, lower services and outlays—have cut take-home pay for most workers by between between 11% and 12%. And unemployment, though falling, is still around 12.5%.