Seven-year-old Emma McGee used to hate coming to the laundromat. It was boring, and seemed to take forever. In fact she would always ask—unsuccessfully—to stay home with her older brother, Aiden. But things have gotten more interesting since a play space appeared in the back corner of Lavanderia Express IV, a large laundromat nestled next to a family dollar store in the Bronx where Emma and her mother, Venus, come every week.
"My favorite thing to do is coloring," explains Emma, "but my second favorite is reading." At Lavanderia Express IV, Emma gets to do both. The laundromat is one of three New York City pilot sites of a Clinton Foundation-sponsored project to install family-friendly literacy spaces for kids under six into 600 laundromats across the US by 2020.
The average US family spends more than two hours a week at their neighborhood laundromat, and many bring their kids with them. That's downtime that experts say could be put to better use, by turning laundromats into spaces where kids can learn and grow.
This project is part of a much larger vision to reinvent everyday spaces to encourage the kinds of experiences that help children thrive. Kids in developed countries only spend about 20% of their waking hours in school, and yet all of our investments are geared towards formal schooling. Converting laundromats into libraries is one way to try and make sure that kids are learning the rest of the time.
How laundromats got to be at the center of a literacy project
By the time they start first grade, children who are poor readers are more likely to continue to struggle with reading. That early literacy gap is especially pronounced in the US among low-income kids who have access to fewer books and whose parents tend to talk to them less. They're also the kinds of kids who are likely to spend a lot of time at laundromats, given that the median household income of a typical laundromat customer is $23,000 per year.
In the last year, a coalition that included Too Small To Fail, the Clinton Foundation's early childhood initiative, Libraries Without Borders, and the Coin Laundry Association's (CLA) charitable arm, the LaundryCares Foundation, set up "Family Read & Play Spaces" in three New York City and 10 Chicago laundromats. Decorated with a couch, alphabet rug, and posters, the spaces hold a bookshelf full of children's books, toys like animal puppets, and drawing materials. The pilot spaces are funded by the coalition, which hopes to convince future participating laundromat owners to pay for the materials and their upkeep, at a cost of about $1,500 to $2,500 a year.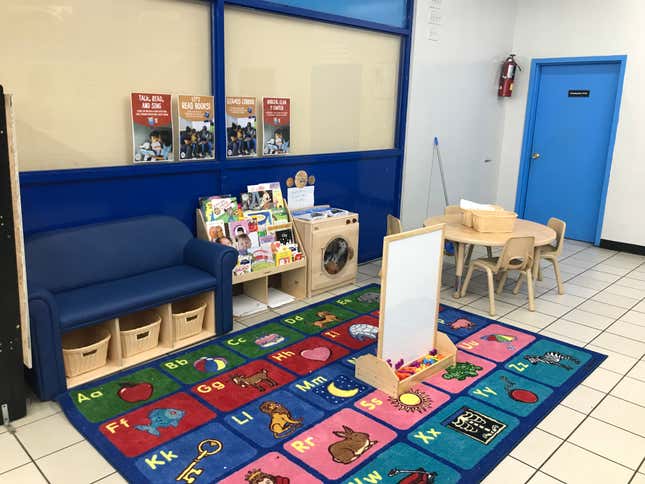 While parents are busy doing laundry, kids can work on their reading and math skills alone or be creative and play with other kids. A child's environment influences their behavior, their willingness to interact with others, and their emotional development. The hope is that creating an inviting place where kids can play, draw, and have easy access to books will help them develop the "five essential skills" of literacy (reading, writing, singing, playing, and listening), which are known to lay the foundations for reading skills.
There's only so much impact an informal space like this one can have, especially when competing with iPhones for attention. Susan Neuman, a professor of childhood and literacy education at New York University who is involved in the project, makes it clear that her team can't hope to improve literacy; they can only give kids access to activities that are linked with better literacy outcomes and hope they take advantage of them. Neuman believes in the power of an environment to create a "literacy culture." "I want them to feel welcome and warm and comfortable," she says. "If they pull out their smartphone, I'd rather they not; but if they do that, it's not a negative."
Family Read & Play Spaces also encourage parent-child interaction, which helps support brain development. Multilingual posters prompt parents to do specific things with their child, like counting the number of washers and dryers together or playing peek-a-boo with clean clothes. That's important because many parents living in the South Bronx aren't native English speakers. Venus McGee has taken advantage of the bilingual books herself. Emma "wants me to teach her Spanish very badly," she says. So, Venus reads Emma the English-to-Spanish books provided in the space.
Venus works as an assistant preschool teacher for the nonprofit Puerto Rican Family Institute, a school that serves families who qualify for Head Start, a US government program for families who make $25,750 or less a year. She says many of the families whose kids she teaches don't own books at home. "Living in the South Bronx, we don't have bookstores," McGee explains. "If you go in Manhattan … you find books anywhere," while the Bronx has only one independent bookstore. Sixty percent of parents who used the pilot spaces reported (pdf) that they had fewer than 20 children's books at home.
Turning public spaces into opportunities for learning
"Learning can happen any time, anywhere," says Jane Park Woo, director of Too Small To Fail. That's the basic idea behind every program seeking to use public spaces to achieve educational or developmental goals for kids. And it's why Too Small To Fail has put up literacy materials in parks, pediatricians' offices, bus stops, convenience stories, Head Start centers and family health clinics, with the goal of going "where the families are … so that parents are hearing this message from multiple places," Woo says.
Architect Itai Palti says that cities could be the ultimate learning environment for children. The director of The Center for Conscious Design, a think tank focused on using design to address urban challenges, Palti argues that urban environments built with practicality and efficiency in mind are at odds with kids' experience of the world: "The notion of shuttling children to buildings where learning takes place is far from aligned with when and how children learn, and how they learn best," he explained in an article for Van Alen Report.
Palti works with a group of educational experts who are trying to change this reality by providing "carefully planned play experiences" in under-resourced urban areas that engage specific skill sets to help narrow the learning gap between poor and rich kids. Around 2014, they launched the label "Learning Landscapes" for an umbrella of initiatives that seek to turn everyday places like bus stops, supermarkets, and parks into opportunities for playful learning.
"The key to all of this is to create these kinds of environments in the places where people naturally go," says Kathy Hirsh-Pasek, a senior fellow at the Brookings Institution and one of the founders of Learning Landscapes. "If you offer the kinds of stimulation that often happens for free in middle-income or upper-income environments … in underserved communities, imagine what we could do."
Hirsh-Pasek knows what she's talking about: In 2015, she and her colleagues put up signs in supermarkets prompting kids to ask questions about their environment and parents to respond. They hoped to encourage the kind of parent-child conversational exchanges that scientists know poor kids get less of, contributing to "the persistent difference between rich and poor families in the number of words parents address to their children."
The researchers deemed their experiment a success (pdf) when they saw that it encouraged "the type of caregiver-child conversations and interactions that have the potential to impact later language, literacy, and mathematics outcomes for children from disadvantaged backgrounds." In fact, in low-income neighborhoods, "the number of conversations grew by 33% when the signs were up, equaling the amount of talk that happened naturally in the supermarkets frequented by middle-income consumers," the authors write.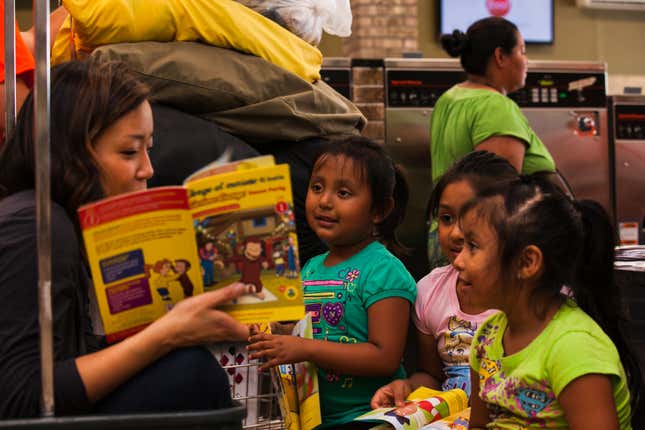 Neuman assessed the impact of the three laundromat-based Family Read & Play Spaces in New York City (pdf) and came to similar conclusions. She found that children engaged in 30 times more literacy-rich activities, including talking, reading, singing, writing, and playing, in laundromats with literacy spaces, compared to typical laundromats. She also found that parents liked and reported "greater loyalty" to the laundromats with play spaces.
There are some limitations to using laundromats as built-in classrooms. The first is the financing of the space. Laundromats aren't exactly cash cows, and many of them are run by small business owners for whom every inch of space that's not used up by washers and dryers is a waste of money. Too Small To Fail is working on developing a subscription package that would cost owners about $50 a month.
Upkeep is also an issue. At Lavanderia Express, Venus McGee said she already noticed that the condition of the rug, couch, and books was deteriorating. "I wish they would take care of it better," she explained.
Another challenge is to figure out how to encourage parents to engage more with their kids in these spaces. As Patti Miller, CEO of Too Small To Fail, explains, "parents have an incredible opportunity to impact the growth and development of their child's brain. The more time a parent spends hearing a story with a child, responding to a baby's coo, singing songs, talking to the child, the more a parent can help … prepare them for school and for life." These kinds of "serve-and-return" interactions are crucial to young children's healthy cognitive and emotional development.
When Neuman's team designed Phase Two of the study in New York, they invited librarians to regularly visit pilot laundromats during peak business hours in order to talk, read, sing and play with children and model these activities for parents. The presence of the librarians proved to be really good for kids, who showed "significantly more purposeful engagement in literacy activities." But the intervention also showed that parents were more likely to watch their kids play than to participate. That's why Neuman's team plans on designing interventions to teach parents the best ways to interact with their kids in the spaces during Phase Three of the study in Chicago.
Next steps
Laundromats will not fix America's broken early education system. Each year, about 60% of the 4 million children who enter kindergarten are "a year or more behind their classmates in academic and social-emotional skills," which can "trap them in a cycle of continuous catch-up in their learning," according to the Department of Education (pdf). Despite evidence that the years between birth and five are crucial for children's development, low-income kids are still far less likely to access the kind of early learning and care that would support that development.
But programs like these have potential: According to CLA, there are about 30,000 laundromats in the US, and each average-sized laundromat sees about 954 families with children under five every year. They say 250 laundromats across the US have committed to implementing Reading & Play Spaces, and their goal is to get to 600 by March 2020. Like any early intervention centered around helping poor kids, the hard part is scaling up.
Neuman has big hopes: "In my wildest dreams, in the best-case scenario, I would have every public space have opportunities for literacy development."
Read more from our series on Rewiring Childhood. This reporting is part of a series supported by a grant from the Bernard van Leer Foundation. The author's views are not necessarily those of the Bernard van Leer Foundation.