In August, Morgan Stanley dubbed a group emerging market currencies the "fragile five" (pdf, see p. 15). These countries—Brazil, Indonesia, India, South Africa and Turkey—were the most reliant on foreign capital inflows stemming from low interest rates and monetary stimulus in the US.
Expectations for the eventual taper of the Federal Reserve's stimulus has generated volatility in these currencies in recent months, particularly when markets were wrong-footed in September by the Fed's commitment to continue its stimulus measures instead of reduce them. Given this unexpected reprieve, when the taper finally arrived last week the market reaction in vulnerable emerging markets was mixed (paywall).
That is, except in Turkey. The lira is plumbing historic depths: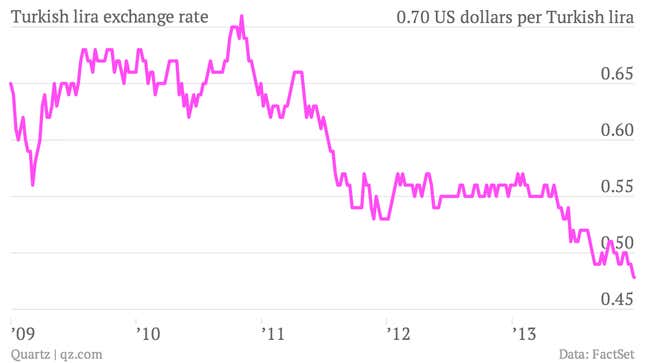 This is only partly related to the Fed's taper. The slow pace of economic reform in Turkey stands in contrast with some other members of the "fragile five," but the eruption of a major political scandal over the past week is spooking investors even more. A corruption probe has resulted in the arrests of family members of high-ranking officials and businesspeople, which prompted Turkish prime minister Recep Tayyip Erdogan to retaliate by sacking police officers involved in the cases. Erdogan blames shadowy foreign forces aiming to undermine his rule, while his opponents took to the streets this weekend in protest.
Turkey will hold both local and presidential elections next year, raising the stakes in the country's latest outbreak of popular unrest. A rift between Erdogan and influential cleric Fethullah Gulen, who is based in rural Pennsylvania but holds sway over parts of the media, schools and charities, is another factor in the turmoil.
Separating fact from fiction in this spiraling scandal seems a step too far for many investors, who were already nervous about the impact of the Fed's taper on Turkey's fragile finances. The country's benchmark stock index is down by more than 20% over the past six months, and nearly 10% over the past week alone. Turkey now "sticks out like a sore thumb" among emerging markets following the Fed's taper, an analyst recently told the Financial Times (paywall):
While Turkey remains one of the most vulnerable EMs [emerging markets] to a rise in US Treasury yields, it has also become one of the riskiest politically. These two weaknesses are feeding off each other right now–but it's the latter which dominates.