Recently, when Runner's World magazine put out its newest guide to the best shoes for every type of run, it included a newcomer among the stalwarts. For longer road runs, it recommended Under Armour's distance-training shoe, the Hovr Infinite, and put it front-and-center on the cover of its print issue.
Under Armour could hardly have been happier. "Who would have thought that we were going to be on the cover of Runner's [World] magazine two years ago," CFO Patrik Frisk noted on an earnings call with investors today.
Since it launched sneakers in 2008, Under Armour has viewed the category as one of its best routes to long-term growth. But after years of impressive double-digit increases, its footwear business cooled considerably in 2017. It's been up and down since. But for now, it's growing again, thanks largely to sales of running shoes such as the Hovr Infinite, Under Armour said as it reported its latest earnings today.
Under Armour only debuted the Hovr platform—its answer to cushioning innovations from rivals, such as Nike's React and Adidas's Boost—at the start of 2018. It's made of a proprietary foam that Under Armour developed with Dow Chemical. That foam is enclosed in a mesh fabric that limits how much it can expand outward when compressed, providing a soft footfall that also springs back.
Since Hovr's launch, Under Armour has been promoting it and introducing new iterations. In 2018, it had two Hovr running sneakers. Now it has five (and they're "connected" sneakers that allow you to electronically track your runs). Across all categories, including basketball, golf, and what Under Armour calls "sportstyle," it offers upwards of a dozen Hovr models. This fall, it will launch a Hovr training sneaker too. The line is a bright spot in the company's sneaker roster.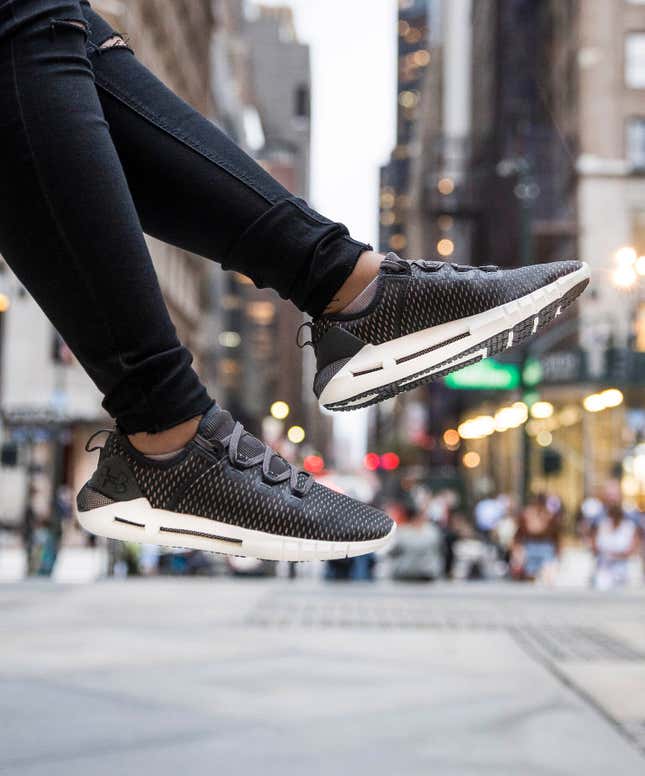 Under Armour is still struggling to get people to wear its products as fashion, rather than just for the gym. If it really wants to be a sneaker giant on the scale of Nike or Adidas some day, that's a puzzle it will have to solve.
The company, though, has recommitted itself to making performance products, and to positioning itself as a premium brand. It's been reducing the discounts it offers, and cleaning up its products from off-price channels. It sees franchises like Hovr and Rush—a mineral-infused fabric it says absorbs body heat, converts it to infrared energy, and returns it to the body—as the sorts of products that will help cement that positioning.
CEO Kevin Plank pointed out on the investor call that, in addition to the nod from Runner's World, both Outside and Women's Running magazines named the Hovr Infinite a top pick. "One thing we know is a great product is going to win," he said. Under Armour will have to work to keep up the performance in footwear, but Hovr is giving it some momentum.