Later this year, Japan faces a daunting specter, as tens of thousands of rugby fans from around the world descend on the country to attend the Rugby World Cup.
The tournament, which runs from Sep. 20 to Nov. 2, is a massive moment for Japan, Asia's rugby powerhouse. It's the first time that the Rugby World Cup, held every four years, will be hosted in the region. It will also mark another major milestone in Japan's quest to become a major power in tourism, as the government works toward its goal of getting 40 million annual foreign visitors (paywall) by 2020, the year that it hosts the Olympics.
But as Japan is now discovering, rugby fans are quite unlike tourists of any other kind, and come with their own special requirements. Chief among these: beer. And based on figures from the last Rugby World Cup held in England in 2015, millions of liters of it are needed.
Months before the tournament kicks off, the organizing committee of the Rugby World Cup in Japan is asking businesses (paywall) such as restaurants, hotels, and bars to make sure they have enough beer not only to avoid potential sales drying up, but also to avoid letting down foreign rugby fans and creating bad publicity, according to Japanese newswire Jiji.
Some rugby fans have already expressed concerns at the beer situation in Japan. A column in the Irish Times last year previewing the tournament noted that Western drinking culture could "come as a shock" to Japanese, citing reports that previous matches in the city of Oita had run out of beer by half time. The Sun, an English tabloid, recently warned that sponsor Heineken had spotted a stadium bar in Japan that planned to only have five beer kegs, citing unnamed sources.
Beer was sold out in a match before kick-off between Australia and Japan in November 2017 in Yokohama.
The tournament's organizing committee has been holding briefing sessions in some host cities to educate local officials about rugby's drinking culture. At one such session (link in Japanese) held in March in Oita, restaurant owners were told to have at least four to five times more beer and wine stocked than normal, and that in the case that they see drunk fans stripping and getting naked, they should warn them that such actions are illegal before calling the police. A report on the seminar in the Western Japan News newspaper noted that "English and Irish fans drink the most."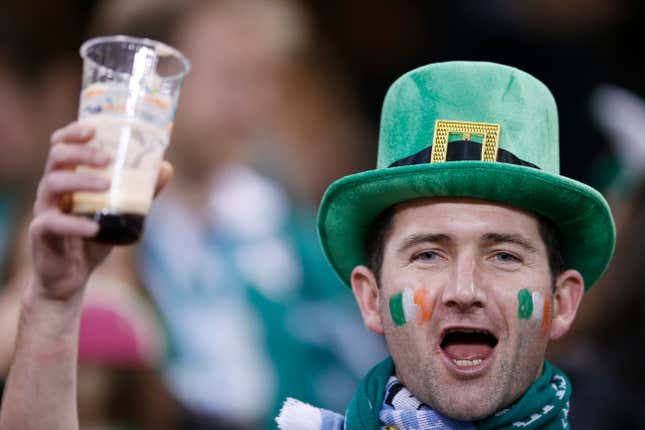 The preparatory committee for Kobe, another host city, noted on its website (link in Japanese) that if businesses prepare "in the way the Japanese people consume beer, it will disappear before the match even begins."
Tara Masataka, a sports journalist and rugby fan, detailed in a blog post (link in Japanese) last year titled "Will there be a beer shortage in the Rugby World Cup in 2019?" his visit to a rugby club in Gloucester, England, and his impressions of how well-stocked the bar in the clubhouse was, explaining to readers how deeply linked drinking and rugby are. In Japan, he said, places that serve alcohol, such as izakaya-style restaurants, aren't allowed to start serving alcohol until after 5pm, while many games are set to kick off around noon—and fans are accustomed to drinking hours before the start of a game.
Rugby fans and their drinking aren't the only culture shock Japan has been told to prepare for. Japanese business have also been told to loosen up their policies with regards to banning people with tattoos from using onsen baths, particularly as many rugby fans will be coming from New Zealand and other Pacific nations where tattoos are an integral part of the local culture. However, being inked in Japan remains highly taboo as the practice is still associated with being a member of yakuza criminal gangs. Beppu city in Oita prefecture, known for its abundance of hot springs, is leading the way by publishing a map of onsen where tattoos are accepted, and is encouraging onsen operators who still have the ban in place to relax their policies.
With regards to the sometimes unruly and boisterous behavior that no doubt comes with drunken rugby fans, the tournament's organizing committee told Reuters that it had a recommendation for Japanese police: just take a "'light-touch' approach."