Teen pregnancy has been a big problem in Bogotá, Colombia for a long time. Data show that in 2015, one in five of the city's girls under 19 were mothers, or pregnant. The city's mayor Enrique Peñalosa, like many mayors before him, wanted to try and change things.
This meant confronting the complex roots of teen pregnancy– poverty, education, gender violence, poor sex education, age of marriage, and barriers to access for birth control, among others. But Peñalosa, who was reelected as the city's mayor in 2015 after a three-year stint in the 90s, also wanted to do something massive and accessible to everyone, fast.
From this wish came Sexperto, an anonymous online platform that invites teens to ask healthcare professionals about anything related to sex at any time. They can also use the platform to book birth control appointments at a clinic that matches their health insurance plan.
Teens in Bogotá have questions. Around 1.5 million have logged on and asked an average of three queries since the program was launched in February 2017. The platform is part of a wider initiative to combat teen pregnancy which seems to be working: in the past three years, teen pregnancy rates in the city have dropped 22.2%, with the steepest drop last year. Sexperto is in talks to roll the program out nationally, and one multilateral organization is looking at expanding it to the entire Andean region.
The secret was listening, says Nicolas Acosta, CEO and founder of Dondoctor, the health tech company behind Sexperto.
When the health ministry asked for something "massive," Acosta went out and talked to teens about sex. "What teens actually have are questions—questions they are too afraid to ask in a classroom setting, or to their parents or to their peers, and questions that need to be answered immediately, anonymously, and wherever and whenever they are," Acosta said in an interview at MIT Solve. The initiative, which identifies entrepreneurs at the forefront of addressing some of the world's most pressing problems, awarded Sexperto $10,000 last year for its work.
Dondoctor worked with Fundación Santa Fe de Bogotá, the city's leading hospital, which provided a team of experts (two doctors, two social workers, and a psychologist) to answer teens' questions accurately. The top three most popular ones?
1. When should I have sexual relations for the first time?
2. How do I know whether I am bisexual?
3. Is it normal to feel sexual desire for someone of my own sex even I don't consider myself gay?
Teens get answers 97% of the time, says Acosta. For those asking "How do I know whether I am bisexual?" for example, the answer is:
Bisexuality is a sexual orientation in which you feel sexual attraction or romantic affection for, both, men and women. That is, if you are a person who feels sexual attraction and/or feels that you fall in love with both men and women, you could identify yourself as bisexual. It's up to you to decide how you want to identify yourself, you may not be ready at the moment and that's fine. You can take all the time you need. It is also important to bear in mind that there are myths that say that bisexuality is "a stage of confusion" and that bisexual people are really homosexual. This is not true, although it is possible that homosexual people decide to identify themselves as bisexual, bisexuality is a different sexual orientation, real and that is not a stage of confusion.
Acosta said another recent question was: "I want to have sex with two women and we are ready but we don't know if that's normal." Sexperto's answer:
All sexual interactions have to be ruled by total respect and consent, between the different participants. It's not wrong to have different types of sexual interactions as long as you make sure that all the people involved consent with what you are doing. Always remember to prevent infection and to wear a condom. For more information, you can book a birth control appointment (click here).
The site, which also receives a lot of questions about sexual violence and abuse, provides a mental health hotline, an abuse hotline, and emergency response systems.
Acosta is a big fan of tech that provides solutions to specific problems. A lawyer by training, he worked for a period in a chain of hospital restaurants. While there, he noticed doctors hanging around a lot and asked why. They said their appointments didn't show–about 20-30% of the time. At the same time, there were massive waiting times to see the doctor. Acosta decided to use tech to try and streamline some of the inefficiencies.
The result is Dondoctor, which offers access to information about medical issues, "virtual" appointments to screen for whether an in-person appointment is needed, and a portal to help people manage chronic conditions such as diabetes.
Acosta believes that tech can take care of 70-80% of problems, freeing up doctors to focus on the hard, in-person 20%. In the process, he hopes "we can entirely change the way the health care system works and especially how we solve health care problems."
How it started
The success of Dondoctor made Acosta a natural target for the ministry of health, which in 2016, was working on its Early Maternity and Paternity Prevention Program.
The problem was very real. In 2015, 43 girls under 19 became mothers in Bogotá every day. The city ministry decided any program had to cross sectors, be properly funded, and be ready to deal with the backlash of a Catholic society which does not always welcome talk about sex and sexuality. Indeed, Amelia Rey, head of community health services in the Ministry of Health says Peñalosa became the target of 100 formal inquiries from opposing political parties about the city's teen pregnancy efforts, including Sexperto, and heavily criticized for installing 300 condom vending machines in public spaces.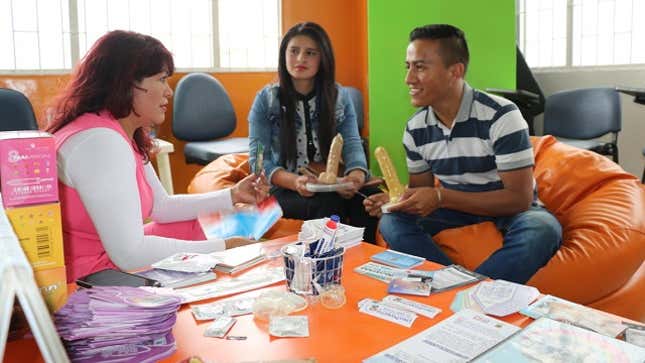 The team set three goals: to decrease the percentage of babies born to girls under 19; increase the median age at which girls became mothers, and reduce to zero the number of births to girls under 14, "as any type of sexual act with children this age is considered a felony under Colombian law," said Rey.
Something is working. In 2014, the teen pregnancy rate was 16.4%; in 2018 it was 12.2%. The median age of new mothers, in that time, has moved from 22 to 23. That is clearly not all the work of Sexperto, which is part of a larger strategy which has included condom machines, the appointment of youth leaders who are trained and work with their peers, revamped sex education in 398 public schools, and increased birth control coverage. But Rey says it's played a big role. "Sexperto.co has definitely been part of this city-wide effort and has been the 'brand' and novelty item we have used to speak about this important issue within the health sector and to non-health sector interest groups."
Acosta says analytics data from Sexperto show the platform reaching parts of the city with poorer populations, which the ministry wants: 65% of the users are in the bottom three (of six) income groupings.
The structure is a 50/50 partnership between Dondoctor and the Fundación Santa Fe de Bogotá. The government pays the group a flat fee of $0.10 per query. This is far cheaper than the $7-per-user cost of the city's sexuality fairs, where students can talk to healthcare professionals about gender roles, myths around birth control methods, and reproductive rights.
The partnership has been challenging at times, says Acosta. Start-ups are nimble, and want to act fast. Working with one of the country's largest and most conservative hospitals, and the government, has meant slowing down to consult with a myriad of people to decide which direction to go in next. The education ministry recently asked Sexperto to create a video game to inform kids about sex. Acosta convinced them to drop the plan, because the kids who tested it thought it was infantile.
But teaming up has also meant getting to work with a team of experts to scale, fast. "At the end of the day, you are democratizing sexual information for everyone," says Acosta. "You don't need to be a in a great school, or have nice parents. You can just enter Sexperto and have great information."